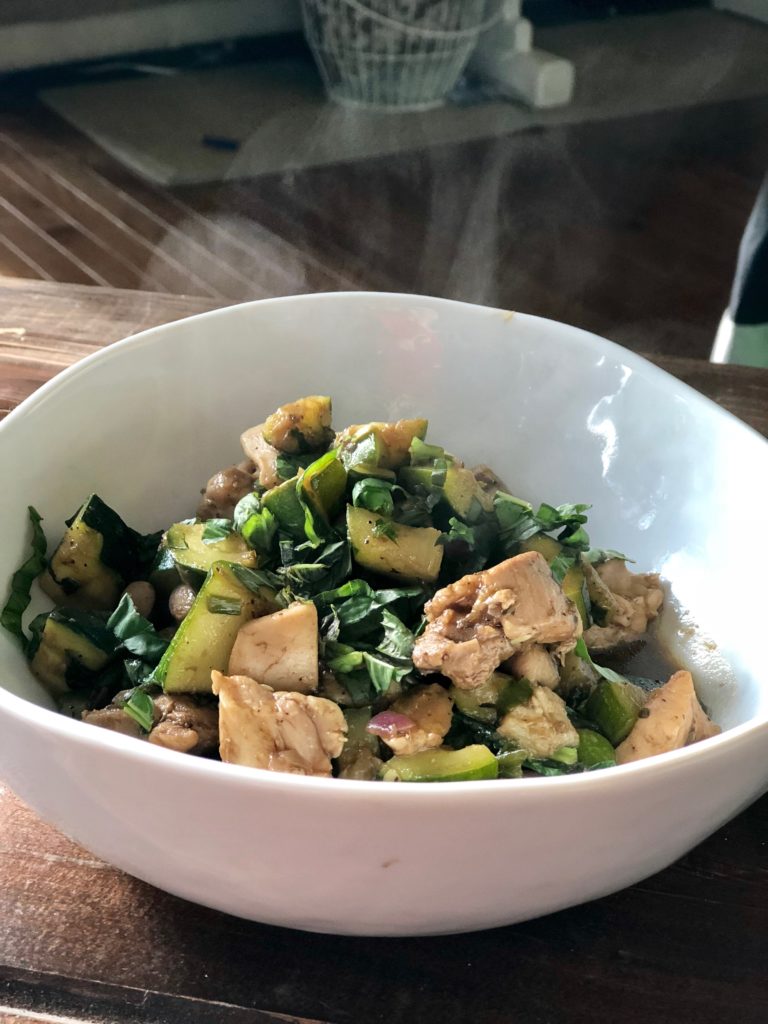 Zucchini-Basil Chicken Hash is the third of thirty recipes I am going to be cooking from the Whole30 Fast and Easy Cookbook that was just released! This recipe did not disappoint! Juicy chicken thighs, savory zucchini, bright basil with a hit of acidity from the balsamic vinegar! SO good! Its dishes like these that help us all succeed with our January Whole30!
Of course, I made some tweaks to this recipe…awaken my creative side! I do have to say, that this time, it was more changes with the amounts of each ingredient to feed my family and not with the ingredients themselves. The one addition I would make, would be to add a cup or so of mushrooms if I had them in the fridge…it would be a great addition!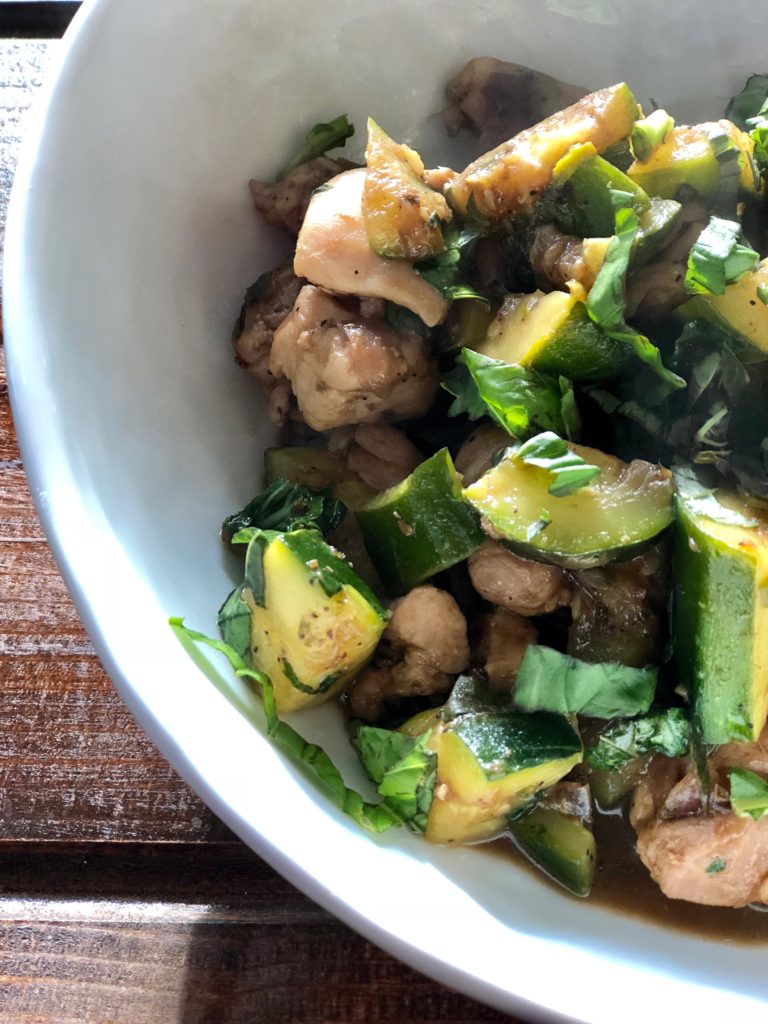 How are you doing on your Whole30? It is day three now if you began on the first…for me, the excitement is still here! The hope of change, present. The motivation to stick it out, going strong! So thankful to be on this journey! My change this time…I am staying OFF the scale! In the past, I have succeeded in all areas of the Whole30 except for no weighing! This time, the scale is going into the closet until the final day.
Zucchini-Basil Chicken Hash
This quick and easy chicken dish will not disappoint.  It is full of flavor and a very satisfying meal for your Whole30 or any time!
Ingredients
4 tablespoons avocado oil
1 small red onion, finally diced
6 green onions, thinly sliced
6 cloves garlic, minced
6 zucchini, cut in a large dice
3 1/2 – 4 lbs boneless, skinless chicken thighs, diced
1 tablespoon dried oregano
1 tablespoon Himalayan sea salt
6 tablespoons balsamic vinegar
1/2 cup thinly sliced fresh basil
Instructions
Heat the avocado oil in a large skillet (or electric frying pan) over medium heat.
Add in the first four ingredients and cook until soft and begins to brown.
Add the zucchini and cook for until it begins to soften.
Add in the chicken, oregano, and salt and cook until it begins to brown and the chicken is cooked through.
Turn off the heat and stir in the balsamic vinegar and half of the basil.
Top with the remaining basil and enjoy!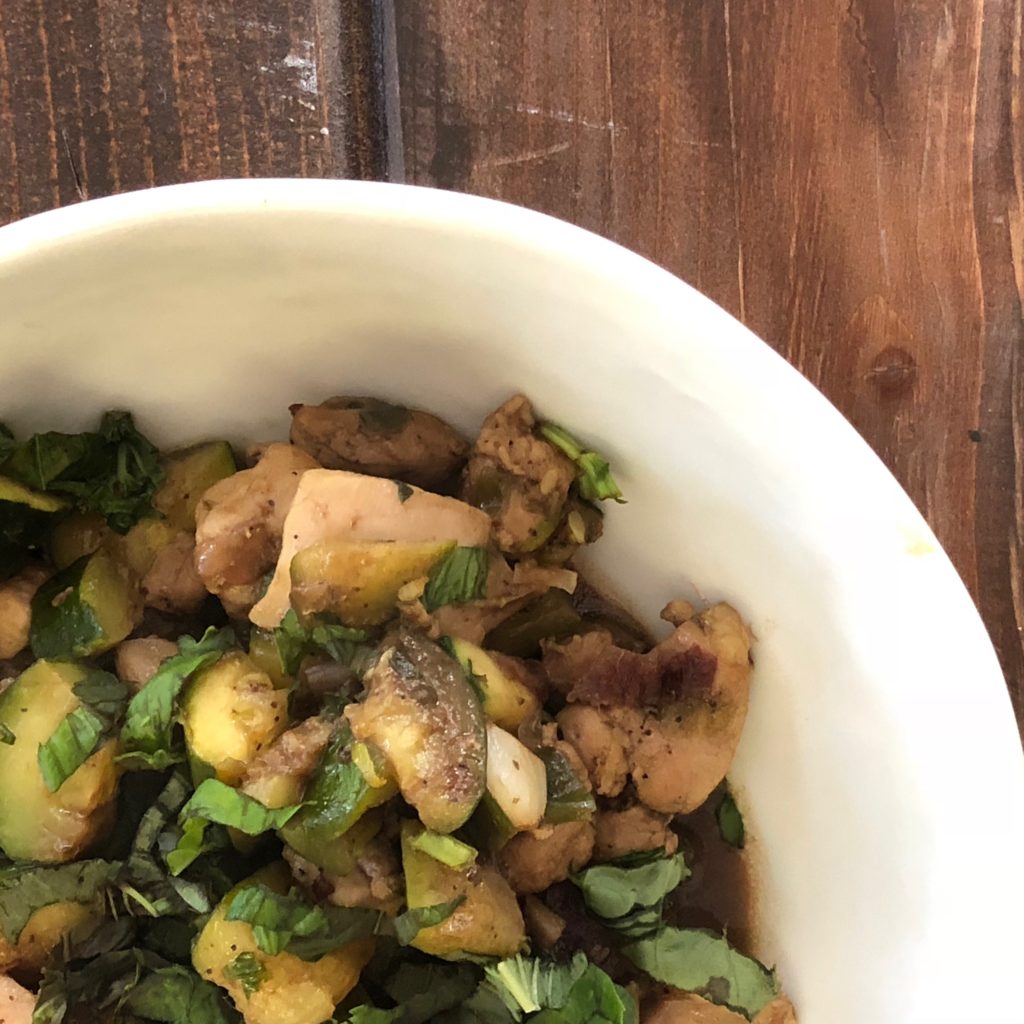 I wish you all well on your #Whole30! If you haven't started yet…join me! There is still time to make a life-changing decision for your health!
Blessings,