It is SO hot outside! I don't know about you all, but we try NOT to run our air conditioner very much, even in the intense heat…we shut our blinds and windows while it is still cool outside and try to create that cave-like atmosphere…keep in the cool morning air. But…when we invite our friends or family over, on comes the air conditioning!!! Doesn't that make you want to invite the neighborhood over?? It make me want to! Now you know my secret…if you are invited to our home for a backyard BBQ or any type of party on a particularly hot day, you just might be here to give me a reason to cool off my home!
Seriously now, how do you throw stress free parties and backyard BBQs? How do you throw gatherings where you can visit with your guests and even feel like a guest at your own party? Here are my top 5 party planning tips that will hopefully help you to take the stress away from your next gathering…and help you enjoy your own air conditioning!
1. Plan Ahead: I don't mean weeks ahead, or even days ahead, but instead…once you decide to have a crowd or a few friends come to your home, make a plan. What time are they coming? Meal or snacks? Drink Station? (I have two large glass dispensers front and center where we serve fruit water and tea or lemonade!) And, these days…how about Food Allergies…you get the idea!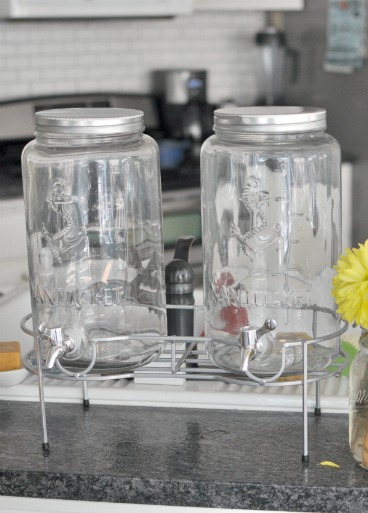 2. Invite your crowd (or small group!): I commonly invite three or more families to come over…I aim for each family to know at least one of the other families and also try to be sure that each child who comes has at least one other child that they can pair/hang out with. This is important so that parents and children can enjoy their time.
3. The food…I usually make one item that is from scratch and takes time. Then the rest…good quality store bought items like Chobani Meze' Dip with veggies or pita chips. I like to include something briny like olives or homemade pickles and something salty like a cheese plate with artisan crackers or fresh bread.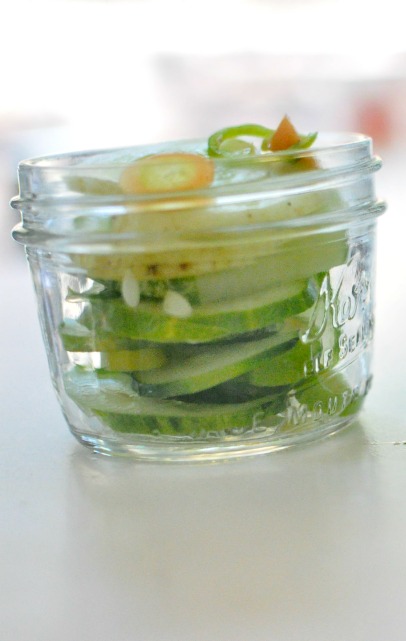 If it is meal time, we tend towards grilling burgers (who doesn't like a burger bar!) or tri-tip or a delicious homemade soup or two (Like this one and this one!) with a meal salad (like this one!) depending on the size of the crowd. These are simple and delicious options that will fill all those hungry bellies. And…if your guests want to bring something, my suggestion, dessert! Then, you have an amazing dessert bar and your guests that want to are able to participate.
4. Seating. Don't stress over seating. We had much better group seating options at our old home. Twice, we sat 50 people at one long table from one end of our home to the other. Our current home isn't long and thin, it is broken up more. So, at our current home, we seat in smaller groups. We have outfitted our deck with lighting so it serves as a "second dining room" much of the year. We are grateful for the extra space. For casual gatherings, we direct to "sit wherever you would like" and people make their own groups.
We have also done the "sometimes dreaded" kids table, but try to make it fun with crayons and paper or a special centerpiece. They are usually excited to have their own special place. We even have 9 stools around our kitchen peninsula…many a guest, adult or child alike, has pulled up a stool and enjoyed their time.
5. People over everything. More important than the seating or the food or any of the little details are the people. Because, really, isn't this why we host gatherings? And yet, it is such a tendency to let the details get in the way of loving our friends and family. So…only do as many special things as you can do without stressing…those centerpieces, while they are a blessing and will be enjoyed, they won't be missed if they aren't there. That amazing meal that takes 10 hours to prepare…if it brings fatigue and stress, save it for another time…it will be enjoyed for sure, but, so will one of the suggestions above.
Make your priority enjoying your friends and family. Serve them with a heart of gladness and simplicity instead of stress with complex details.
Chobani sent me this amazing Infographic with even more suggestions for easy party planning. They sure know how to throw a delicious party! Their new Chobani Meze' Dips are a welcome quick and easy and healthy addition to any gathering! Check it out, I know it will help your next party or backyard BBQ be a success!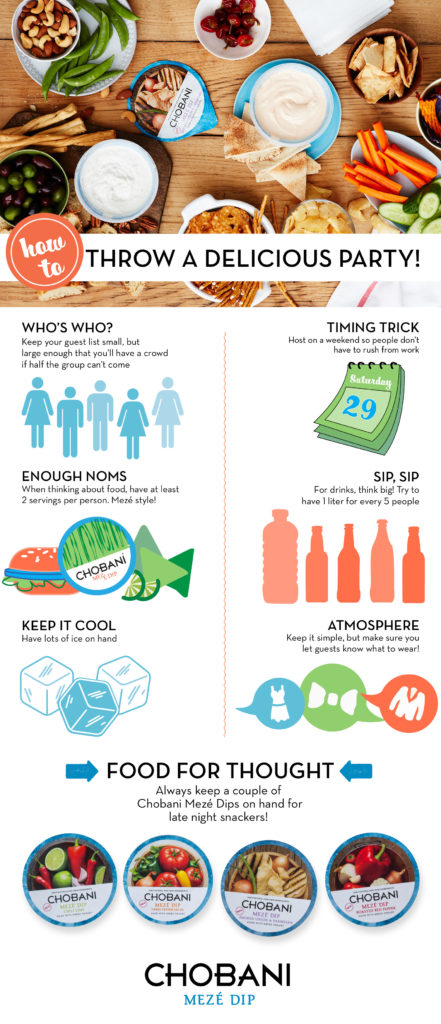 Save
Save