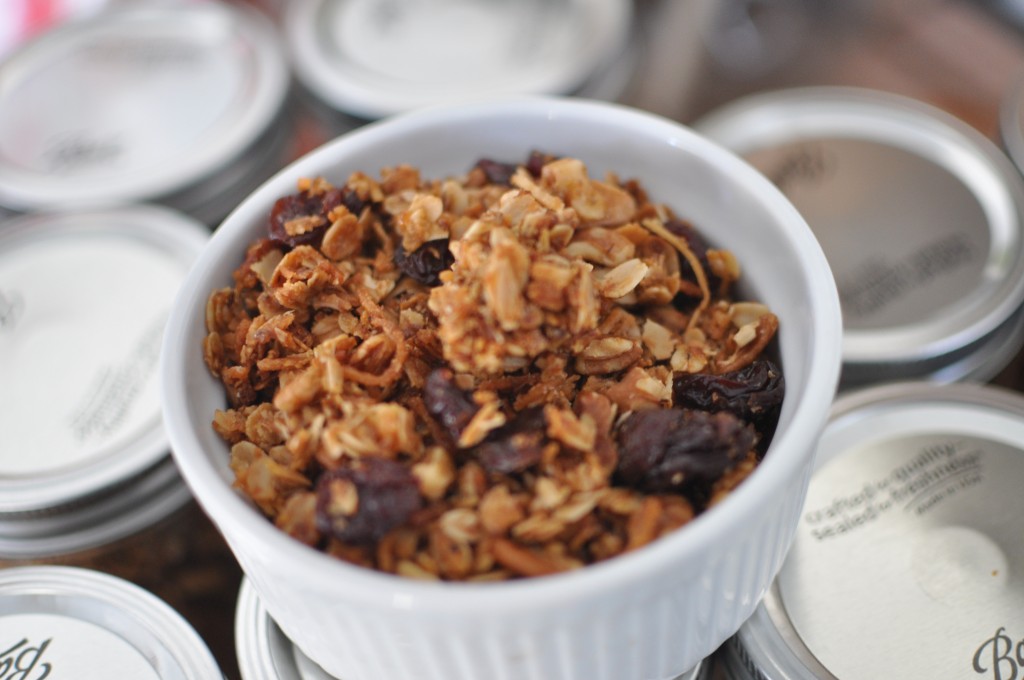 This year, when deciding what to give away as Christmas gifts for friends of our family, I decided on something that would be tasty and healthy and could be eaten anytime. Granola fit the bill. This time I adapted my Autumn Granola Recipe with some flavors that I like around Christmas, like walnuts and cherries. I made several batches and when it came to the last one…that we would keep in our home, I was out of agave so I tried more honey. I found that I really like the mix of the honey and agave…it somehow adds to the toasty-ness (new word!) and doesn't overwhelm the flavor of the other ingredients. So, if you were deciding on whether to include the agave or not…I would leave it in. 🙂 Also, you could leave out the brown sugar, but even this small amount really does contribute to the overall flavor…not necessarily by sweetness, but also the molasses that is in the brown sugar contributes to the browning and flavor.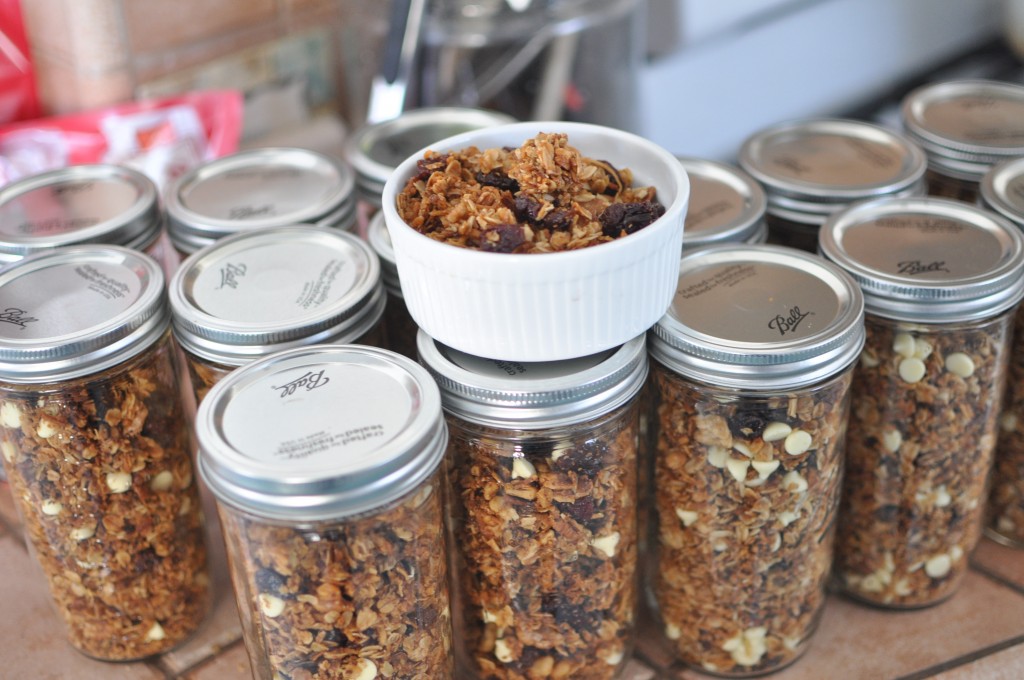 Once again, I am convinced that store-bought granola can't hold a candle to homemade. The toasty-ness (trying to sneak that new word in again…) is unbeatable, and the ingredients can be controlled by you…very important. Something else that is very important…I made 6 batches to fill all of those jars in the photos. 🙂
Ingredients
3 Cups Old Fashioned Oats
4 T Wheat Germ
2 T Flax
1 Cup Walnuts
1 Cup Chopped Pecans
½ Cup Honey
¼ Cup Agave
¼ Cup Brown Sugar
1/3 Cup Coconut Oil
1 teaspoon kosher Salt
1 Cup Coconut
2 Cups Dried Cherries
1 Cup White Chocolate Chips
Instructions
1. Measure grain, nuts, salt, and brown sugar into a large bowl.
2. Add sweeteners and oil and stir well. (If your coconut oil is solid, soften or melt before adding)
3. Spread out on a large baking sheet.
4. Bake at 300 degrees for around 45 minutes, stirring at around 30 minutes. Remove from oven when the granola looks browned and smells toasty.
5. Let the granola cool completely in the pan
6. Break apart and add in white chocolate chips and dried cherries
7. Store in an airtight container.