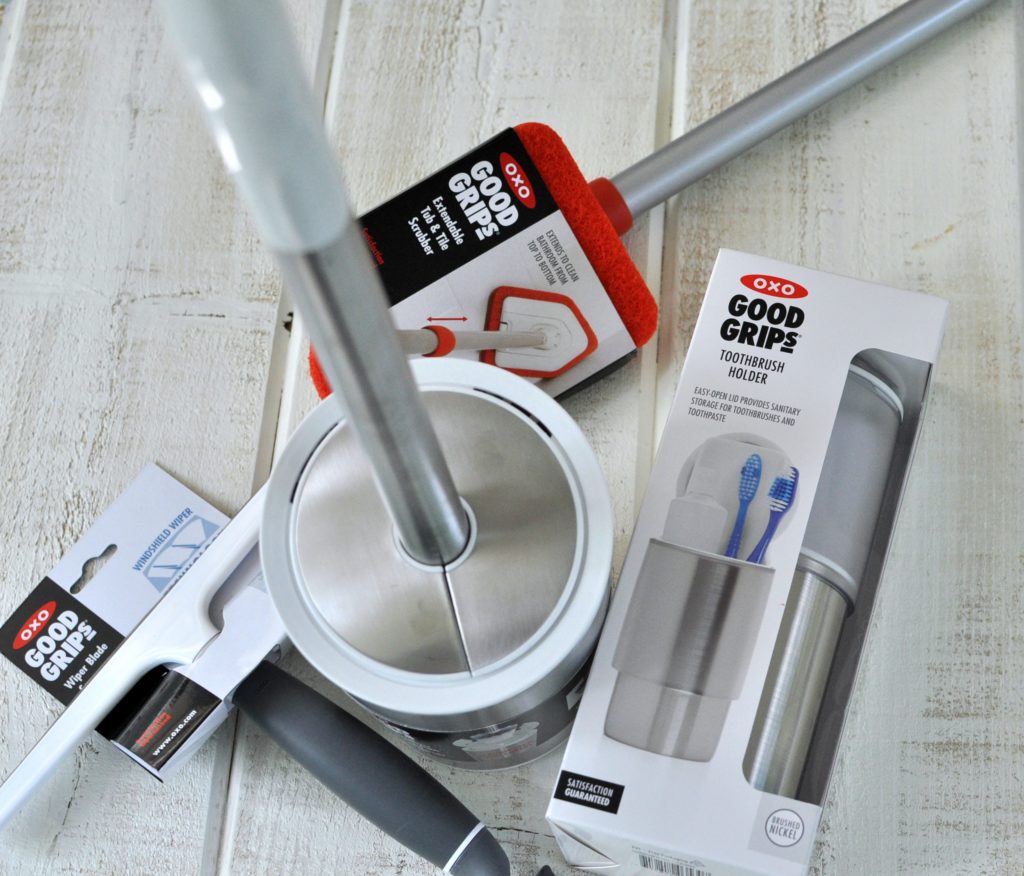 OXO makes some of my favorite household tools. So, when they sent me a box of tools to help me with my spring cleaning, I was SO thrilled! Especially because we recently moved into our home and I have been meaning to finish up that guest bathroom!
And, who can't use a new plunger and toilet brush…I mean, enough said, right? The amazing thing about these products is that they are not only really well made and useful, they are also attractive and sanitary! The toilet brush features tapered brush head for deep cleaning under the rim and other hard-to-reach places and the handle won't spin in your hand and is designed for a secure, comfortable grip. The canister drip tray features ventilation slots that allow water to quickly evaporate. And, a toilet plunger that has a pretty container to hold it and cover it up? We all know how important that is…what more could you ask for?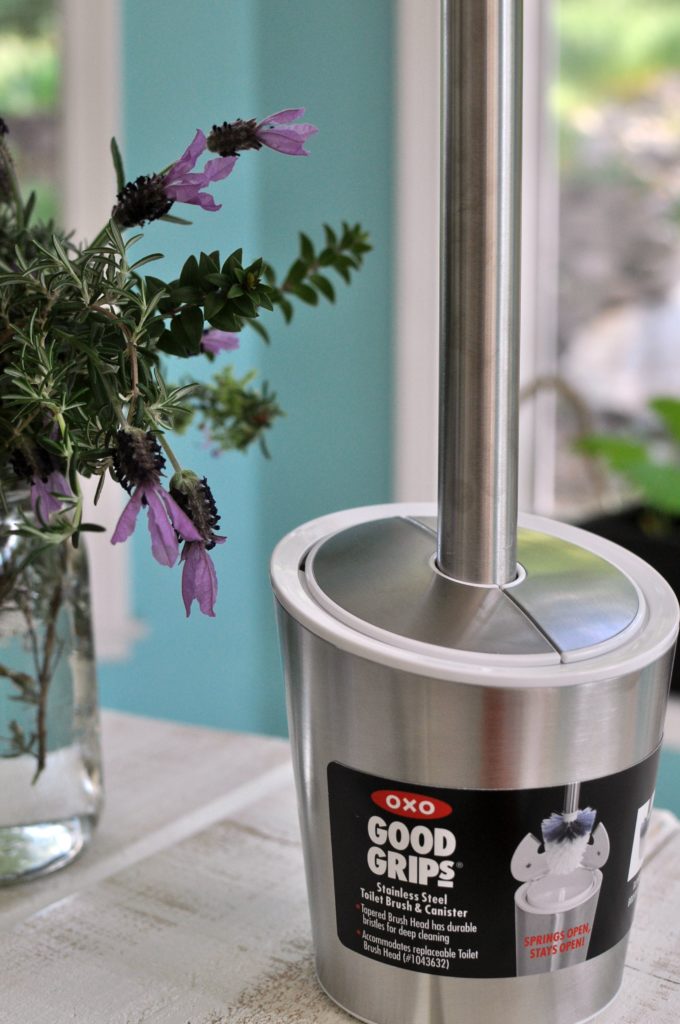 Up until now, it is an understatement to say that our toothbrush holder was sub-par. The toothbrushes kept falling out and they were right out there in the open…I know, yuck! Well, this OXO toothbrush holder is AMAZING! The easy-open lid provides sanitary countertop storage. It holds our toothbrushes and our little son's toothbrush and even though his toothbrush is quite a bit smaller than average it still stays put. The holder is ventilated so the toothbrushes dry out after each use, even though they are covered. A favorite feature…it is also easy to clean. We quickly said goodbye to what we were using before.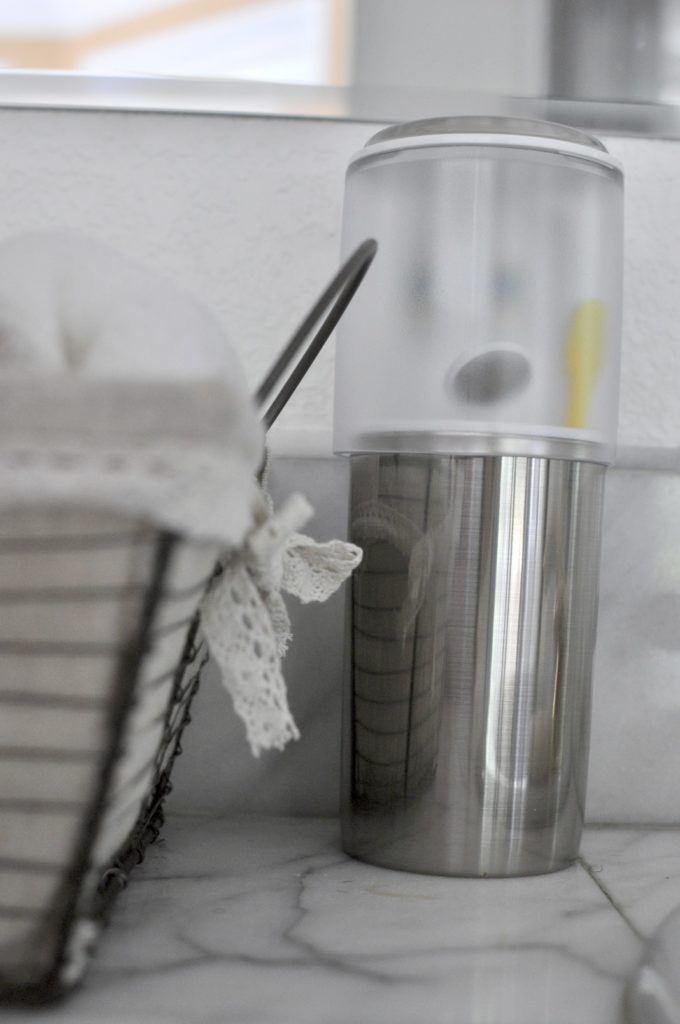 Another item in this incredible set of tools…an Extendable Tub and Tile Cleaner. Follow the link to check it out since I didn't get a great picture of it in action. A couple of weeks before receiving these tools I bought another tool like this one…guess what, it DIDN'T extend! OXO really thought of everything here. It very easily extends from 26″ to 42″. We have a very tall shower so this is helpful. It is shaped to get into the corners and grout lines and the head pivots! I will be using this for years to come…so glad I can get replacement heads when I wear this one out!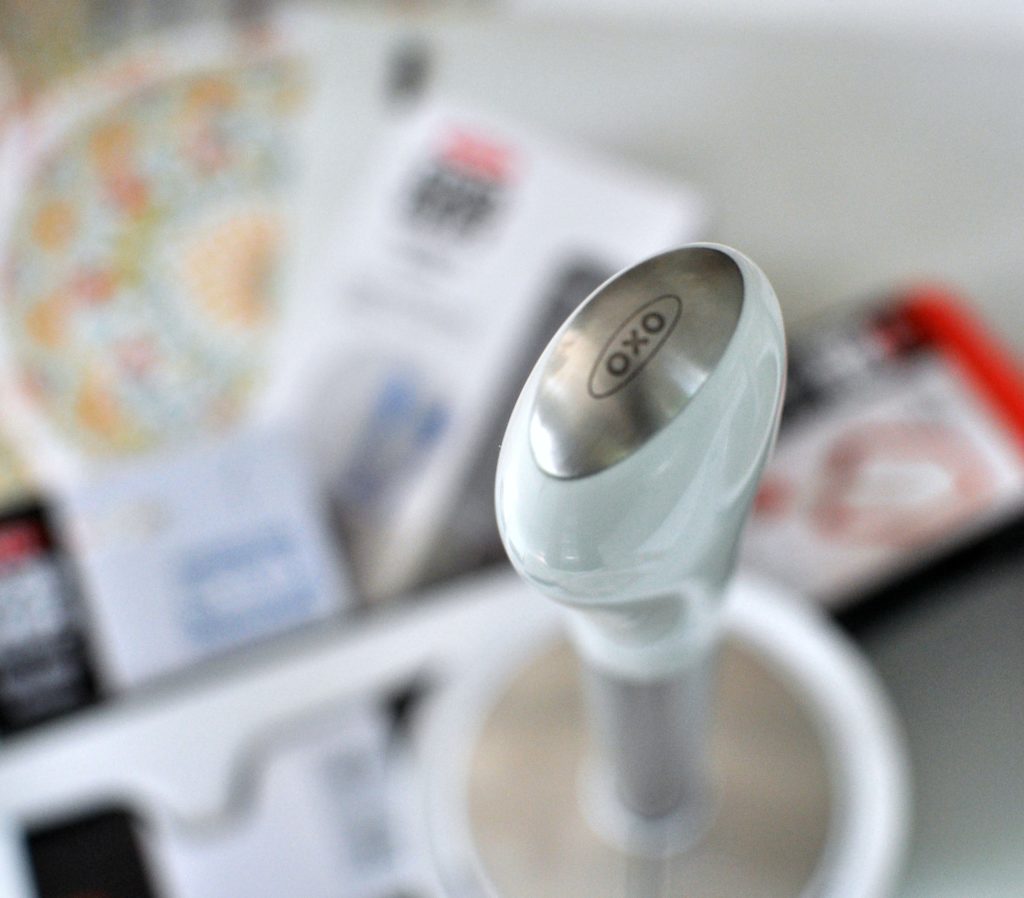 These great tools will not only make spring cleaning more efficient, they will also help me spruce up summer, fall and winter!
What is your favorite spring cleaning tool? Share below…I can always use some tips!
Blessings!
Although I am not being compensated for this post, I did receive these tools from OXO at no charge. All comments are fully my own opinion. #OXOSpringCleaning is GREAT!