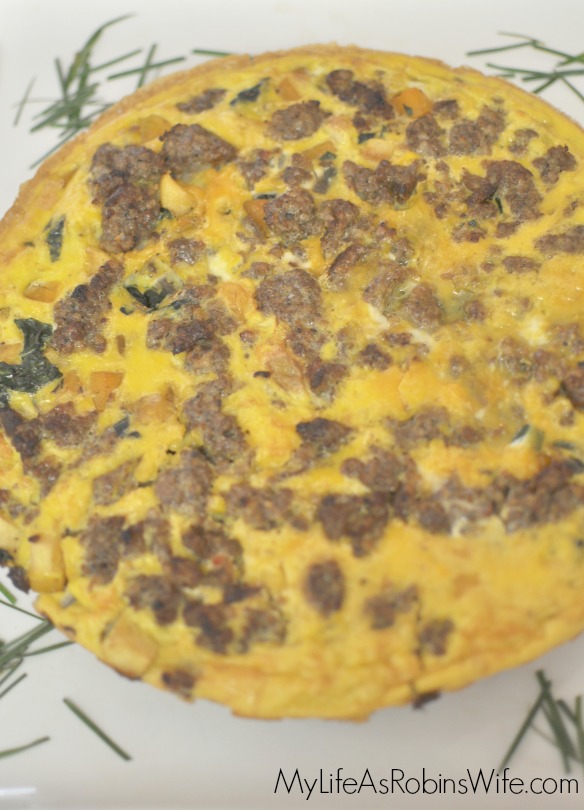 Sausage, squash and kale are the stars of the show in this delicious autumn frittata that is sure to please a crowd.
These past couple of months, I have been eating based on a plan called Whole30. Have any of you heard about this dietary "reset" program? Focusing on the positive, I can eat any veggie, fruit, or meat…delicious, right? Now to what I can't have…grains, sugar, legumes or dairy. My body has responded so well to eliminating these foods from my diet. I am writing another post on that topic to share how it has effected me.
With that said, I am working to learn a new way of cooking…one that isn't dependent on dairy, grains and sugar. This is a BIG change for me. I really enjoy cooking healthy foods and always have…its just that often the treats became the norm and that isn't where I want to be. I want treats to be just that…treats. I also probably won't always eliminate these foods, but for now, I am learning to tell myself "no" more frequently to foods that my body doesn't respond as well to and to say "yes" more frequently to the yummy healthy foods I enjoy so much.
Today I hosted a gathering for the ladies in our church. I challenged myself to cook food that my body would thank me for…and, that the ladies would enjoy. I am so glad I did and thankful for the outcomes!
This is one of the dishes we enjoyed.
Sausage, Squash and Kale Frittata
Prep time:
Cook time:
Total time:
Sausage, Squash and Kale are the stars in this baked egg dish that is sure to please a crowd. Not only is it delicious, but it will also give you a nutritional boost to begin your day.
Ingredients
1 pound Sausage, cooked and crumbled
1 tablespoon Ghee or Avocado Oil
1 medium Red Onion, chopped
2 cups Butternut Squash, cubed
1 medium Apple, diced
3 cups Kale, chopped
12 Eggs, beaten
Instructions
Cook the sausage on medium heat until browned and cooked through.
Remove from pan and set aside.
Add Ghee and melt.
Add onion, butternut squash, apple and kale and cook until soft and slightly browned.
Add in your eggs and pop into a 425 degree oven for 15 minutes or until set.
Let set on the counter for 5 minutes and then run a knife around the edge of the skillet.
Turn the fritatta out onto a platter or serve from skillet.
Cut into wedges.
Serving size:
12
Calories:
220
Fat:
15.4
Saturated fat:
5.1
Unsaturated fat:
10.3
Carbohydrates:
7.9
Sugar:
3.4
Sodium:
358
Fiber:
1.6
Protein:
13.2
The butternut squash, apple, onion and sausage are so nice together…perfect for this rainy autumn morning. Because it serves 12, I made two and we had plenty to go around. I also served pumpkin bread with a couple of spreads, yogurt with maple walnuts, bananas and granola, and coffee…plenty of coffee.
Even better than all of this, we all had a wonderful time spending time together and encouraging each other in the Word of God.
I hope you enjoy this sausage, squash and kale frittata as much as we did! And, I hope you are looking forward to a new array of recipes as the days and weeks go on.
Blessings,