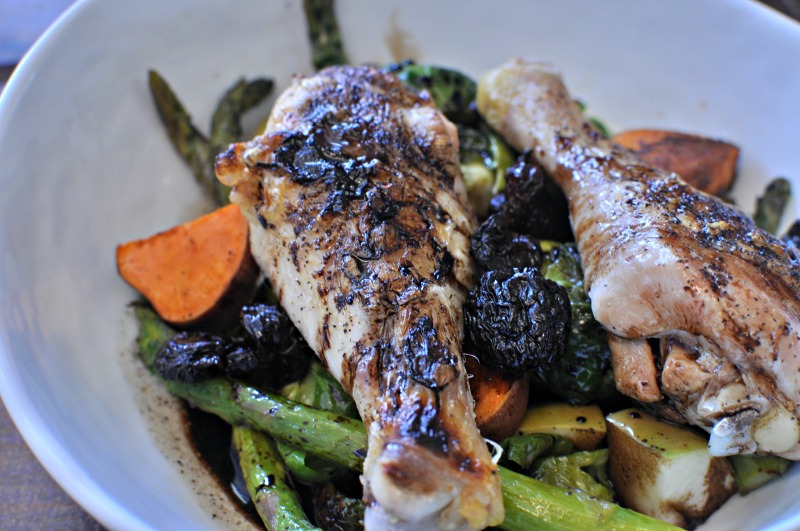 My Roasted Chicken Legs with Harvest Veggies and Apples is the second in thirty recipes I will be cooking this month as we do our January Whole30. I will start by saying that I rarely use a cookbook to cook the actual recipe presented…but, I do use them for inspiration. Otherwise, I can get in a rut…or fail to edit myself while cooking. This month, I am committed to making at least one recipe a day from the Whole30 Fast and Easy…and it is jump starting my January Whole30…which is the beginning of my Whole360! Yep…you read that right!
This recipe calls for Chicken Thighs in the cookbook. Since for some reason Trader Joes didn't have bone in chicken thighs when I shopped, I decided to work with chicken legs instead, and they worked well. Don't be afraid to switch them out for a different cut of chicken if you have something different. You just might need to adjust your cooking times.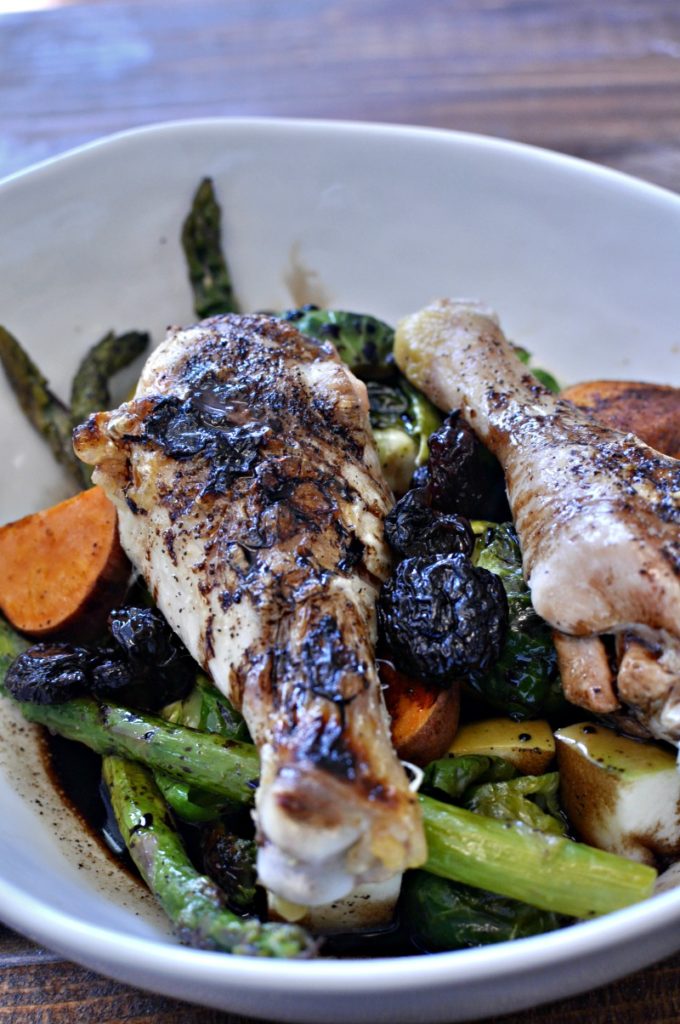 My husband's favorite part of the recipe is the dried cherries…they are such a great balance to the green apples. I also added some asparagus since I had it in the fridge…it was a great addition!
Here is what I did:
Roasted Chicken Legs with Harvest Veggies and Apples
Fast and easy, this one pan meal is not only comforting, but easy to clean up!  Not only is the chicken juicy and delicious, the roasted veggies and apples are amazing!
Author:
Prep Time:

15 minutes

Cook Time:

45 minutes

Total Time:

1 hour

Yield:

6-8 servings
Ingredients
3 lbs chicken legs
1 1/2 teaspoons course salt
1 teaspoon black pepper
2 medium sweet potatoes
16 asparagus spears
3 cups trimmed and halved Brussels sprouts
6 small sprigs fresh rosemary
3 tablespoons extra-virgin olive oil
1 cup balsamic vinegar
1/2 cup no sugar added dried cherries (Trader Joes!)
2 medium granny smith apples, quartered, cored and chopped in large pieces
Instructions
Place the chicken legs, skin side up on a large baking pan.  Sprinkle with salt and pepper.
Broil 5 to 6 inches from the heat until the skin is lightly browned, 4 to 5 minutes.
Remove the pan from the oven and set the oven temperature to 425.
Drizzle the pan with the olive oil.
Add the sweet potato, Brussels sprouts and three sprigs of the rosemary to the other half of the baking pan in an even layer.  If your pan is too full, put half on the other pan.  Put the rest of the salt and pepper on the veggies.  Toss to coat.
Return to the oven and roast, uncovered, for 20 minutes.
While the veggies are roasting, put the vinegar in a small saucepan and heat gently until the vinegar is reduced to 1/2 cup…takes 6 to 8 minutes.  Add the dried cherries and the remaining rosemary and cook for another few minutes.  Remove from the heat and let cool until ready to serve.
Add the apples to the veggies and roast until the chicken is cooked through and the veggies are tender and browned.
Place veggies on a platter and put chicken legs on top and drizzle with the balsamic sauce.
This cookbook is SO good…it is the best tool for your Whole30 and really for your continuing food freedom. I highly recommend it!
It's day 2…hang in there! We can do this!
Blessings,