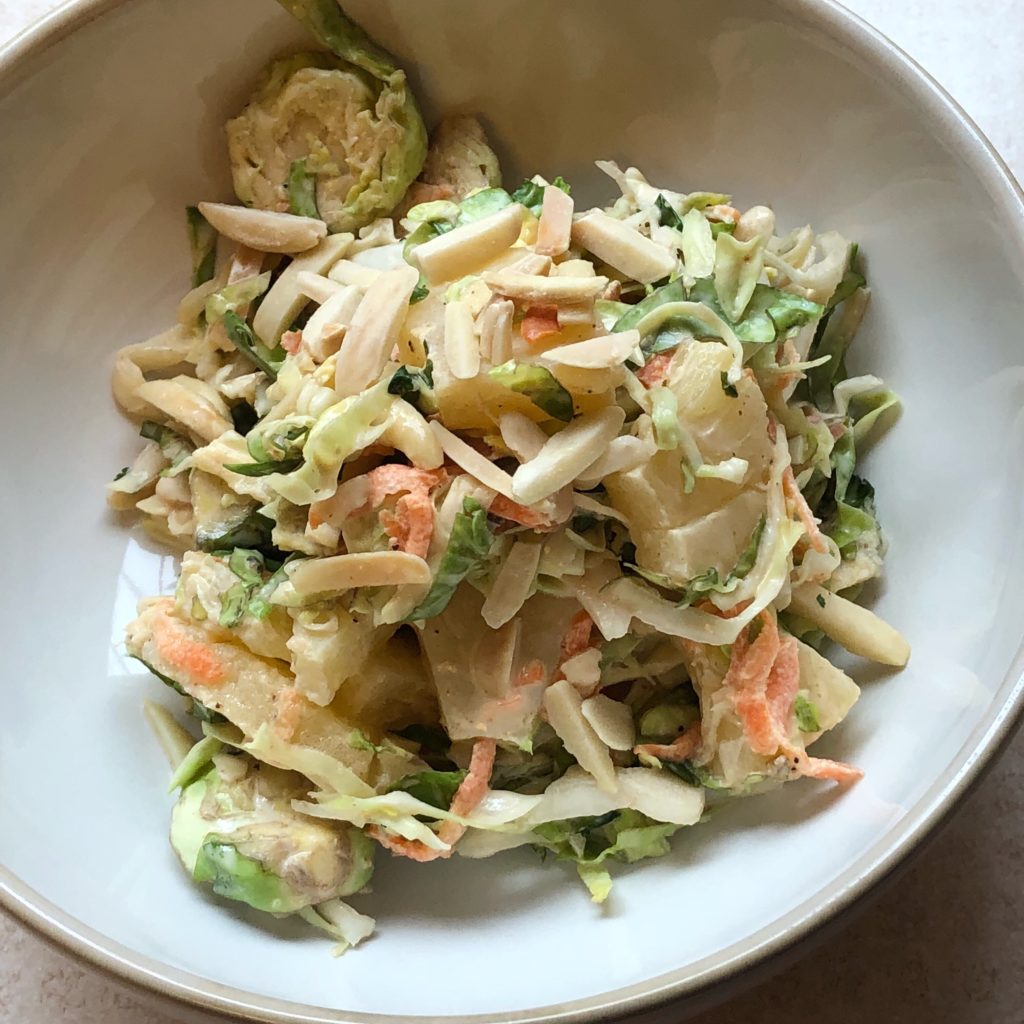 This past Sunday my family went to my parents home for lunch and we planned to bring lunch since we are in the beginnings of our Whole30 and are a little difficult to cook for.  I decided on bringing the Slow-Cooker Apple-Cider Pulled Pork based on the recipe from Whole30 Fast and Easy.  Now…how to serve it!
I checked the fridge to find all I would need to make a delicious slaw that would also be nutritious.  I found shaved Brussels sprouts,  shredded cabbage, chipotle mayo from Primal Kitchen, cilantro, carrots…you get it.  The perfect makings for an amazing slaw.
It was a little spicy so I also added pineapple, which took it over the top and make it a truly perfect accompaniment to the pulled pork!  So good!  The crispy veggies with the spicy mayo and the sweet pineapple go so well together!
On the day I am writing this post it is day 8 of our Whole30.  We are standing strong, yet still have some cravings.  And, since we have a family, we still have non-compliant food in our home…but, so far so good!  These recipes are keeping our tummies satisfied and our taste buds happy.
Here is what I did:
Pineapple-Chipotle Slaw
This Pineapple Chipotle Slaw is sweet and spicy and the perfect accompaniment to pulled pork or a burger. Or, add chicken or shrimp, and you have a meal!
Author:
Prep Time:

10 minutes

Total Time:

10 minutes
Ingredients
10 ounces shaved Brussels sprouts (I used Trader Joes)
10 ounces shredded cabbage
1 carrot, grated
1/2 cup cilantro, chopped
20 ounces canned pineapple in juice (reserve juice)
1/2 cup roasted almonds, slivered
3/4 cup Primal Kitchen Chipotle Lime Mayo
1/3 cup reserved pineapple juice
3/4 teaspoon salt
1/2 teaspoon black pepper
2 tablespoons apple cider vinegar
Instructions
Combine the mayo, pineapple juice, salt, pepper, and acv in the bottom of a large bowl.
Add in the veggies and pineapple and stir.
Top with the almond slivers.
I highly recommend making up a batch of Slow-Cooker Apple Cider Pulled Pork to go with this…oh, and baking some potatoes…and making a batch of Whole Sister's Dump Ranch…seriously an amazing meal. I'm getting hungry. 🙂
Blessings,