Ok, I admit that is a very long title for a recipe…but, I couldn't resist. I couldn't decide which part to omit. So…there it is…a recipe title with 9 words. I probably broke some rule somewhere for effective titles. 🙂
Last Thursday was our bi-monthly meeting for Mom's Inc. at our church. It happened to be our table's turn to join in and supply breakfast. And, since it had been very busy here with all of the loving on our little Foster baby, I had to come up with something quick and easy…that would still be delicious of course. And, it had to be something I would be able to share with you all. Thus was born the recipe with the longest title ever. 🙂
It had to be something I could make the night before and it had to contain strawberries and cream cheese, because I had these items in the fridge.  It also needed to contain eggs. So, after a quick trip to the store for just cinnamon bread and Greek yogurt, we were ready to roll!
Here are the ingredients:
Filling:
16 ounces of Cream Cheese (bricks not whipped)
6 ounces non-fat Greek Yogurt
2 cups Powdered Sugar
2 cups Fresh Strawberries, chopped
1/4 cup Fresh Heavy Whipping Cream (or whole milk)
Bread Layers:
36 slices of cinnamon swirl bread
Egg/Custard:
12 eggs
1 cup Whole Milk
4 teaspoons Vanilla
1 teaspoon Cinnamon
Topping:
4 tablespoons of Grated Butter
1/2 cup Brown Sugar
Here is what I did…
First, I mixed all of the ingredients, except for the strawberries, together with a hand mixer. Then I folded in the strawberries. Set this mixture aside.
Then, I layered the bottom of a LARGE baking dish with 12 slices of cinnamon bread. I then placed 1/2 of the filling on top of the first bread layer.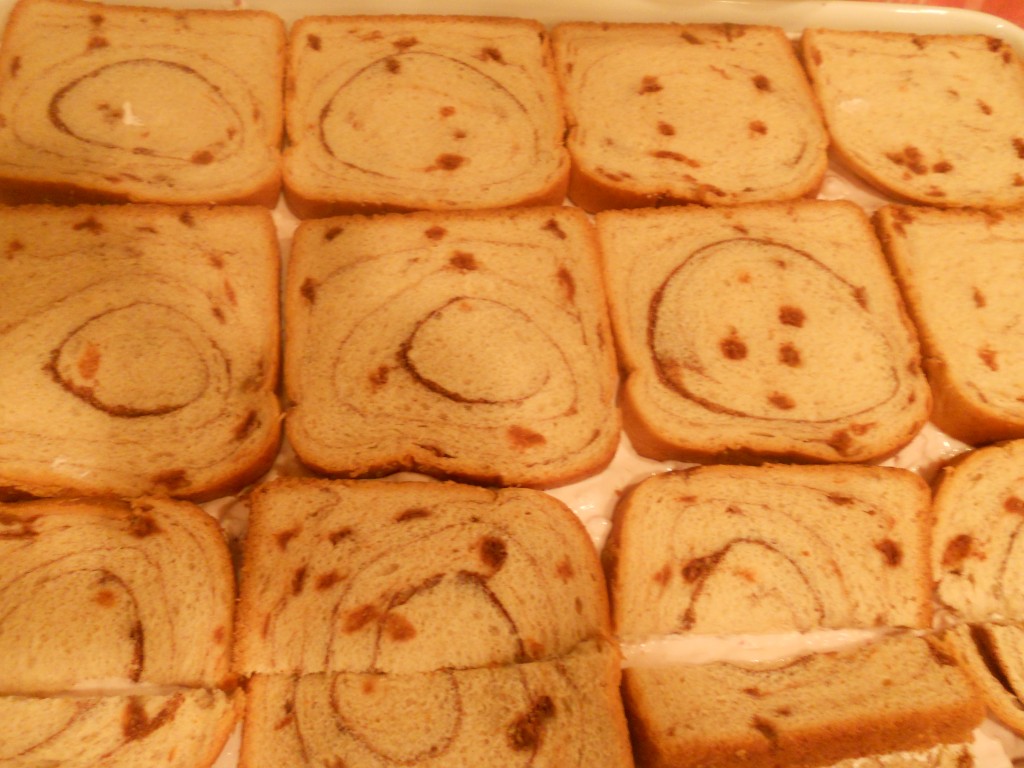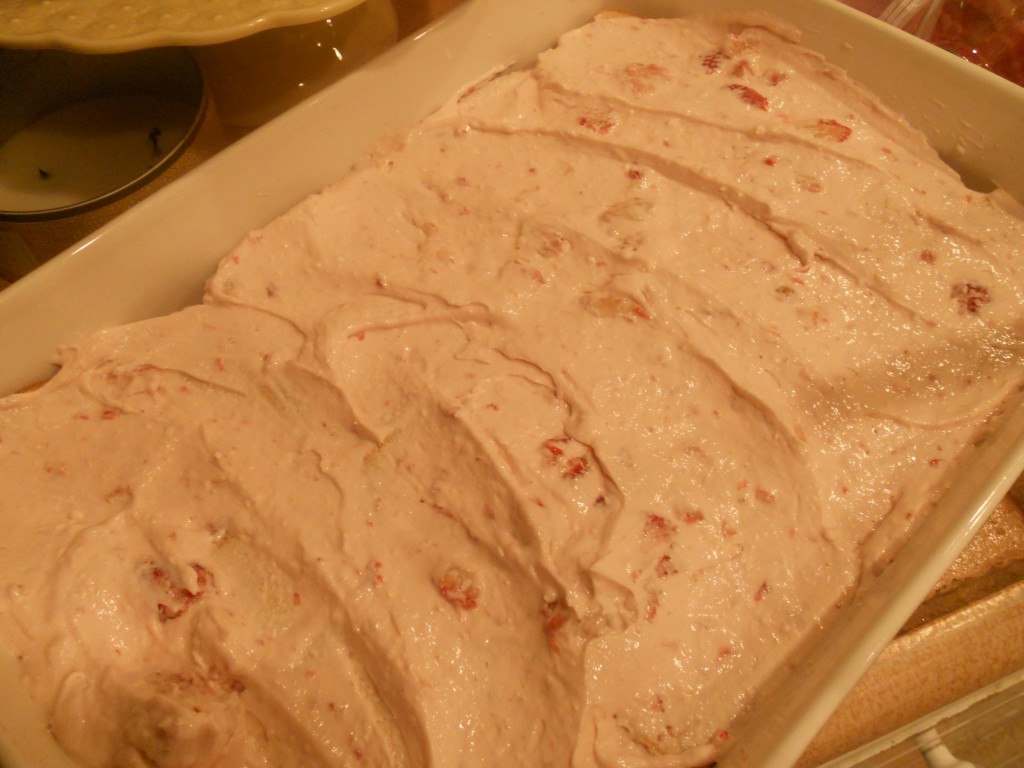 I then topped the strawberry, cream cheese mixture with another layer of cinnamon bread.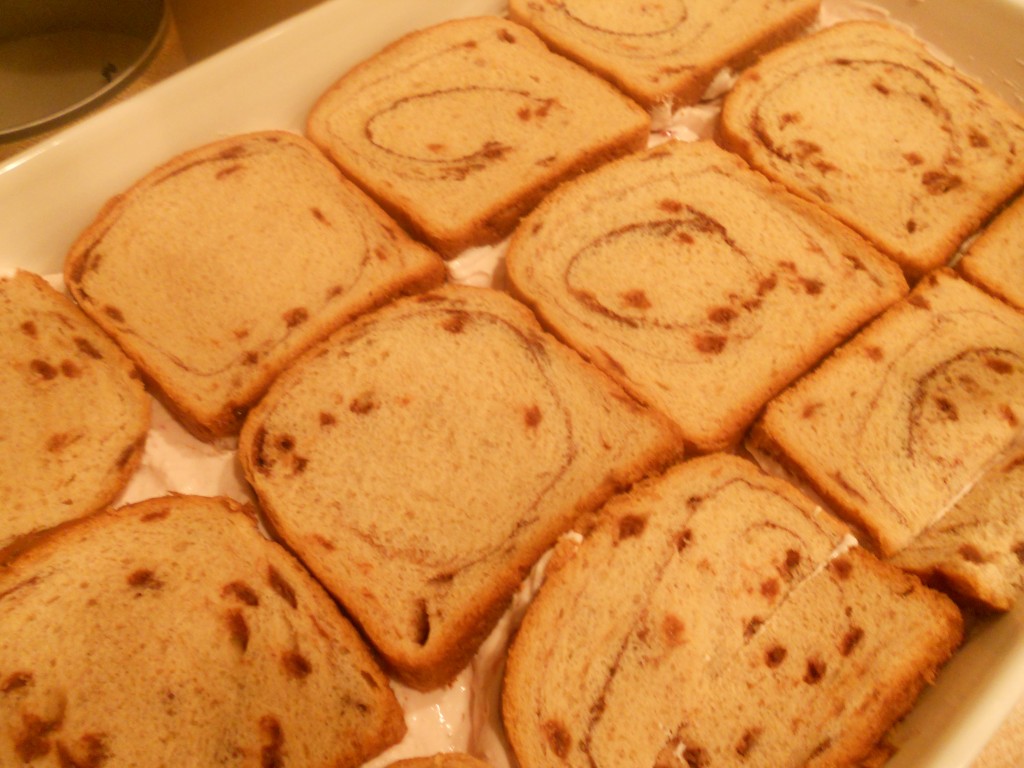 Then, another layer of strawberry, cream cheese filling…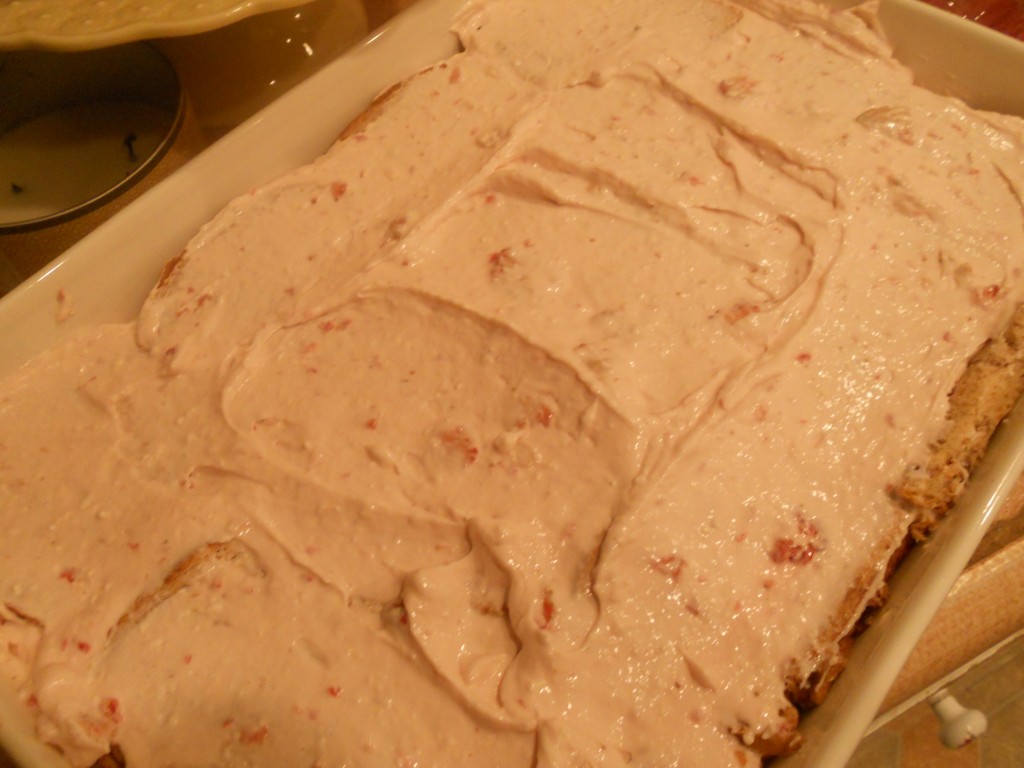 And, finally another layer of cinnamon bread.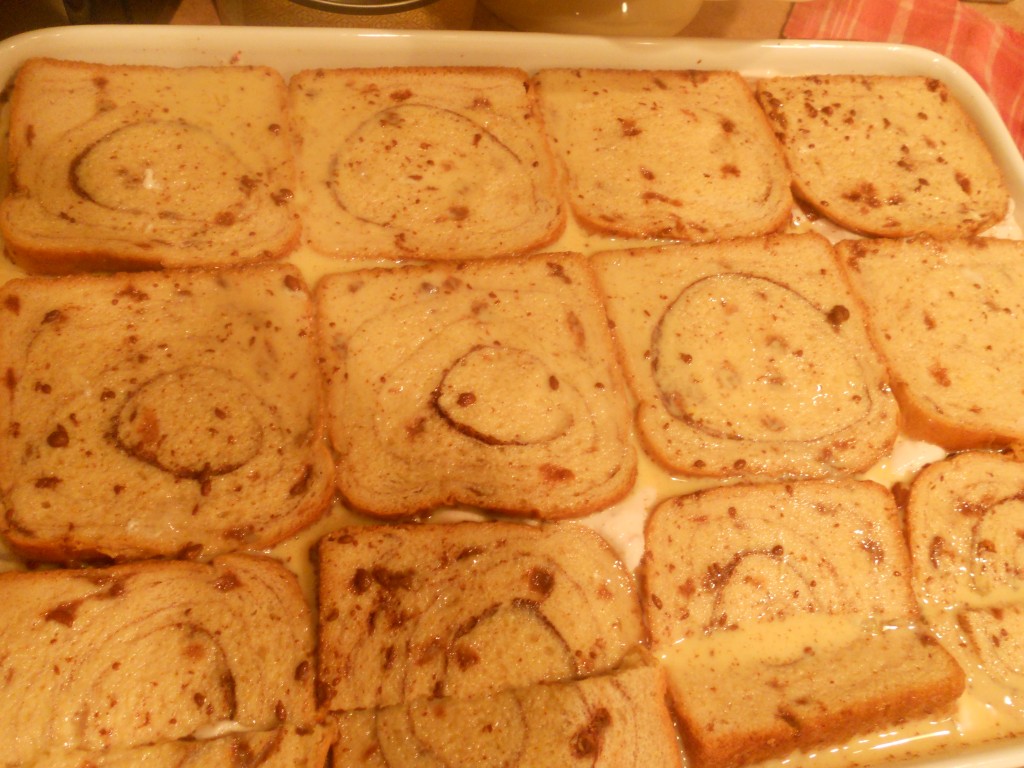 I then combined all of the ingredients for the egg/custard mixture and poured them over the bread and stuffing. Pour it a little at a time and let it sink in. It looks like too much egg mixture, but it will soak in.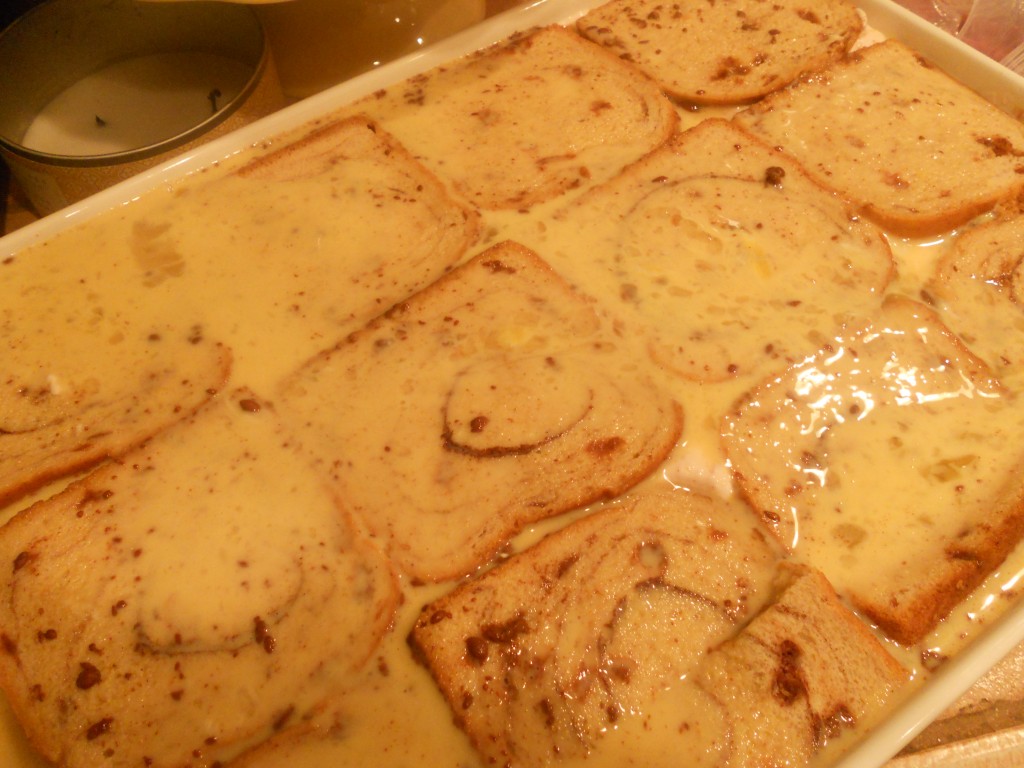 Now, for the overnight part…let it sit, covered, in the refrigerator overnight. In the morning, place in a 400 degree oven, covered with foil, for 30 minutes. Then, remove the foil and top with the grated butter and brown sugar and bake for an additional 15-20 minutes uncovered.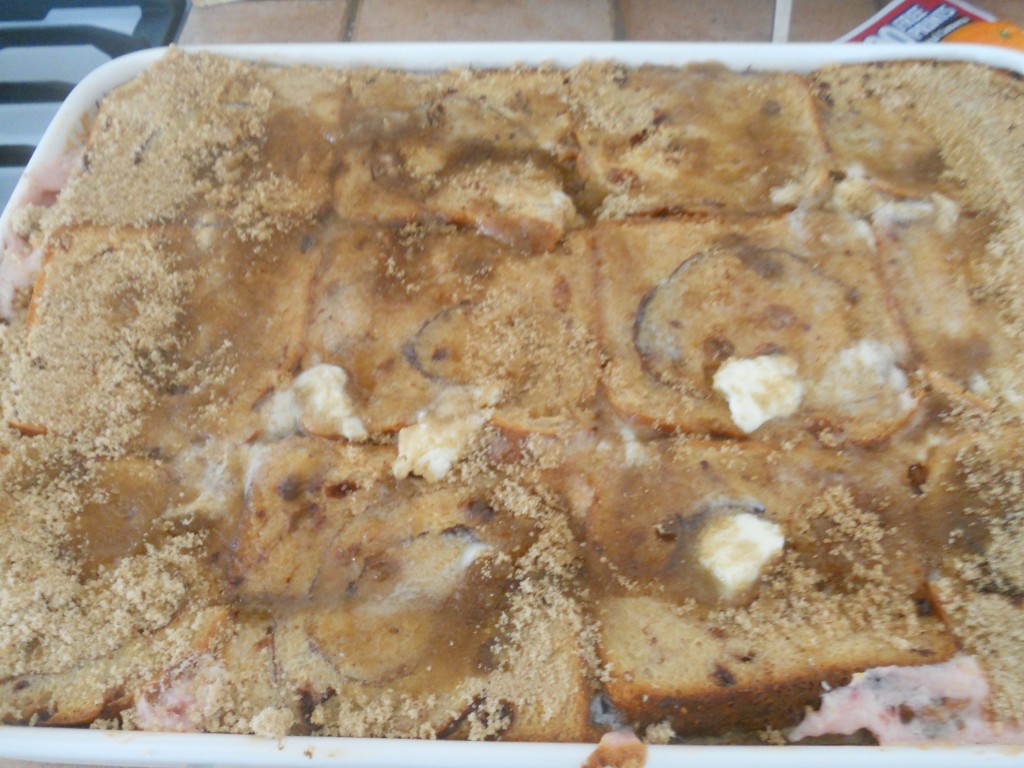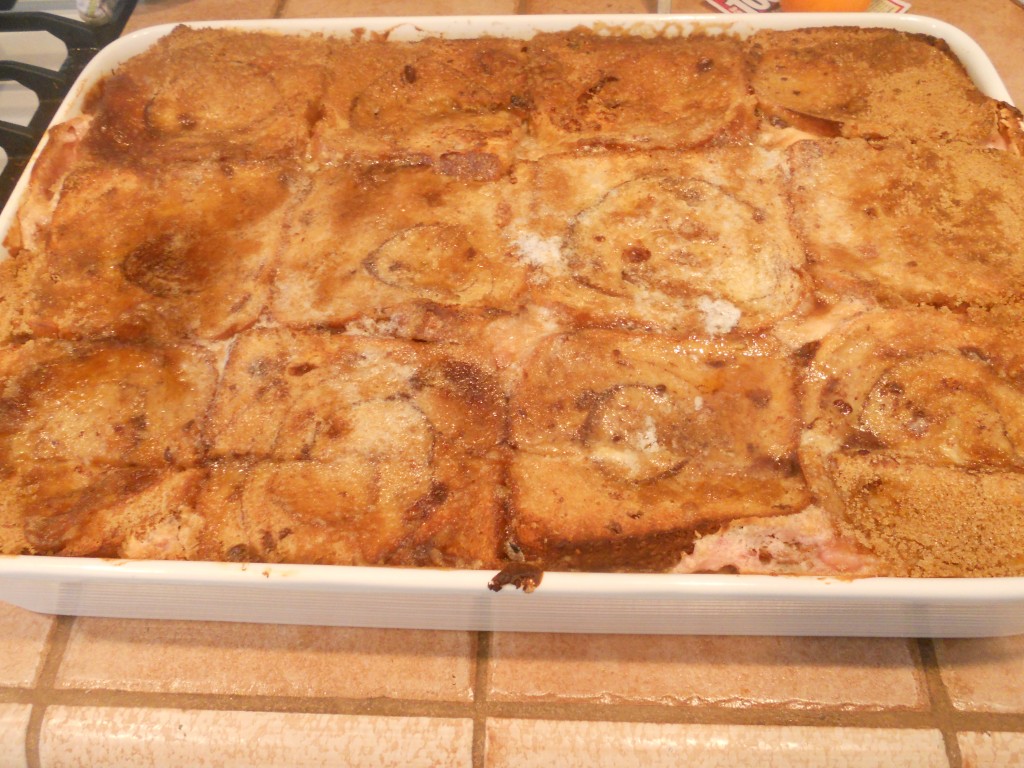 When it is done baking, the top is sweet and crisp and is the perfect complement to the cinnamon in the bread and the stuffing in the layers of the french toast. This casserole serves 16 people and can be made in two smaller baking dishes if need be. And, as you can see, it can be mostly made the night before…what a time saver!
Blessings!