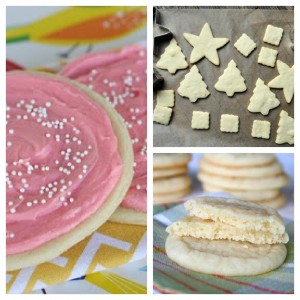 A friend asked me for my favorite sugar cookie recipe and wouldn't you know it…I can't remember the last one I used and really liked! It is really since I have come back to the blogging world that I have actually been writing down the recipes I use so I don't continue recreating constantly. So, I am going to post the next best thing…
Because I am familiar with what it takes to make a good sugar cookie, and because there are many faithful food bloggers I have been following and have come to trust the recipes posted, I am going to make a list. So, here are some of the sugar cookies I hope to try soon and some that I have confidence in recommending. So, please enjoy!
1. For soft sugar cookies, here is "Lauren's Latest".
2. From Annie's Eats…another soft sugar cookie. This pictures on this site are beautiful!
3. The Kitchn enters the list with their "Best Cut-out Sugar Cookies" Recipe.
4. Our Best Bites also has a wonderful, basic recipe with good pointers included. Worth checking it out.
5. And, the final entry is from "Pinch My Salt" Disregard that they are ghosts since it is Christmas. 🙂 The recipe looks great!
I am a bit surprised that there are not that many sugar cookie posts out there, but I am glad to have found these. Perhaps you will find one more right here after I finish my Christmas Gifts and can bake again! 🙂 Melissa, I hope this helps!
Blessings!