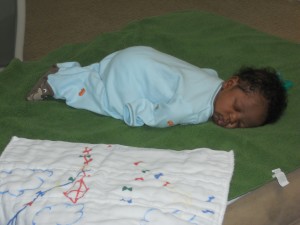 In Part-1 of our foster/adoption story we left off at our first joy and sorrow. Our little boy had arrived. What a blessing! Let the sleepless nights and busy days begin. Little did we know when he arrived, he had some drugs in his little system. This made it very hard for him to be comforted when he began crying, which was often. And, when he cried, it was intense and he would shake, hard. At this time we just figured he had a strong little will, even at this tender age. We held him tight and rocked him for hours. He would calm down and sleep in our arms. What a privilege, really. While we were exhausted, we were so thankful to be foster Dad and Mom to our sweet little Joseph. Our children were thrilled to be foster brother and sissy.
A week into his arrival, the visits with his birth mom began. Two times a week I would head out to our agency and visit with little Joseph's birth mom so she could be with him. During these first weeks his birth mom was trying very hard to be able to care for her sweet baby. We were careful to call him our Foster baby. This distinction was really important for the protection of our hearts and for the honor of his birth mom. It was easy at first, but as we became more attached it became more difficult and unnatural. It is at this point that I began to have an internal struggle to have the right perspective. I knew that little Joseph's birth mom could change. I wanted her to change. I especially knew that if she would repent and turn to Jesus Christ for her salvation her life would never be the same. She then could be adopted by Him and begin a new life. Then she could really be "mom" to little Joseph. We had such hopes that she would stay off drugs. But the day came when her bad choices stole her opportunity to provide a loving home to her sweet boy. Again, such sorrow on our part.
We were closer than ever to officially being his Mommy and Daddy and yet, we grieved. Our Foster Son, whom we loved, was losing his birth mom to her choices. She was losing an opportunity to raise this sweet boy, whom we loved so much. When she missed her first visit, I really thought I would be even a little happy, since again, we would be closer to being little Joseph's family. But, instead, I cried the whole way home from the visit. My heart was broken for him and for her. How could this be? How could she miss seeing her sweet baby? When she was there, you could tell how much she loved him. Thankfully I have photos for him when he is older so he can see the love coming from his birth mom. Maybe that will ease any hurt he may have as he comes to terms with all that happened in his young life.
December 2011 was the last time little Joseph's birth mom saw her little baby. He was just two months old. I know she must ache for him. I ache for her. What must a mom go through when this happens. I have been told that a birth mom often will stop visiting once she knows her baby is well cared for. When she sees them living a life that is better than the one she can provide, out of love she "let's it happen".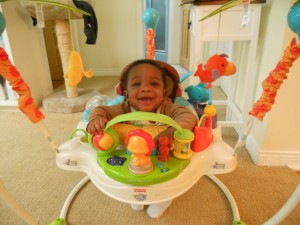 The ensuing days, weeks, months and year (19 months in total) were filled with the ups and downs of the legal process. Many days it was easy to forget all that was happening behind the scenes. Some other days were hard as we waited. We were given the wonderful counsel to enjoy each day and try to stay detached from the legal system and that helped so much. We also regularly reminded ourselves, that it should not be easy to adopt someone else's child. If it were us, we would want to be treated with respect and given the time we needed to conquer our choices. This helped us to be patient. Again there were joys and sorrows. There was the joy of knowing that we were moving toward being able to raise sweet little Joseph and call him our own, and the sorrow of knowing what his birth mom must be going through. I am so thankful for the love she showed him when she visited. We really honor her for giving him life. She chose life for her son. Praise the Lord that she chose life for him.
I will write more in a part three in the coming days. Please comment and ask any questions you may have or share your stories.
And, remember, if you are interested in learning more about Foster/Adoption, please call Maria Otero at (800) 730-3933 at Children's Bureau. They are a wonderful resource and can answer your questions and get you going in the process if you are interested. Please tell them Robin and Diane sent you!