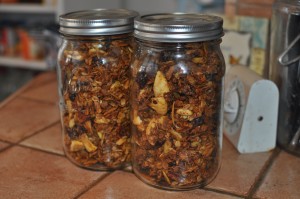 My husband really enjoys granola and I have always wanted to make it at home, but hadn't tried it until now. This past week I taught my first cooking class for our home school academy and I decided this was the perfect time to venture out and make granola. It was SO much fun!! I made my own batch at home to test recipes and decide what I wanted to include. It turned out GREAT! I hope in at least some small way I can inspire these children to cook at home and choose the healthiest options available to make tasty food.
This granola is full of great stuff! From flax, to wheat germ to oats, nuts and coconut oil, it packs a flavor and nutritional punch that is perfect for the first meal of the day. In class we used this granola to make some delicious parfaits with vanilla yogurt and cinnamon apple compote. Yum!!
Another great thing about this granola is that you can make substitutions…if you like walnuts, they will fit well in place of the pecans. If you would rather have peanut butter chips, swap out the chocolate…or leave them both out.
This recipe has convinced me that it is much better to make my own granola than it is to buy it. I hope it will convince you too!
Blessings!

[gmc_recipe 7007]
[gmc_recipe 7007]
Save
Save