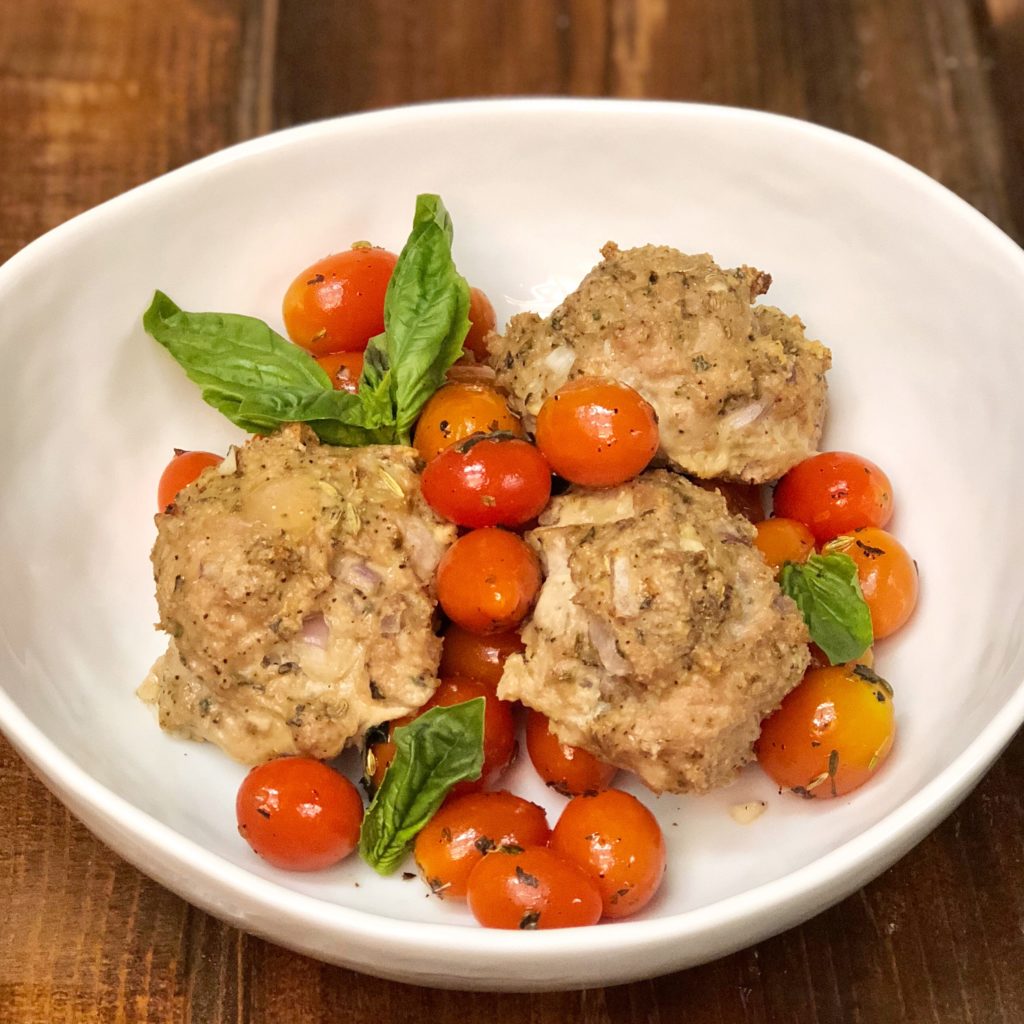 Big Meatballs with Roasted Cherry Tomatoes came to the rescue today! I just re-read that sentence and laughed…that sounds pretty silly…but I'm leaving it. 🙂
Today I took the morning and early afternoon to spend some time with our littlest son. It is the last weekday of his Christmas vacation from school and I wanted to spend some time together. We went on a lunch date, and followed that with seeing Ferdinand the Bull at the movie theater. It was a super cute movie with many good themes running throughout. We had a fun time together!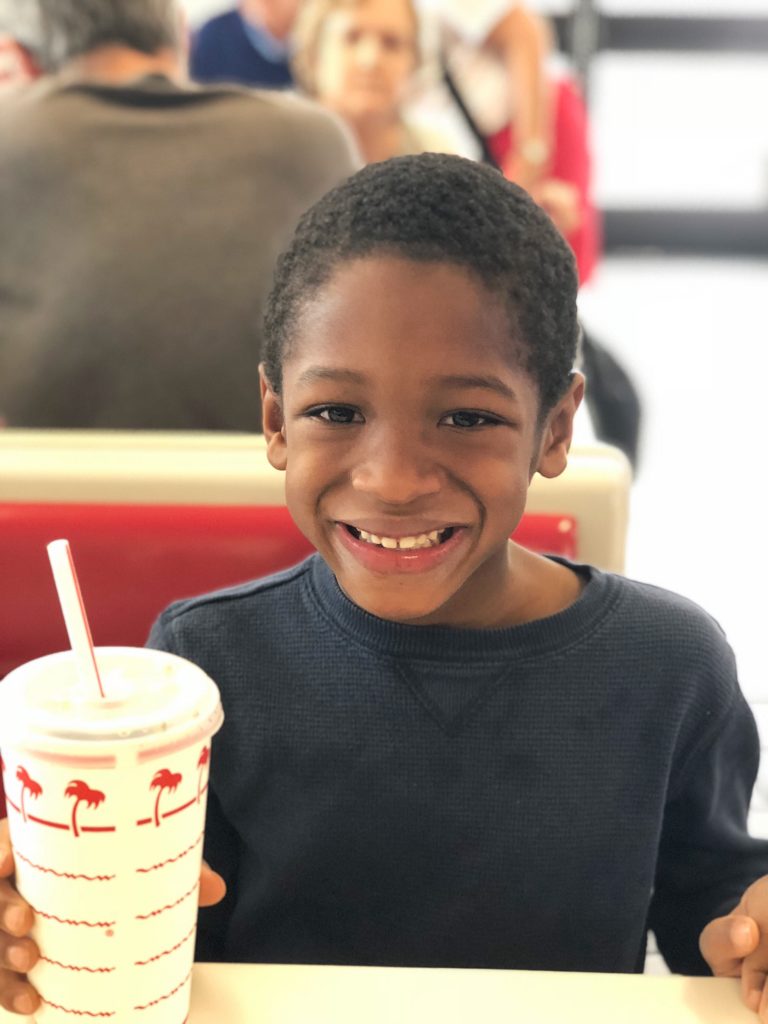 I returned home at 4:00 and needed to get a fast dinner on the table…thankfully, I have committed to do 30 meals from the new Whole30 cookbook, Whole30 Fast and Easy, and had already purchased ingredients. So, Big Meatballs with Roasted Cherry Tomatoes made its way to our table in time for our older son to join us before heading out for the night and I am grateful! Our daughter was home too so we had a dinner all together, which is rare during the season of life with adult children and a 6 year old as well!
I guess I say all of that to say, that this is a good one to make when you want to get dinner on the table fast!
A few caveats…next time I make this I plan to make No Crumbs Left Marinated Onions with it…those would add some necessary moisture since I used ground turkey when I made this recipe. Also, I didn't have Italian seasoning as the recipe called for so I used Basil and Oregano. Lastly, this recipe would also be great with some compliant marinara sauce for dipping.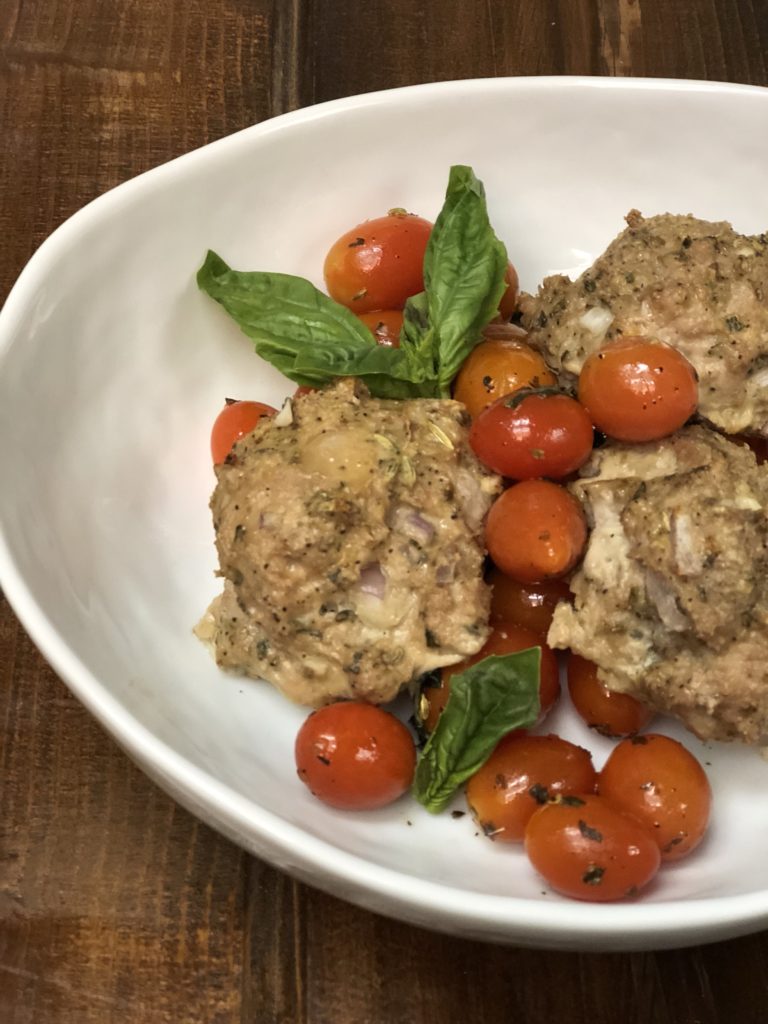 Here is what I did:
Big Meatballs with Roasted Cherry Tomatoes
These big meatballs are flavorful and satisfying and will surely be a crowd-pleaser for those on Whole30 and those who are not!
Ingredients
FOR THE MEATBALLS
2 lbs ground turkey or beef
2 large eggs
3/4 cup almond flour
2 cloves garlic, finely minced
2 teaspoons dried basil
2 teaspoons dried oregano
2 teaspoons fennel seeds
1/2 small red onion, finely minced
2 teaspoons black pepper
1 1/2 teaspoons salt
1 1/2 tablespoons good olive oil
FOR THE TOMATOES
3 pints red or yellow cherry tomatoes
2 tablespoons good olive oil
2 cloves of garlic, finely minced
1 teaspoon dried basil
1 teaspoon dried oregano
1/2 teaspoon salt
1/2 teaspoon pepper
1/4 cup fresh basil, chopped
Instructions
Preheat the oven to 400 degrees.  Line a large rimmed baking pan with parchment paper.
Combine the ground meet, eggs, almond flour, garlic, basil, oregano, fennel seeds, pepper, salt and olive oil.
Form into 12 – 14 meatballs
Place meatballs on baking sheet, spaced evenly.
Roast for 20 minutes.
Meanwhile, combine all of the tomato ingredients, EXCEPT the fresh basil.
After the first 20 minutes have passed, turn your meatballs and add the tomatoes to the pan around the meatballs.
Cook for an additional 10 minutes or until the tomatoes split.
Top the meatballs and tomatoes with fresh basil and serve. You could also add compliant marinara sauce for dipping.
So, next time you get home on the late side, you can count on these Big Meatballs to come together quickly, with minimal prep and mess…they will fill your family with good healthy food and help you stay true to your Whole30…total winner!
Blessings,