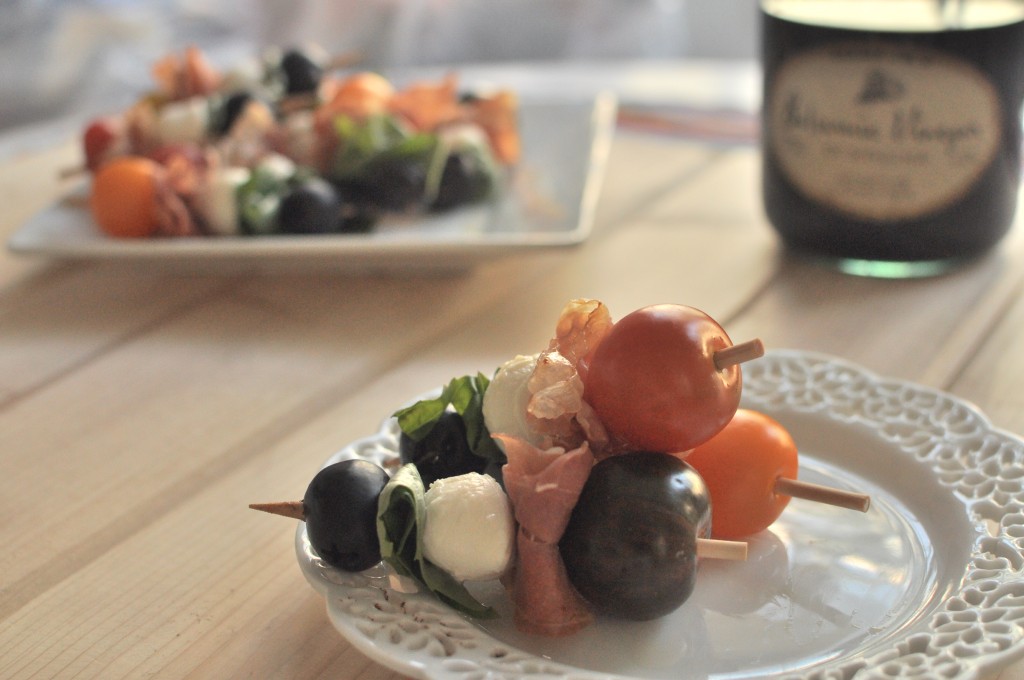 Yesterday, I made antipasto on a stick. I am convinced that when presenting food to your family, anything on a stick gets gobbled up faster. That may sound strange, but once again, it has proven to be true. These little treats would also be a great healthy addition to your Superbowl party!
A little over a year ago I made homemade corn dogs (they were delicious!) and still have some sticks around…so, I decided to test my theory. Lunchtime was coming, and my husband would be home, so I decided to make a "finger food lunch" that would include antipasto on a stick and a couple of dipping sauces. The rest of the items, fresh bread and butter, carrot and celery sticks and grapes and blackberries are all foods we eat regularly, but I put them all on pretty plates for effect.
Well, my theory stands…these pretty little antipasto sticks were a hit! And, everything else alongside them was made even more special by their appearance at lunch. My husband said he felt like I should have had a checkered table-cloth and someone playing violin alongside us. We all felt like we were at a little bistro. So fun!
Here is what I did:
Ingredients:
8 ounces Mini Fresh Mozzarella Balls (or regular fresh moz. cubed)
8 ounces Prosciutto, lightly crisped in a pan
8 ounces Mini Heirloom Tomatoes (or regular cherry tomatoes)
1 can Black Olives
12 small Fresh Basil Leaves
1 cup Balsamic Vinegar, reduced (simmer on low 20 minutes)
4 ounces Mascarpone cheese
Using 6 inch skewers I began with the tomato, then added the crisped prosciutto, bunched up a little, then the cheese, followed by the rolled basil leave and then finished with an olive. They were lovely with all of the round ingredients and the added color of the heirloom tomatoes.
We dipped them in a simple dip of reduced balsamic vinegar whipped with 4 ounces of mascarpone cheese. It was creamy and tangy…you could also use straight balsamic as a dip and that would be delicious as well.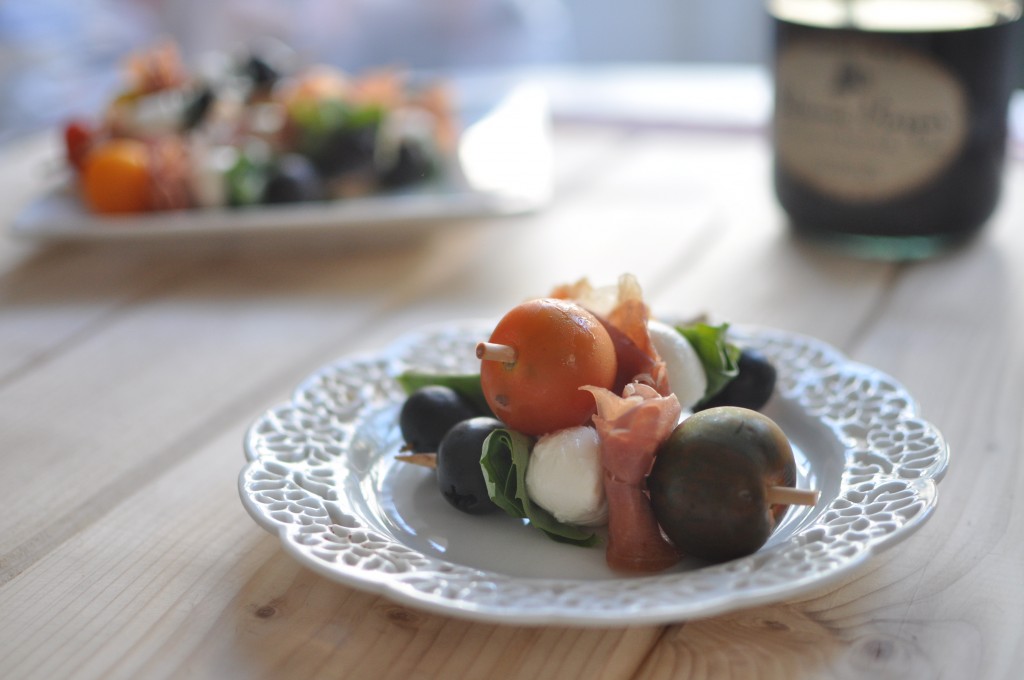 I remain convinced that when a take a little time to put things on sticks and make a pretty presentation, healthy food will fly off the serving plates. We polished off the healthy treats and were satisfied until dinner.
This would also be a great meal for children to help with!
Blessings!