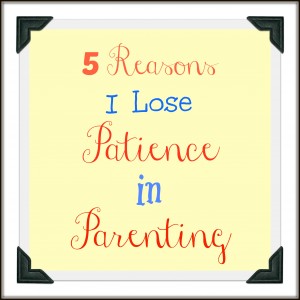 I don't know about you, but I have noticed that there are days and times I am super patient with my children and there are days and times when I am sorely lacking patience. Sometimes it can be because they are extra fussy due to lack of sleep or an upset schedule. Other times, it can have nothing to do with them and everything to do with me and my attitude. The reality is that in every situation, an attitude adjustment by mom works wonders!
Here are 5 things that can contribute to a lack of patience in me. After you read them, let me know if I am alone in this…maybe you can add a few of your own contributors to the list. 🙂
1. My Own Agenda. Probably the biggest thing to zap my patience with my children and others is when there is something I want to accomplish that is out of routine. For instance, there may be an extra recipe I want to post, or some work to do, or maybe the floor in the kitchen really needs my attention. Or, perhaps, I need to put in time toward my 10 hour a week job. Or, maybe I am trying to read (a "all to rare" occurrence…). It is at these times that I feel the pressure rising and I can observe a sharp reaction forming in my heart. Then, when I proceed to push forward…determined to finish my task at all costs, my patience exits as the possibility of what I view as productivity vanishes.
2. Lack of Sleep for my children. This one rings especially clear this morning as I write. Last night we enjoyed a very fun night out with our oldest son watching a basketball game where he goes to college. It was such a blessing. The baby laughed and played on my lap. Our two-year old was super content while sitting next to his big brother whom he misses so much. We really enjoyed catching up…all the way to 10:00 pm. And, then, the drive home…into bed at 11:30. We had a brief moment of "I hope the babies sleep in tomorrow" and then reality set in…no one would be sleeping in tomorrow. Extra tiredness leads to extra fussing and whining, which then leads to lack of patience in this parent.
3. Lack of Sleep for me. Sometimes I may not even realize that I am tired, until I begin being irritated. At first, it is the not really noticeable medium to large things that many are irritated with. But, then, I start seeing the small things…like toys all over the floor (we have little ones…of course there are toys) or noise (another…of course there is noise) or sippy cups all through out the house. None of these things are a big deal and none are unexpected…I must need some sleep. For me, a sure sign of tiredness is also that I cry easily…sad, but true. So, lack of sleep makes the short list of a patience stealer.
4. Lack of planning. Oh, no…what's for dinner? It is time to take our daughter to her volunteer work…5 minutes ago. We are out of milk. There is milk spilled on the floor…again. I forgot to dry the sheets, and it is bedtime! You have heard and said all of these things too. When I am caught reacting to the challenges of the day instead of taking the day having planned ahead the best I can, I lack patience. But, when I have planned the "set events" in our home well, the little disturbances stay little…where they belong.
5. Lack of time preparing my heart. This is foundational. When I lack time preparing my heart to be the mom I want to be and more importantly, the mom God wants me to be, I lack patience. When I skip reading my Bible to get started on the list of that day and fail to ask God to help me to be "others focused" and to lovingly serve my children and husband, my self focus becomes just that…a reason to lack patience with seasons of life or other's shortcomings. During these times I completely lose sight of my own shortcomings and correct perspective.
Next week, I will post the remedies to the 5 contributors to lack of patience that I employ and have found successful. There is so much hope. We can turn things around when our patience flees. So, stay tuned. And, please add your contributors below. I also welcome YOUR remedies! 🙂
Blessings!