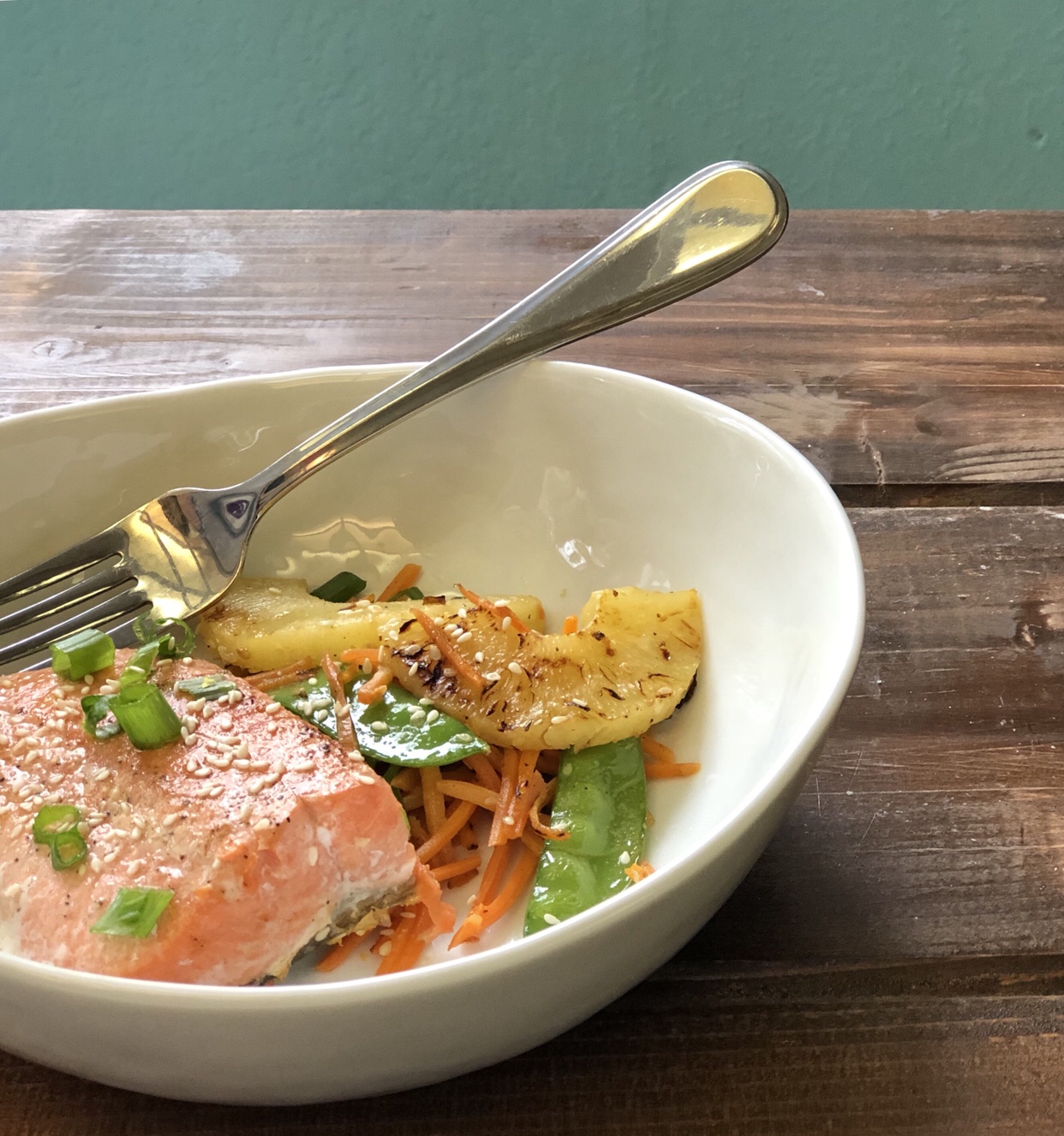 Its day 4 and this Whole30 Seared Salmon makes it so much better! Sweet from pineapple and carrot and full of flavor from the bits of ginger and lemon zest…its sure to become a favorite and help you to get more healthy fish on your dinner (or lunch!) table!
This is my round 4 of Whole30 and this time my husband (its his 2nd) decided to do our best to do a Whole360! WHAT…you read that right! We felt so good after our last round, and then had a rocky holiday season, so we want to get these habits much more deeply routed. We have decided that we would have one day a month where we can have something that is off plan…but, my guess is that when we see how it makes us feel, we just might change our minds! Stay tuned!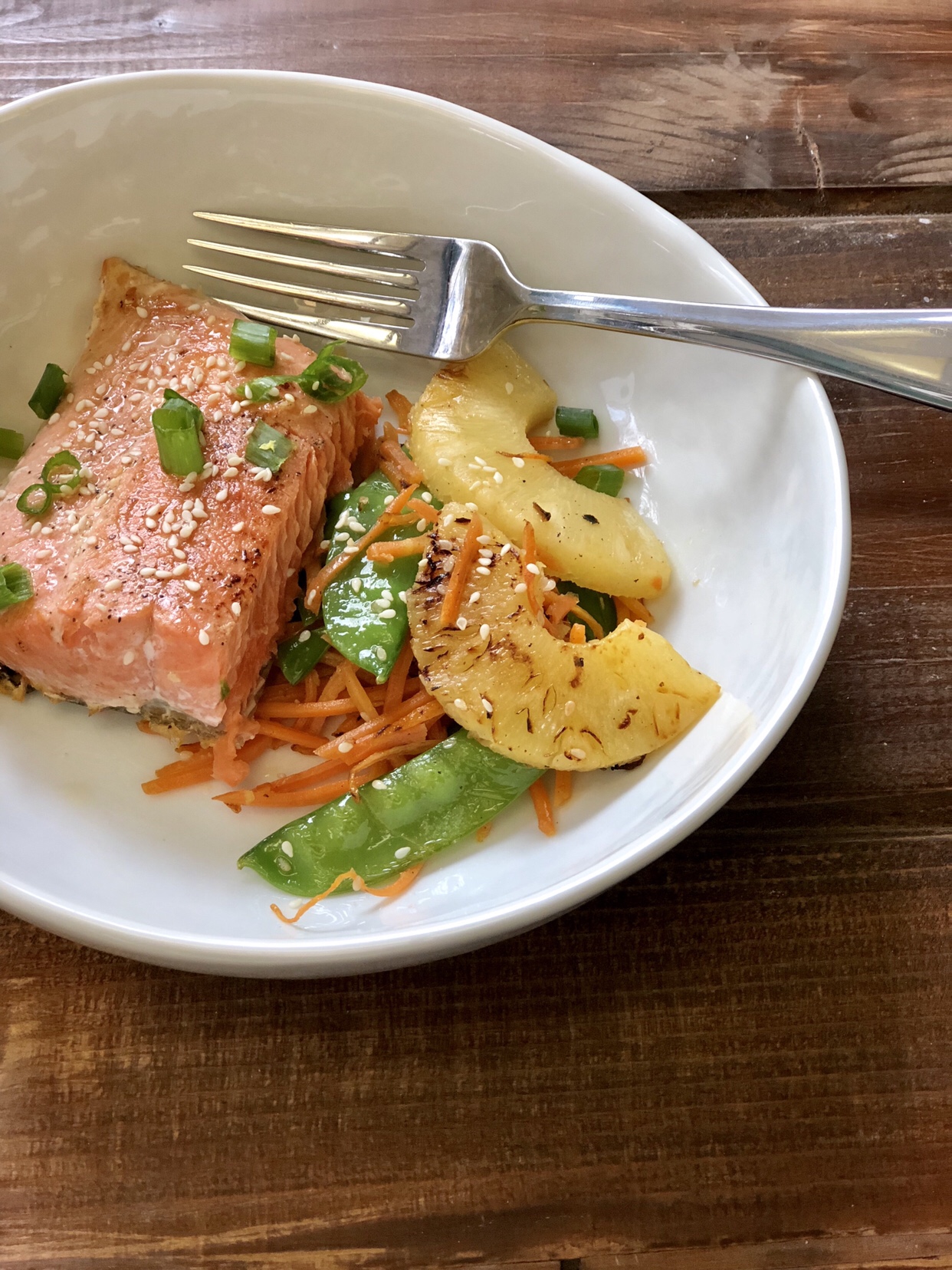 For now, this is only day four, so we have a long way to go! Let's focus on today!
This inspiration for this recipe is on page 88 of Whole30 Fast and Easy Cookbook. As you may know, I am committed to cooking a recipe from this cookbook for 30 days. I know it will help me to have more variety in our diets and it will be inspirational and help us keep on plan. For a person who doesn't often use cookbooks, this will be a bit of a challenge, but I am excited! Come back each day for your own inspiration for your Whole30!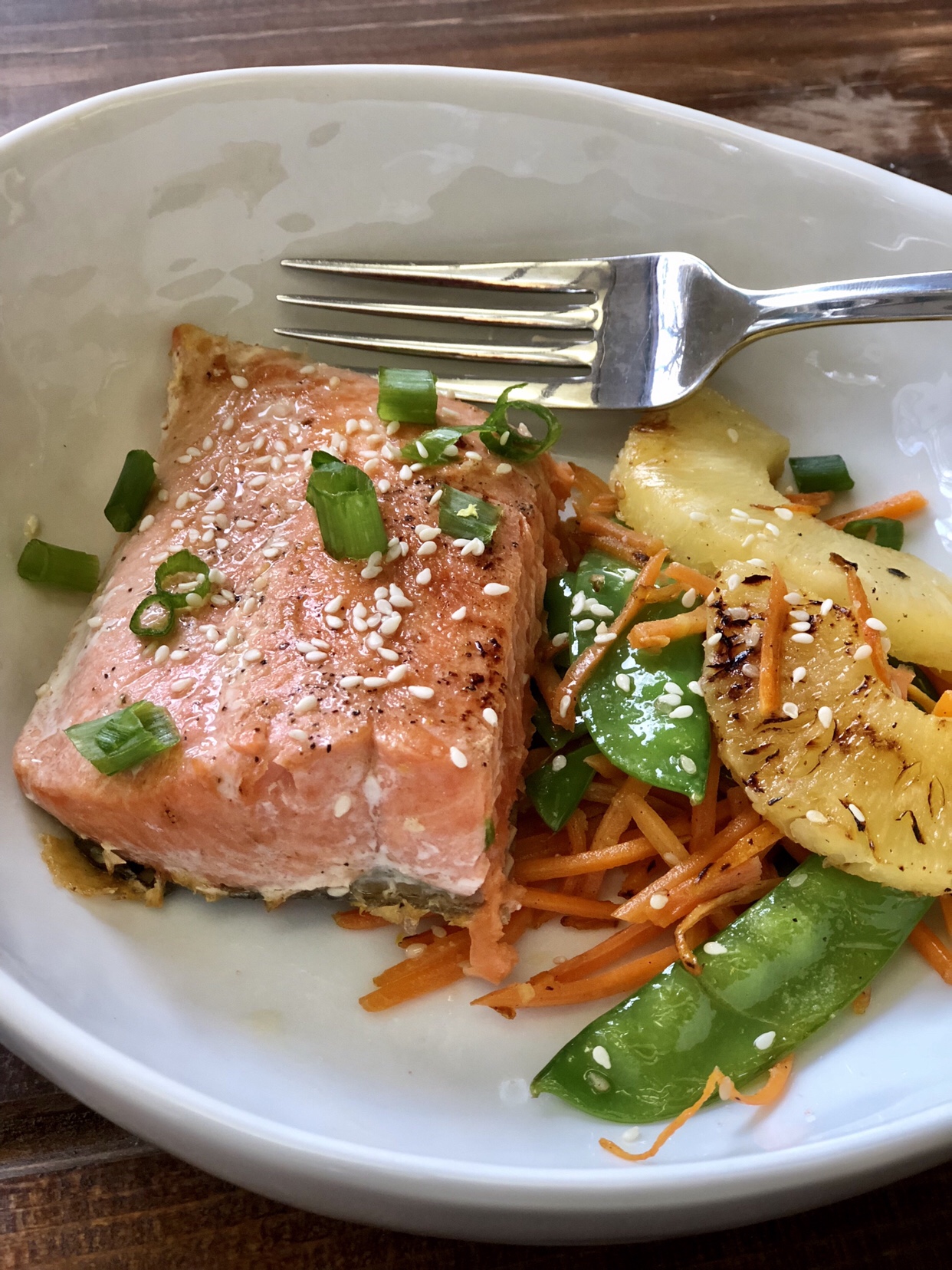 Here is what I did:
Whole30 Seared Salmon with Ginger-Caramelized Pineapple
This salmon has crispy skin, sweet pineapple, and flavorful ginger.  Its healthy and satisfying and the perfect compliment to your January Whole30!
Author:
Prep Time:

10 minutes

Cook Time:

15 minutes

Total Time:

25 minutes

Category:

Whole30

Method:

Stove Top
Ingredients
2 tablespoons clarified butter or ghee
4 pineapple rings, halved
1 cup shredded carrot
1 cup snow peas, whole
1 tablespoon ginger, microplaned
1 teaspoon white sesame seeds
4 skin-on salmon fillets (5-6 ounces each)
1/2 teaspoon salt
1/4 teaspoon black petter
1 tablespoon avocado oil
2 green onions, thinly sliced
2 lemons, zest and juice
Instructions
In a large non-stick skillet (or electric frying pan) melt butter over medium heat.  Add in the pineapple, snap peas, and carrots and top with the ginger and sesame seeds.
Let cook for 3-4 minutes before flipping the pineapple and stirring the remaining ingredients.  Continue cooking the pineapple for 3 minutes on the other side.
Remove everything from the pan and keep warm in a bowl.
Add the avocado oil to the pan and heat on medium high until you see it ripple.
Sprinkle the salmon with salt and pepper on the skin side.
Place the salmon skin side down and leave in alone for 4-5 minutes, or until you see it cooking up the side of the fish.
Sprinkle the non-skin side with salt and pepper and flip the salmon.  Cook for an additional 2-3 minutes.
For serving, place the carrots, and snow peas on the plate and  place salmon and pineapple to the side.
Top with thinly sliced green onions.
Are you doing a Whole30 this month? I encourage you to try this recipe…it is sure not to disappoint! Even if you aren't….who doesn't want to enjoy some amazing salmon…if you like fish that is! 🙂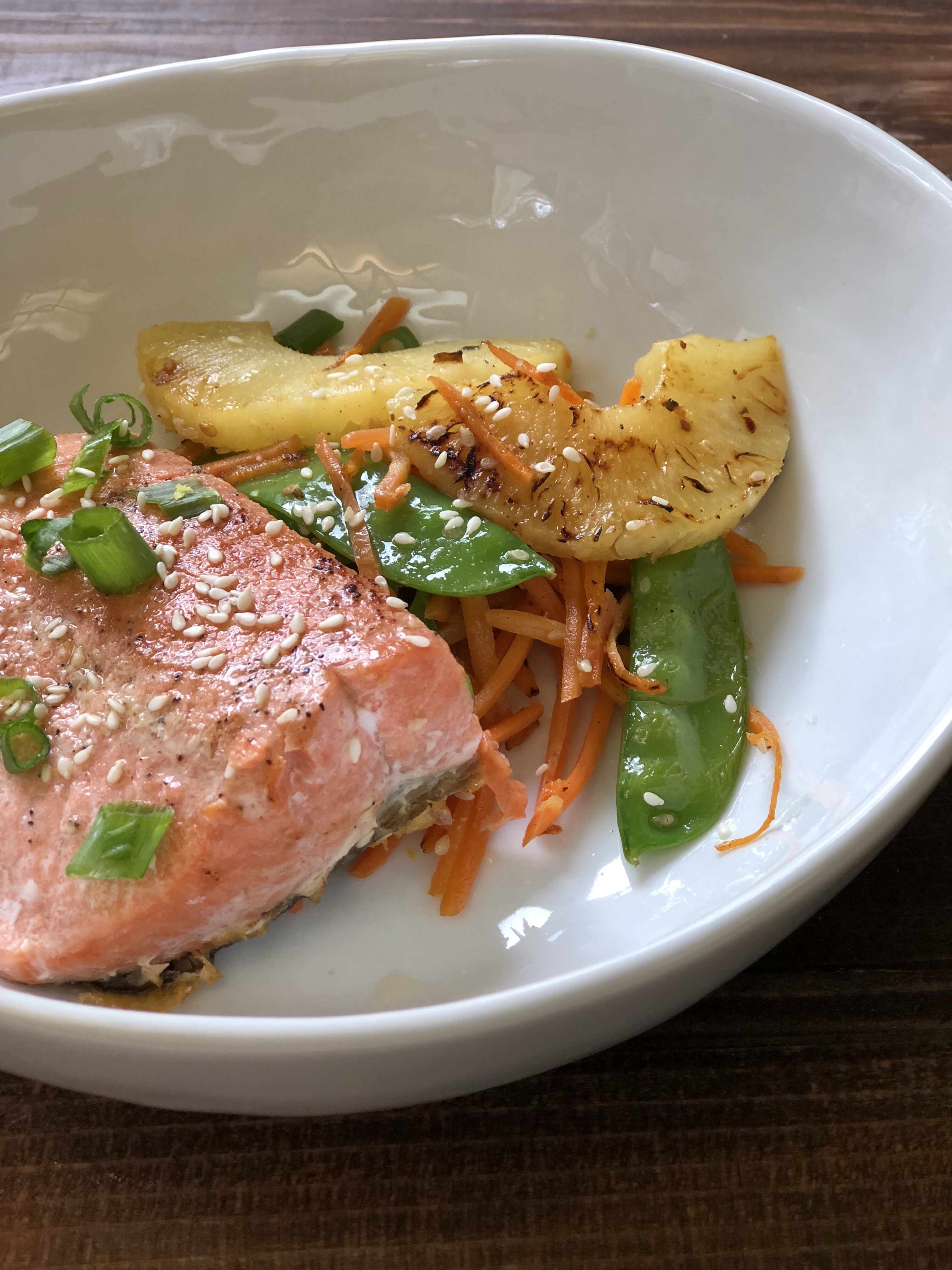 Blessings,