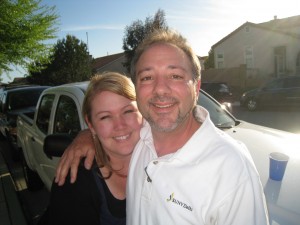 With my blog titled "My Life as Robin's Wife", It seems appropriate to recount how we met and spent the months leading up to being married.  To God be the glory!  Great things HE has done!
Months after the LORD had brought Lisa, Robin's, wife, home to be with HIM, Robin began praying and seeking family counsel about another companion to share life with together.
I had spent many years praying and seeking the LORD for a man to share life with.
*****
October 9th 2008, began a wonderful journey for Robin and Diane (and Joseph and Hannah).
After years of protesting "online dating", I decided to sign up for a free trial on a Christian website just so I would be able to look at what I had been protesting all this time.  This "free trial period" was to be quick and serve the purpose of letting me look around a bit and become more familiar with the online world.  Well, this "free trial" didn't end up being so quick.  Toward the end of the offer, I came across Robin's profile.  Seeing what he and Joseph and Hannah had gone through, I wrote a simple, short note saying I would be praying for them.  I also made sure to say "I am not creepy and this isn't a line…" I didn't want him to think in any way that I was preying on him instead of praying for him.
About 15 years ago, I had a dear friend who had lost her husband to a car accident.  I was privileged to be her roommate as she grieved and as she met someone who later became her new husband.  It was beautiful how her new husband loved her and how he didn't ask her to push her old life aside, but entered in…he even sent her flowers on the anniversary of her 1st husband's promotion to heaven.  There was no competition.  It was beautiful.  Watching God's faithfulness through my friend's grieving process, taught me how to pray for Robin.  And, because my dad had passed away at an early age, I also had a heart to pray for Joseph and Hannah.  God used this simple note of encouragement to a stranger to bring about a great mystery.
Robin replied to this note with a desire to get to know me better.  I was quite surprised and a little nervous.  My response was… "What did the Lord use to draw you to Himself?"  He answered back and then asked the same…Thus began our journey.  It was the many emails and then hundreds of text messages, which lead to our first 6 hour telephone conversation while I was on vacation visiting friends in Cape Cod.  After so much writing, we were afraid we wouldn't have anything left to say over the phone.  We were so wrong, thankfully!  The Lord used this initial form of written communication to allow us to quickly break through the surface to reveal who God had really made us to be.  We skipped the shallow greetings and went straight to real topics and "hard questions".  We both look back on this fondly.  We are both grateful to the Lord for laying such a strong foundation of transparency and trust with one another.
While I was away in Cape Cod we logged 2,400 cell phone minutes while we talked from across the USA.  Each evening after Lou and Amy (Diane's friends) went to sleep and after Joseph and Hannah went to sleep, we would talk for hours and play online Scrabble across the miles.  During this time we anticipated meeting in person upon my return to the Long Beach Airport.  We still don't know how we slept so little during those months, but thankfully, God (and lots of coffee) sustained us!
The story of "the early years" will continue soon, but for now, I am thinking on how good it is to remember the Lord's work in our lives!  Recounting the story here reminds me of the great hope there is in His sovereignty and in His omniscience.  HE knows the end from the beginning and HE is in control.  All those years of wondering why He didn't bring my husband were washed away with understanding. He has now given me the one I love, adore and respect and I could not imagine it being anyone other than Robin!  God had a plan. How often do we wonder what He is doing or even question Him when all the while He is writing a better story than we could have ever imagined. God is SO faithful.  Oh how He loves us and oh, how I love Him!