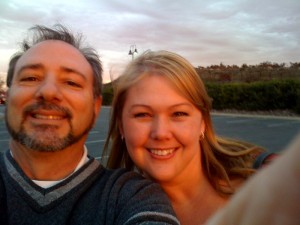 Part 2 –
Well, once we decided that we would meet at the airport upon my return, my first thought was, "what am I going to wear?"  Imagine…I was in a little town in Cape Cod, and I didn't pack anything that I thought I could wear on a long flight and then meet Robin!  So…Amy and I went internet shopping.  We ordered more clothing than I am willing to admit…shoes also.  Some didn't arrive in time, but a few did and I picked a few pieces  and one pair of shoes and borrowed some earrings from Amy.  The rest went back to the stores…in the mail of course.
Then, our meeting day finally arrived!    I was calm for much of the flight and then the airplane landed!  But, upon getting to my car, I was shocked to find that my car battery was depleted and I couldn't drive to meet Robin at Starbucks as we had planned.  I first called my brother John to see if he had any suggestions.  His strongest suggestion was to be sure I didn't get into Robin's car since we were meeting in person for the first time.  It was wise counsel…but I wasn't expecting that!  I then called Robin and he agreed to come and rescue me.  When he arrived, I let him know that my brother would like him to call him so they could talk about how to move forward.  Robin, graciously, did what my brother requested and found someone to jumpstart my car so we could continue our plans.  By doing what John had requested, Robin was on his way to earning the respect of my family.  God, in His providence, provided this interruption to give opportunity for Robin's character to shine forth.  Once the car was started (it was now 10:00 pm so the original Starbucks was closed) we found a new destination and continued on to have coffee and the proceeded to walk on the beach and talk…for many hours.  And, since by the time I left to drive home I had been up for over 24 hours, this became the first of many times Robin would talk with me on the phone while I drove the 45 miles on the 405 freeway to my home.  While this first meeting was a bit rocky, God used it to continue to build the foundation that exists today.
After our first "real" date at a beautiful restaurant overlooking the San Fernando Valley, Robin and I planned a time for me to meet Joseph and Hannah in person the following weekend.  We had a wonderful day of Soup Plantation, Marshmallow Gun Wars, Ping Pong, Family Albums, BBQ dinner with the neighborhood children and learning more about Robin's dear wife, through watching her memorial DVD. It was such a beautiful day.  Robin at one point said that "this could be a picture of what the Lord has for us in the future".
Even though we had only known each other for about 5 weeks at this time, I was becoming confident that there really could be a future for us.  Praise the Lord for His kindness to us!  It is such a blessing to look back on the plans He had for us.  What a joy it is to walk with the Lord!  His straight path is the only one for me!