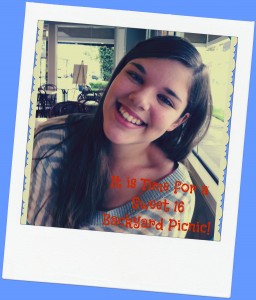 Sweet 16…the time has come! My daughter is turing 16 this month and we can't believe it! It is so true that time with your children passes more quickly than you can ever imagine it would! We are grateful for this milestone in her life and can't wait to show honor to her by celebrating all that the Lord has done in her life for these 16 years. We also can't wait to honor some of the people who God has used in her life as she has grown up these 16 years. To do this…we are throwing a an evening "Backyard Picnic".
Teal and red and white and cream will adorn our backyard. Fancy picnic food will line the tables. Dessert will be abundant. And of course, old fashioned picnic charm will be the backdrop. There are so many ideas we are sifting through…I even started a board on Pinterest, which of course, has far to many ideas to use. 🙂
Here are some of my favorites (all photo credit goes to the original posters):
What could be better at a backyard picnic than a s'mores dessert bar! And, of course, a mini marshmallow roaster!
And…cute desserts that can be made ahead:
These little cake pop cones are perfect!
These super mini cupcakes would be great too!
And, this wonderful basket of blankets…this is a great touch!
I am so excited to pull this all together! Check back…as we move forward, I will be sure to post photos of what we decide to do and of course…what we cook too! 🙂
Blessings!