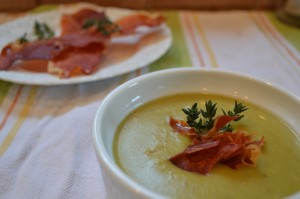 My husband's favorite soup is split pea. I, on the other hand, have a least favorite food…it is peas. How did this happen? You can ask my mom…they were my nemesis growing up. I have served peas for dinner twice since we have been married. Once they were cold. The second time, they were raw. I didn't even try. 🙂 But, I do have to admit, while I will never order split pea soup at a restaurant and I will never make it because it sounds good to me…this soup was actually really delicious. Don't tell my husband I said that…:) Actually, he knows…now I will be making this a little more and he will be SO happy.
You will notice that this recipe has a few twists and let me tell you, they add some amazing flavor…so much so, my husband said this is the BEST split pea soup he has ever eaten. That is saying a lot. I am so thankful that we all like it and will now add it to the repertoire. Hope you will too!
Here is what you do:
Ingredients:
1 medium Onion, chopped
1 cup Pancetta, cubed
16 ounces Dry Split Peas, cleaned
6 cups Low Sodium Chicken Stock
2 sprigs Thyme (whole, no need to chop)
8 ounces of Mascarpone Cheese
4 ounces Prosciutto
Instructions:
Sauté the pancetta and the onions until pancetta is browned and the onions are translucent. Add in your stock and cleaned peas and thyme.
Simmer for 45 minutes. Blend with an immersion blender until mostly smooth. Stir in the mascarpone cheese.
In the meantime, place the prosciutto on a parchment lined cookie sheet into a preheated 350 degree oven and bake for 10 minutes or until crispy. Crumble on top of each bowl of soup when serving. Eat while hot…delicious!
Blessings!
P.S. Please be assured that you won't find me eating any other form of peas anytime soon! 🙂