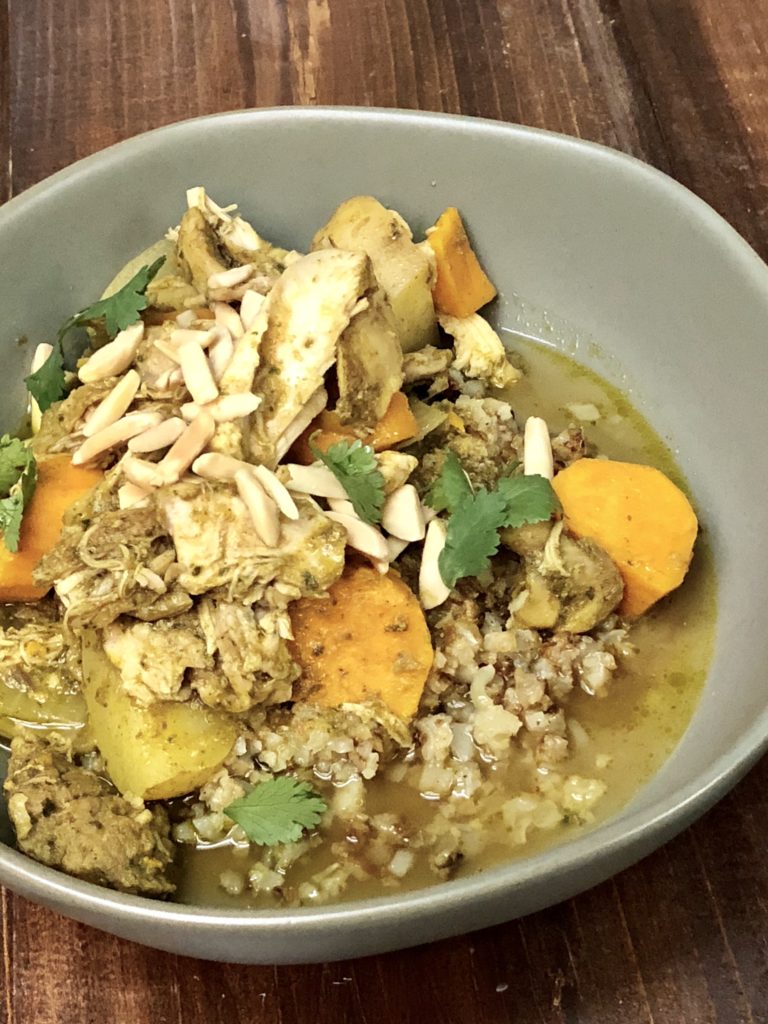 I will start this post off with the confession that I have NEVER made anything Moroccan before.  I have eaten it, and know what it tastes like, but have NEVER cooked it.
There, I said it!  Because of Dana Monsees from Real Food with Dana, that is no longer true!  I am grateful for this introduction into cooking this genre of food.  Her recipe is the 6th recipe I have cooked during my January Whole30.  At the time of writing this post we are on our 6th day and are feeling better…but still not as good as we will feel.  We know that more energy is coming soon and that the headaches will go away.
So, back to the Slow-Cooker Moroccan Chicken…that's why you are here after all! 🙂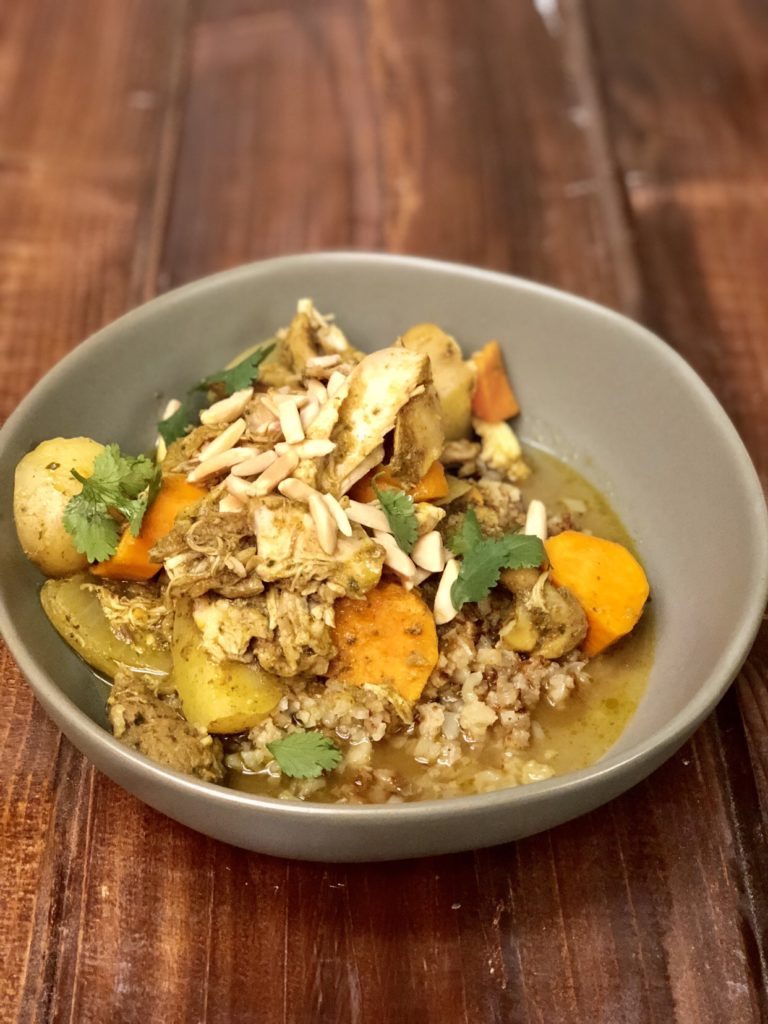 I will start by saying it is amazing!  True Moroccan spices and Whole30 compliant.  I will eat this even when I am not on the Whole30…maybe over rice instead of cauliflower rice, but will totally eat it!  So, even if you are not doing the Whole30 this recipe is for you!
The changes I made…I used ground coriander instead of cumin because it was what I had in my spice cupboard.  It worked well…missing a little heat, but worked well.  I also toasted my cauliflower rice for a little nuttiness.  Finally, I changed some amounts to fit the size of my family.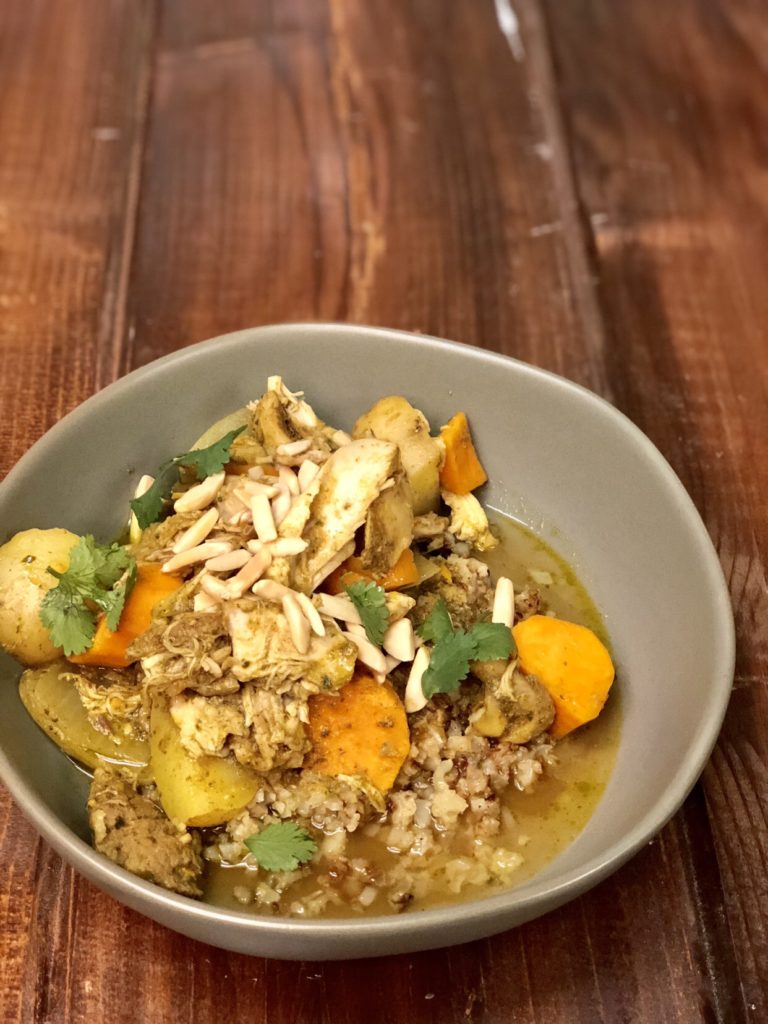 Here is what I did:
Slow-Cooker Moroccan Chicken
Chicken and sweet potatoes that are full of Moroccan spices and flavor.  Easy to prep and delicious to eat!
Author:
Prep Time:

25 minutes

Cook Time:

6-7 hours

Total Time:

7 hours

Yield:

6-8 servings

Category:

Whole30
Ingredients
Marinade:
1 cup loosley packed fresh cilantro
4 tablespoons extra-virgin olive oil
4 cloves garlic, minced
1 inch of fresh ginger
1 tablespoon paprika
1 1/2 teaspoons salt
1 1/2 teaspoons ground cinnamon
1 teaspoon tumeric
1 teaspoon corriander (or cumin)
1 teaspoon ground cardamom
For the chicken:
2 large sweet onions, cut in eighths
3 pounds boneless, skinless chicken thighs
2 pounds sweet potatoes, peepled and cut into thick slices
7 chopped dates, chopped
24 ounces cauliflower rice, toasted in clarified butter
Top with:
fresh cilantro
slivered almonds, roasted or toasted
Instructions
Combine all ingredients in the marinade and process until a smooth paste.  If it is having trouble combining, add 1/4 cup water.
Place your onions in the bottom of your slow cooker.  Poke the chicken a few times with a fork.
Pour 3/4 of the marinade into a medium bowl with the chicken thighs and coat the thighs with the marinade.
Move the chicken to the slow-cooker.  Place the rest of the marinade over the sweet potatoes and coat them then scatter them with the dates over the chicken.
Cover and cook on low for 6-7 hours.
Remove the chicken and shred it and put it back into the slow-cooker.  Stir gently and serve over cauliflower rice.
Garnish with cilantro and almonds and serve.
If you are ready for your first or hundred and first try at Moroccan food, this recipe is for you! It will support you in your Whole30, or even just your healthy lifestyle. With meals like this one, I can eat like this forever.
Blessings!