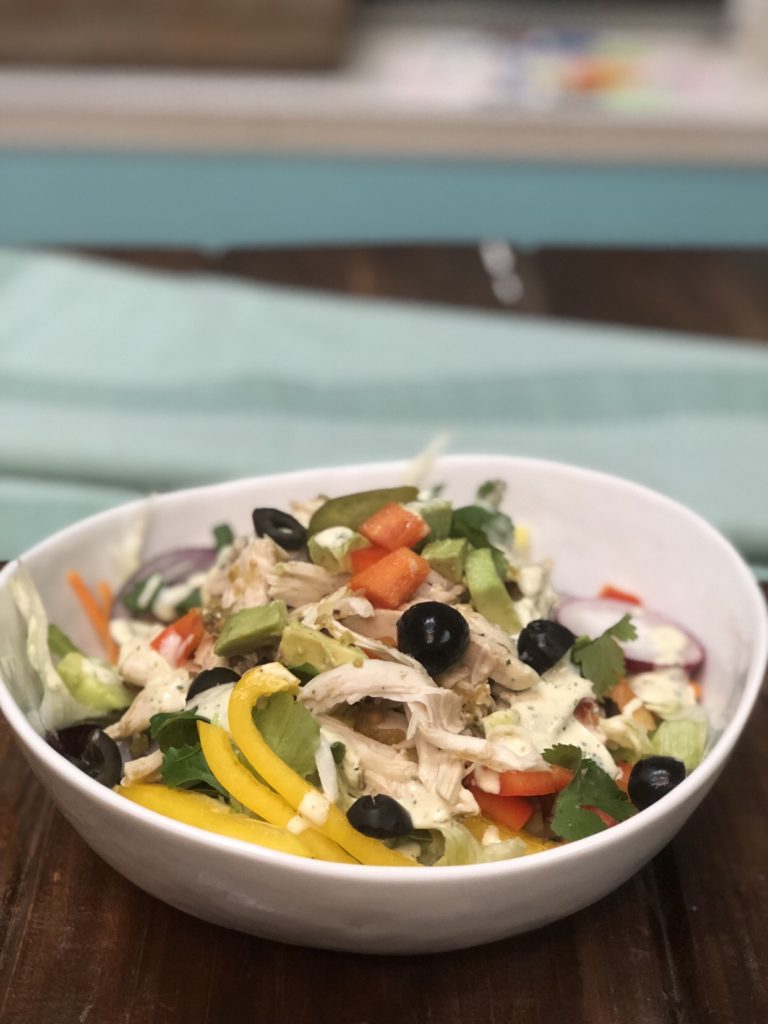 I learned something new today! Slow-cooker chicken doesn't stink! It isn't always gross! It doesn't always have a weird texture…how did I go through so many years thinking that?
Today I made the Slow-Cooker Chicken Chile Verde from, yes, you guessed it, Whole30 Fast and Easy and it wasn't dry and stringy with a weird texture. I cooked the chicken for the 4 hours on low and it was tender and juicy! I must have been just cooking it to death…that is all I can imagine I was doing!
Well, no more! I now know it is possible!
So, this recipe is SO simple and so good! It was recommended to be served over cauliflower rice, but I just wasn't in the mood for it so I went with a Chicken Chile Verde Salad and built a sort of "taco salad" without the beans, cheese and chips…haha! Your non-Whole30 family could add those also. I chose to instead find my crunch from peppers and radishes and my creamy from Whole Sister's Dump ranch made with lime and cilantro. Seriously…SO good!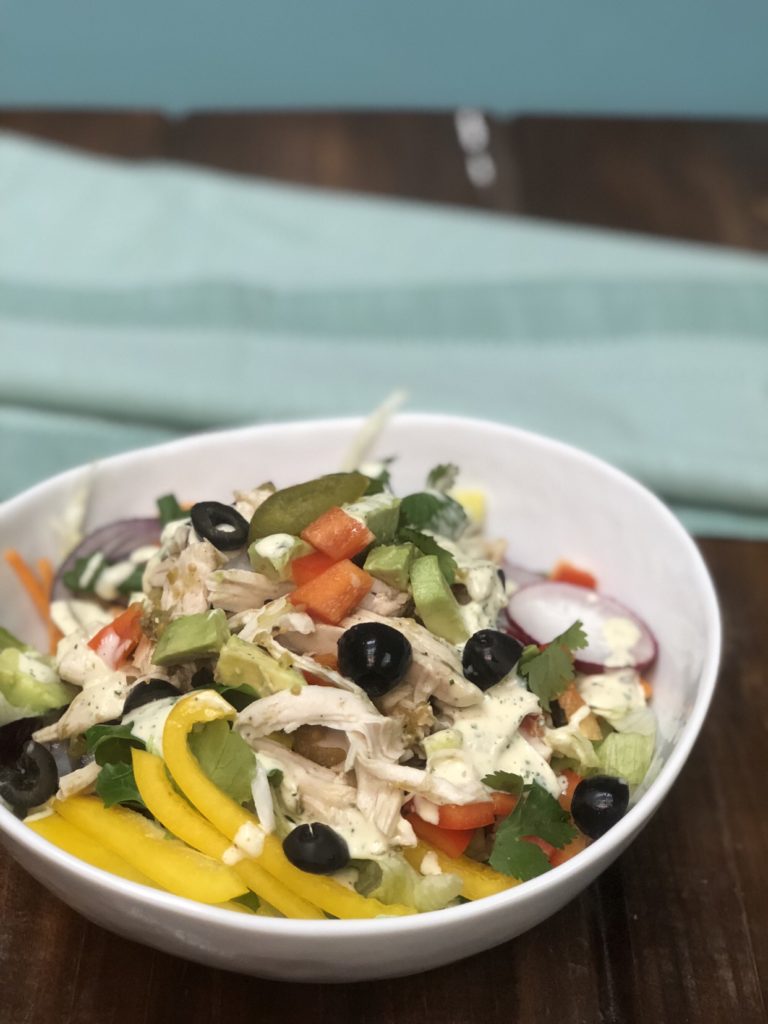 Oh, and this is day 9 on our Whole30 Journey and It is going well. My biggest battle is staying off the scale. So far I am succeeding and plan to make it the whole month, but I have to say that it is really hard. Quite a mind game for me. While this is my 4th round of Whole30, it is the first time I have kept my scale in the closet! I wish I could say I have always done this, but I haven't. I told myself it wasn't that important…but I know it is so I am going to stop lying to myself and keep my commitment!
Here is what I did!
Slow-Cooker Chicken Chile Verde Salad
Tender, gently spicy chicken on top of a bed of crisp, fresh veggies all topped with creamy avocado and flavorful cilantro-lime ranch.
Ingredients
3 pounds boneless, skinless chicken thighs
24 ounces salsa verde (make sure there is NO sugar)
8 ounces fire-roasted green chiles
1 teaspoon ground cumin
1 teaspoon dried oregano
1 small jalapeno, sliced
chopped fresh cilantro and/or diced avocado
Lime wedges
20 ounces prepared mixed greens
4 radishes, sliced thinly
1 red pepper, diced
1 yellow pepper, sliced
1 cup shredded carrots
2 avocados, diced and spritzed with lime
1 jar of compliant olives, sliced
1 recipe of Whole Sister's Dump Ranch or other compliant ranch
Instructions
Four hours before you want to eat put your chicken, Salsa Verde, green chiles, cumin, oregano and jalapeno in your slow-cooker and place on low for 4 hours.
30 minutes before your chicken is done, begin prepping your veggies and build your salad, leaving the avocado to the side as a topping.
Make your Whole Sister's dump ranch using cilantro and lime instead of parsley and lemon or use a Whole30 compliant ranch with a little added lime and cilantro.
Remove your chicken from the slow-cooker and shred it with two forks.  Add it back into the sauce.
Top each bowl of greens and veggies with a scoop of Chicken Chile Verde and then top that with avocado.
Drizzle with ranch and enjoy!
This meal is yet another reminder to me that we are NOT deprived in Whole30! We are not really missing out. The key to a good Whole30 is to focus on the amazing food you can have instead of thinking about what you are missing…it makes such a big difference!
Blessings,