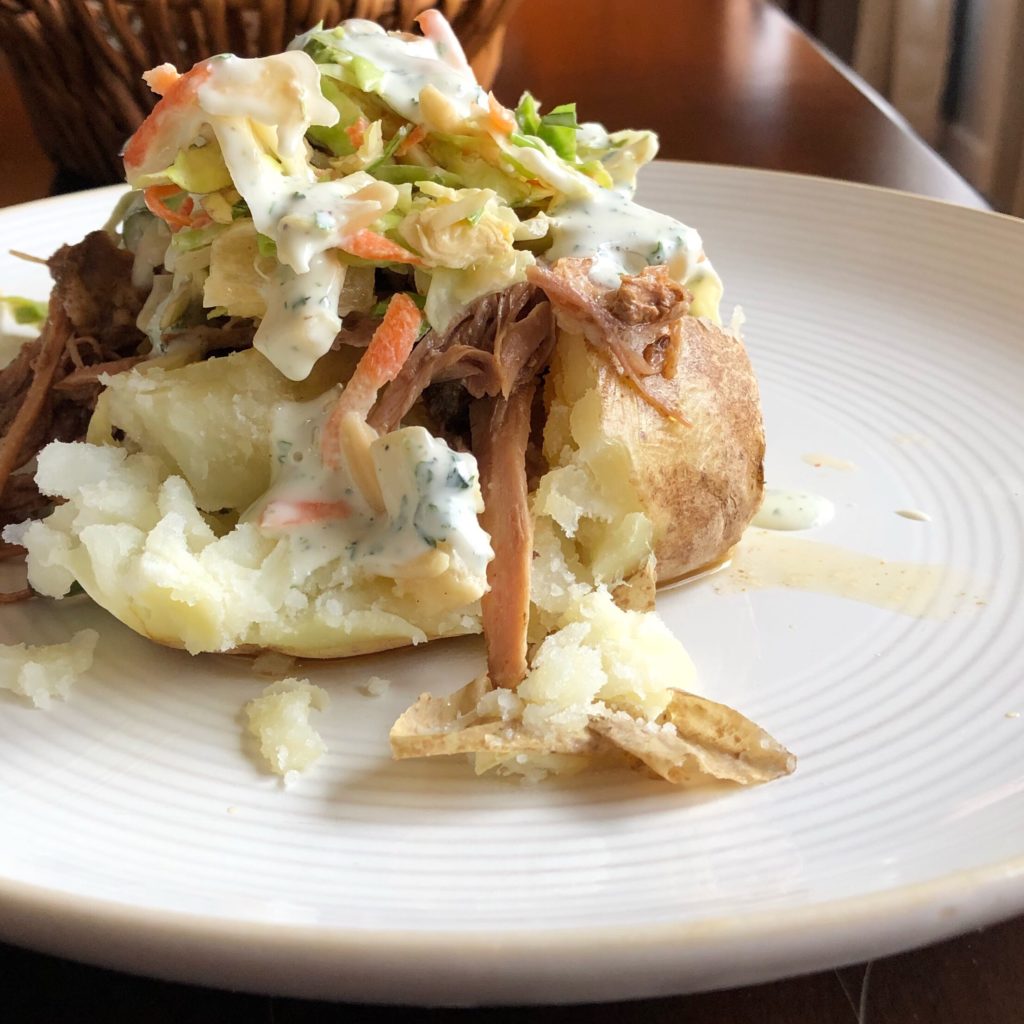 Picture this.  It's Saturday night about 8:30 and you decide to go to your Mom and Dad's home the next day after church for lunch and text them and make a plan to do so.  Then you say…and, I'll bring lunch.  I am cooking from the Whole30 Fast and Easy Cookbook this month so, thankfully, I had already shopped ahead for some amazing Whole30 meals, but it's 8:30 pm…what's in the fridge?  It's 8:30 pm, what do you feel like cooking (not much :)).  It's 8:30 pm…I had everything for this Slow-Cooker Apple-Cider Pulled Pork!  And, did you see "slow-cooker"?  All I have to do is put it all in and set it to low, and head to bed…this is the meal for tomorrow for sure!
But, the pork roast is in the freezer.  Oh, well!  I'll just throw it in! 🙂  Yup…that's what I did.  Frozen pork roast, spices, apple cider, a lid set it to low and to go through the night.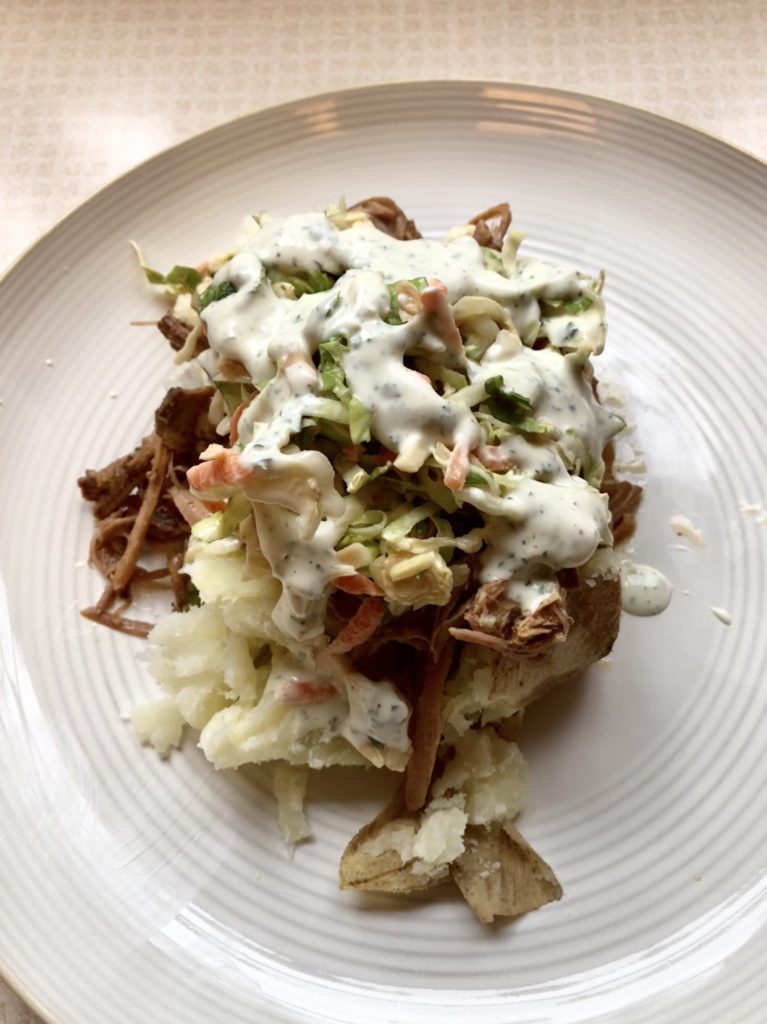 I woke up and it smelled good!  Our son asked why it smelled like spaghetti in our daughter's bathroom…he didn't realize it smelled good all the way through the house!
I also made a quick Pineapple-Chipotle Slaw to serve with this and it was amazing and the perfect compliment.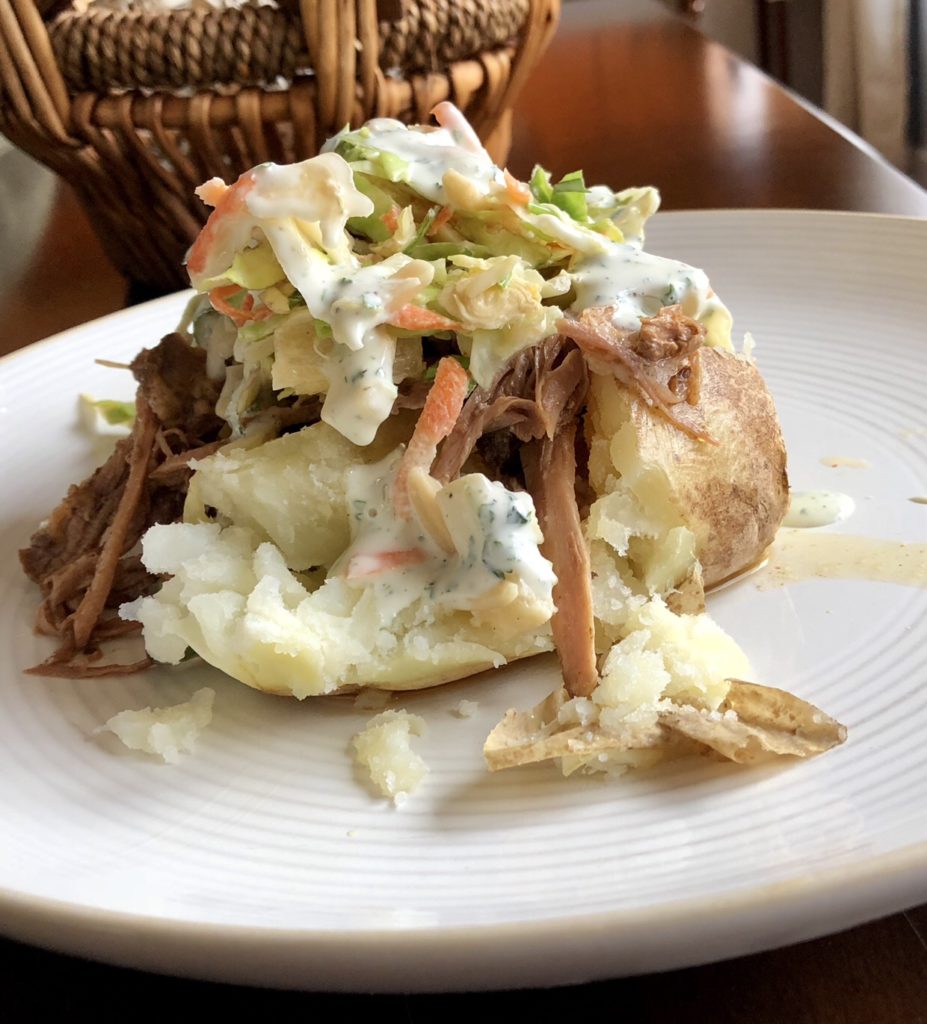 My parents baked some potatoes…I made a batch of The Whole Sister's delicious Dump Ranch and we had an amazing meal!  Only two of the crowd were doing Whole30, but everyone enjoyed this delicious and healthy meal.
Here are the details:
Slow-Cooker Apple-Cider Pulled Pork
This pulled pork recipe is full of flavor from the spices and the apple cider and is tender and juicy. It is the perfect topping for a loaded baked potato or great served over a sweet potato.  It is versatile and yummy on your Whole30 or any day of the year!
Author:
Prep Time:

10 minutes

Cook Time:

8-10 hours

Total Time:

-25276827.083333 minute
Ingredients
1 tablespoon salt
1 1/2 teaspoons Hungarian sweet paprika
1 1/2 teaspoons garlic powder
1/2 teaspoon chili powder
1/2 teaspoon ground ginger
1/2 teaspoon black pepper
4 pounds boneless pork roast
1 large sweet onion, sliced
1 1/2 cups unsweetened, unfiltered apple cider
Instructions
Arrange your onions on the bottom of your slow-cooker.
Add in the apple cider and 1/2 spices
Place your roast on top of the onions and sprinkle the remaining spices over the roast.
Cover and cook on low for 8-10* hours or high for 6 to 7 hours.
Notes
*My roast was frozen when it went in and it was still fully cooked and "shredable" at the end of 10 hours.
**If the roast is thawed, instead of sprinkling the roast with the spices, actually rub them in.
So, anytime you are looking for a quick and delicious meal, that also happens to work for your Whole30, look no further! Slow-Cooker Apple-Cider Pulled Pork to the rescue!
Blessings,