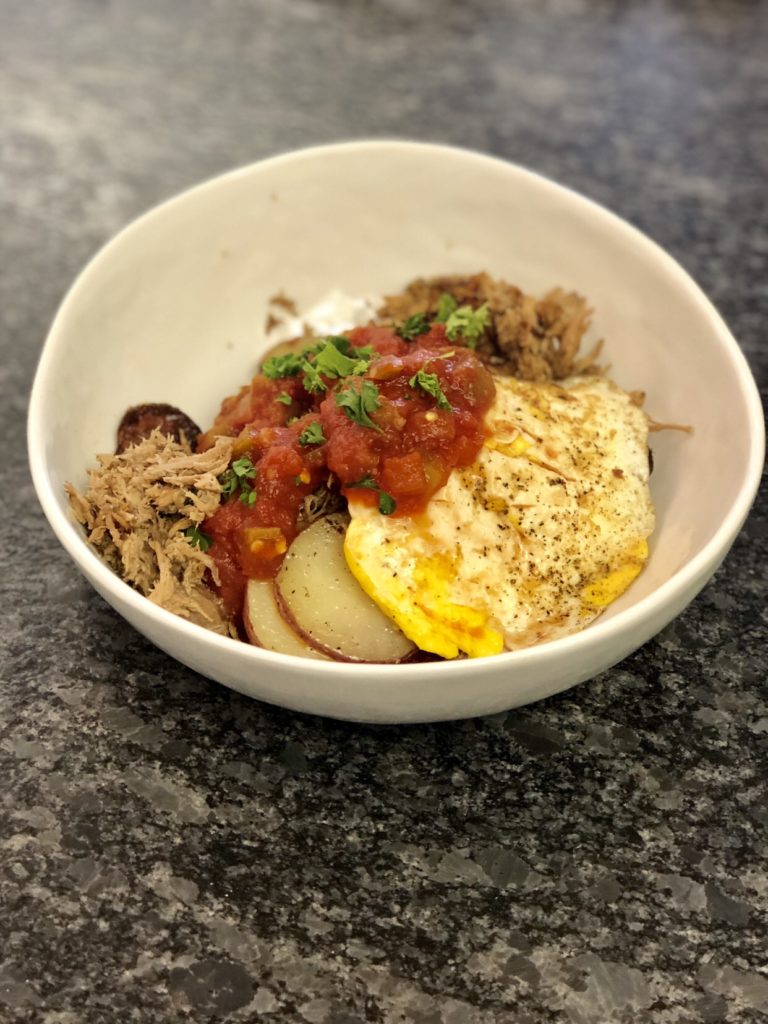 My husband had the day off from work today so he an my littlest slept in a bit and then relaxed before getting up and dressed for the day. It was a nice slow start to a full day! At about 10:00, we decided it was time for breakfast and thankfully had some of the shredded pork from yesterday's Shredded Pork Tacos with Sweet Potato Mash still in the fridge! It cried out to be made into a breakfast bowl!
Breakfast can be a difficult meal to make creative…especially when not eating grains…and when it is often made in a hurry! What's for breakfast is asked often…even when the answer is the same as yesterday!
This Shredded Pork Breakfast Bowl is the perfect answer to mix things up!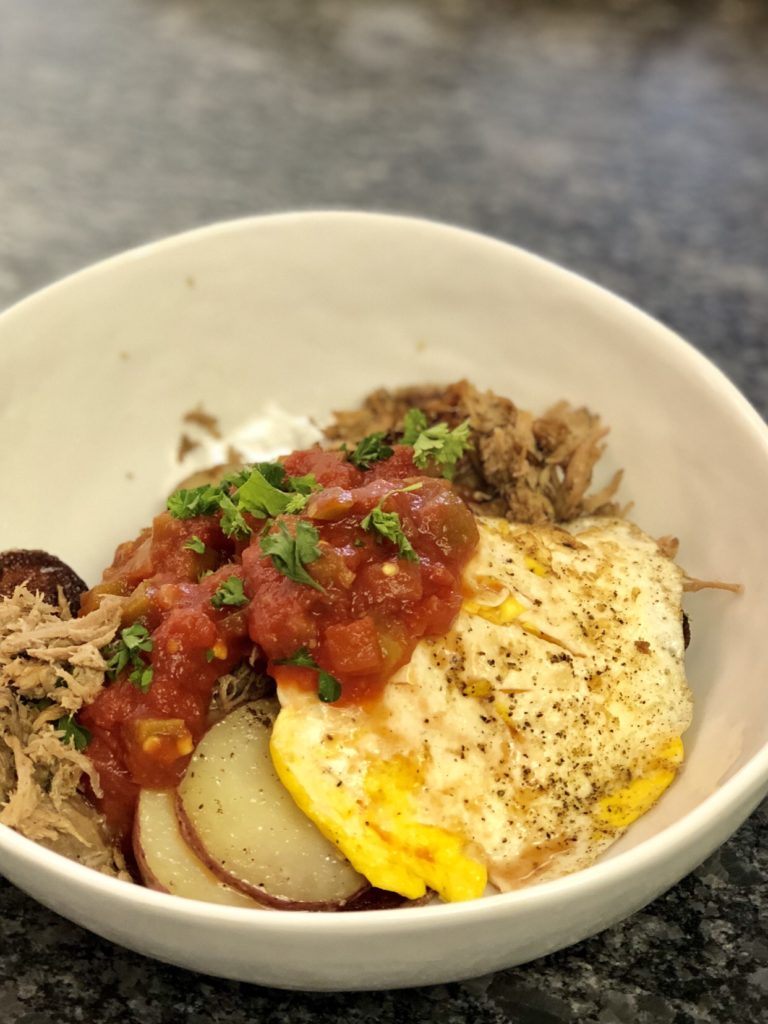 It begins with sliced red potatoes, which are crisped up in a little avocado oil. Next, shredded pork. On top of that…a fried egg and on top of that? Chunky salsa and cilantro! Who could resist?
The cat is out of the bag from these pictures and we are some of the very few people in the world who don't like runny yolks on their eggs! Can we still be friends? It seems like such a popular trend in the culinary world, "put an egg on it" and all, but I just can't do it! But, if you like your yolks runny, please, by all means, just go for it! 🙂
This delicious breakfast is complete in about 10 minutes! Total win there!
Here is what I did:
Shredded Pork Breakfast Bowl
This Shredded Pork Breakfast Bowl begins with crispy potatoes and ends with chunky salsa and satisfied hunger!
Ingredients
6 red potatoes, thinly sliced
1 tablespoon avocado oil
2 cups shredded pork
8 eggs
1 cup chunky salsa
chopped cilantro
Instructions
Begin by getting your potatoes into a large pan with the olive oil and get them crisping up.
In the meantime, warm your shredded pork.
Once the potatoes crisp up place them in the bottom of four wide bowls.
Get your eggs cooking in the same pan as the potatoes.
While the eggs are cooking, top with shredded pork.
Top each bowl with two eggs and a scoop of salsa.
Sprinkle with cilantro and dig in!
So, next time you have a little extra shredded pork or really any flavorful shredded meat, you are just minutes away from a delicious breakfast bowl that is sure to bless your family!
Blessings,