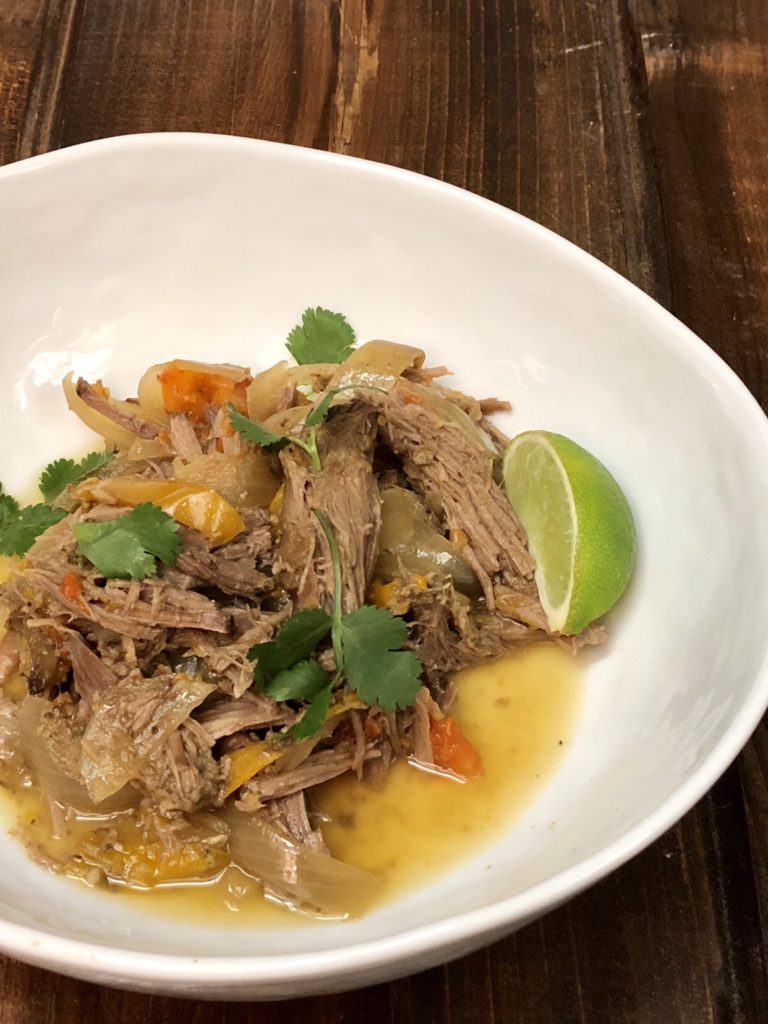 This Shredded Beef with Peppers and Onions is full of Cuban flavors of orange, lime, cumin and oregano. It is tender and flavorful. Serve it over cauliflower rice or a sauteed cabbage…or if you enjoy grains, it would be great with rice or polenta.
When you read this, it will be day 18 of our Whole30. Today is day 13 and I am still dealing with sugar cravings. I actually had a dream that I ate chocolate cake and then felt guilty because I was on doing the January Whole30. I woke up with a smile on my face. First, laughing because I chose chocolate cake in my dream and I usually choose white cake in real life.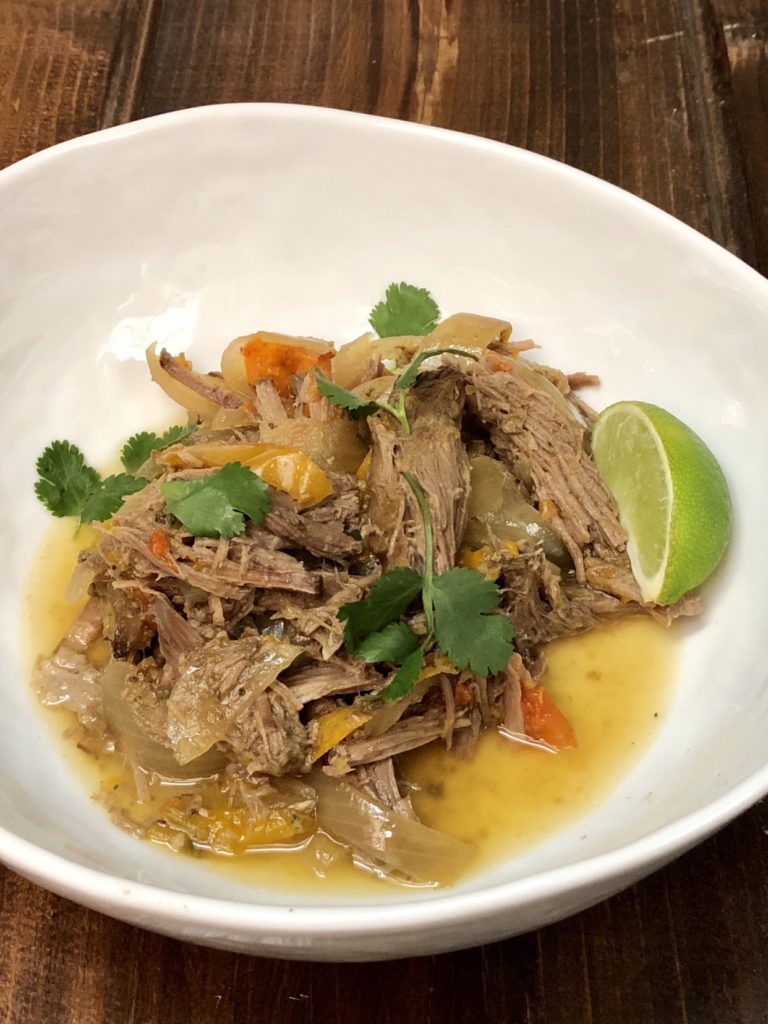 It also made me smile because I was glad it was only a dream. I want to stay on track for the whole 30 days. I was disappointed that chocolate cake got me to fall of the Whole30 wagon. Thankful it wasn't real life!
Back to the recipe…one thing I really like about this recipe is that it is really EASY. Everything goes right in the slow cooker. My roast was even frozen when it went in. 6 hours later on high and we had an amazing meal!
Here is what I did:
Shredded Beef with Peppers and Onions
Fast and Easy, this Shredded Beef with Peppers and Onions is full of Cuban flavors and oh, so good!
Ingredients
3 cloves garlic, pressed
2 teaspoons dried oregano
1 teaspoon ground cumin
1 teaspoon salt
1/2 teaspoon black pepper
1 boneless beef chuck roast – 2 lbs
2 large red bell peppers, seeded, cored and sliced
2 medium yellow onions, cut in chunks
1/4 cup fresh squeezed orange juice
1/2 cup fresh squeezed lime juice
1 avocado, sliced
Fresh cilantro
Instructions
Combine the garlic, oregano, cumin, salt and pepper and rub onto the roast.
Place peppers and onions in the bottom of the slow-cooker and pour the orange juice and lime juice on top.
Place roast on top of that and cook on high for 4-5 hours (6 if frozen!) or 8 to 10 hours on low.
Remove the roast from the slow-cooker and place on cutting board and shred with two forks.
Place it back in slow-cooker with the peppers and onions.
Serve over cauliflower rice, regular rice, or polenta.
This is another recipe inspired by and mostly from the Whole30 Fast and Easy Cookbook. I am grateful for this cookbook! It is truly helping our January Whole30 be much easier! We will use it year around for sure.
Blessings,