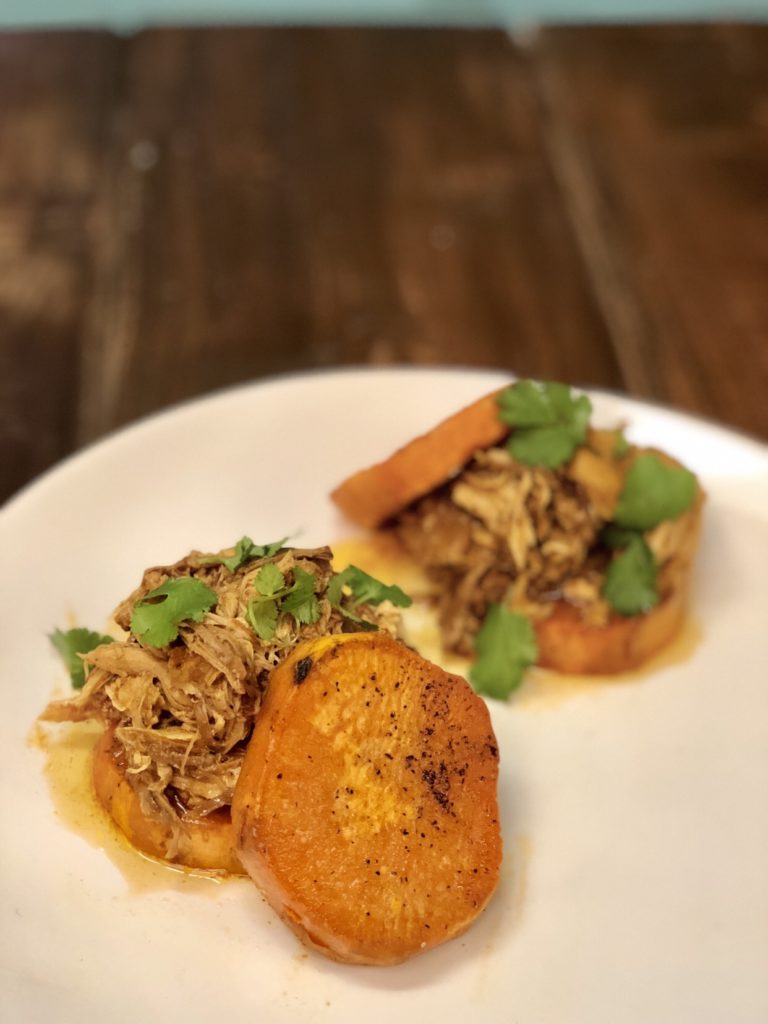 Shredded Barbecue Chicken smells SO amazing while cooking…it fills your home with the smell of barbecue and brings your family to join you around the table…and when you are on your Whole30 and making Whole30 compliant food, it is great to have your family run for the table! And, for those who aren't doing Whole30, put this deliciousness on a bun…for those who are…these roasted sweet potato disks serve a good second!
As I type this post, we are on day 17 of the Whole30. It is my round 4 and my husband's round 2. We are experiencing great non-scale victories…maybe even scale victories, but we won't know until we get past 30 days…the is the first time I have put the scale away for the whole time…it is really hard, but I am pressing forward and committed to waiting this time.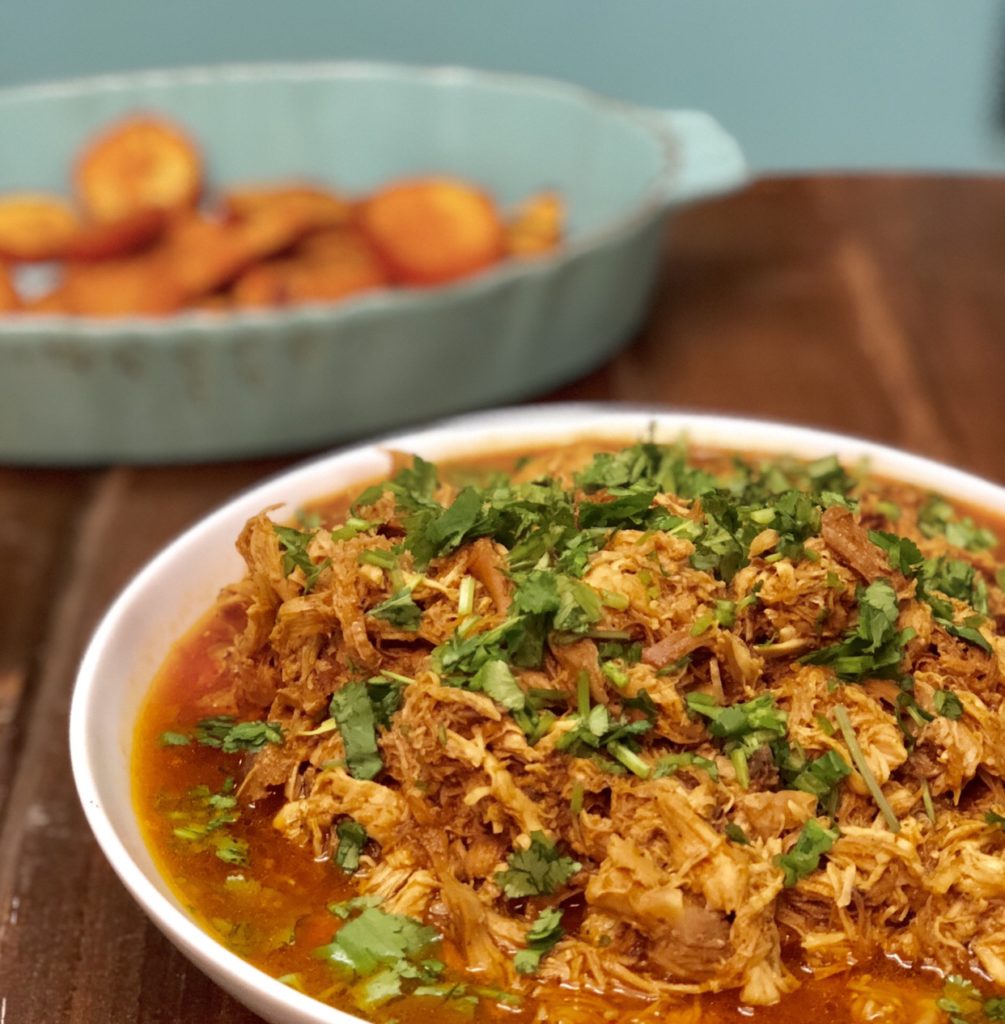 Meals like this Shredded Barbecue Chicken make Whole30 so much easier. It is sure to stay in the rotation long after our Whole30 is complete. The Roasted Sweet Potatoes put it over the top…not quite a bun, but SO good and the perfect compliment to the sauce!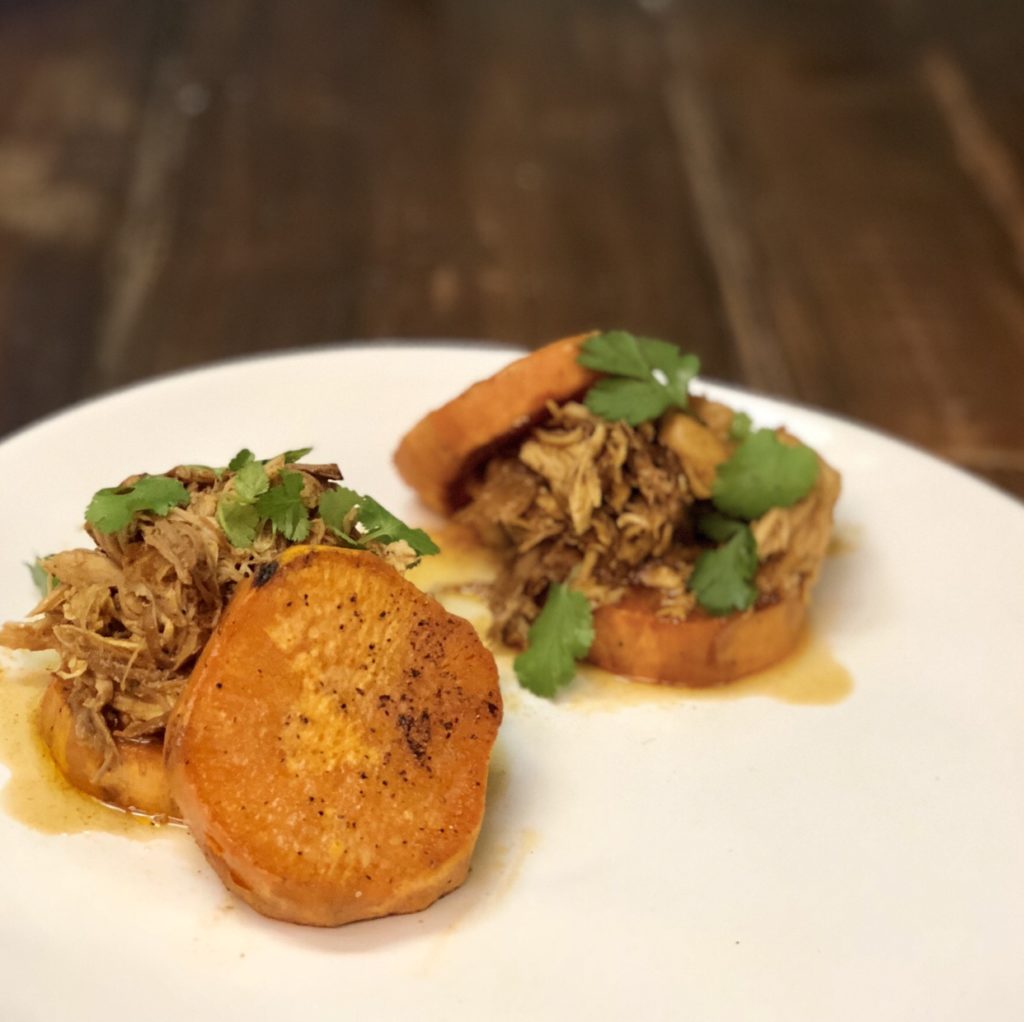 Here is what I did:
Shredded Barbecue Chicken with Roasted Sweet Potatoes
Sweet and spicy, this shredded barbecue chicken with roasted sweet potato is a welcome addition to your Paleo/Whole30 rotation.
Ingredients
For the Chicken:
4 tablespoons clarified butter
4 cloves garlic, minced
1 tablespoon hot sauce (I used Franks)
1 teaspoon salt
1/2 teaspoon pepper
13 ounces sugar free, gluten free barbecue sauce
3 lbs boneless chicken thighs or breasts
For the Sweet Potatoes:
3 large sweet potatoes, sliced in 1/2 inch disks
2 tablespoons extra virgin olive oil
1/2 teaspoon salt
cilantro leaves
Instructions
Place the garlic, clarified butter, hot sauce, salt, pepper, and barbecue sauce in your slow-cooker and whisk together.
Add in your chicken and cook for 3-4 hours on high.
Shred with two forks when done.
In the meantime, slice your sweet potatoes and place in 400 degree oven for 20 minutes or until browned and tender.
Serve with the chicken and sauce placed between two sweet potato rounds.  Best eaten with a fork.
This recipe will have your family running to the table to enjoy this meal. Even our littlest ate it up quickly!
Blessings,