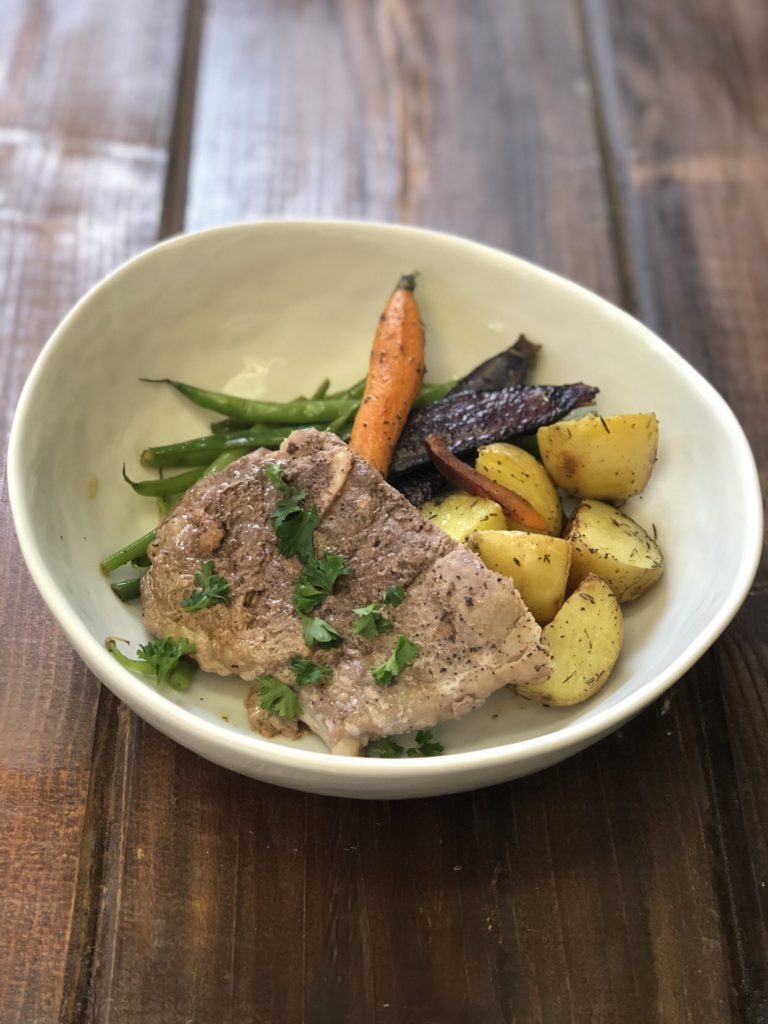 Any recipe that starts with Sheet Pan is a win in our book! What busy mom doesn't dream of putting all your ingredients on one pan and popping it in the oven and out comes dinner! Right…who is with me?
I am on day 7 of 30 of making a recipe a day from the Whole30 Fast and Easy Cookbook. And, this is yet another delicious meal. We live in an area where people often raise their own meat and we have benefited from this. We know where our meat has been raised. We know that the animals were lovingly treated. And, we know what they have eaten and therefore what we are eating. Such a blessing!
This was the perfect recipe for our locally sourced meat. Butcher Box would be another way to get meat this good as well if you aren't in an area like ours. Follow the link for more information. I have used their service as a supplement to our freezer stash and it is amazing!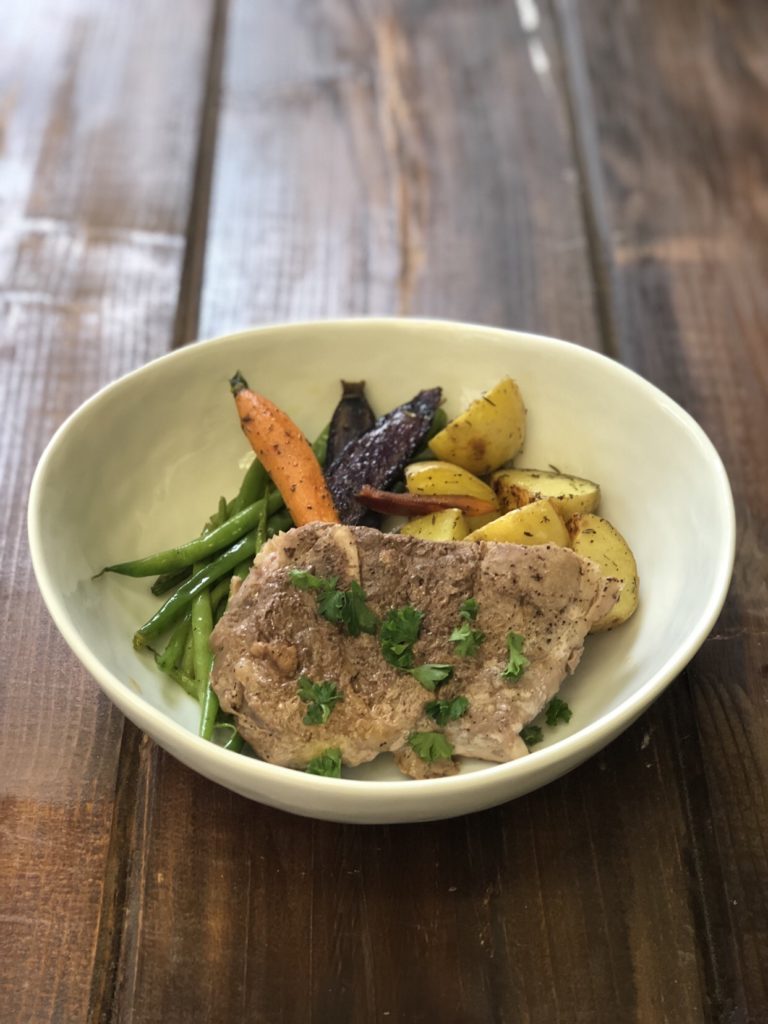 I am writing this on day 4 of our fourth round of Whole30. Because of being off track and living in "food freedom" over the holidays, I am feeling the detox this time around! It is my third day with a headache and I am a bit moody as well. But, I know this will be all worth it. The energy will return soon and I can't wait! I already feel much better in so many other ways.
My husband and I actually went out for dinner last night, so this meal was delicious enough to be delivered to a sweet family who just had their second child…did you read that…a fast and easy Sheet Pan meal that was yummy enough to be a gift to another family…I'm all over recipes like this one! I added some sauteed green beans and called it a meal!
Here is what I did:
Sheet Pan Pork Chops with Potatoes and Rainbow Carrots
What busy mama doesn't get excited when you can make a ONE PAN dinner!  These roasted pork chops, potatoes and carrots are comforting and delicious and perfect for your whole family.  And, they are finished before you know it and dinner is on the table!
Ingredients
1 lb small new potatoes, quartered
4 carrots, sliced if they are large or halved for smaller carrots
1 tablespoon avocado oil
1 teaspoon dried thyme
1-1/2 teaspoons salt
1 teaspoon black pepper
4 bone in pork loin chops
2 tablespoons clarified butter, melted
Instructions
Preheat the oven to 425 degrees.
Line your sheet pan with parchment paper.
Toss your potatoes and carrots with the oil and half of the seasonings and place them on half of the pan and roast for 10 minutes before stirring.
Brush the pork chops with melted butter and sprinkle with the remaining seasonings.  Place next to the veggies and roast until they are at a 145 degree internal temperature and the potatoes are browning.
If your pork chops are near 145 degrees and not browning, turn your oven to broil and broil for a few minutes while they finish browning and comes to temperature.
Let your pork chops rest for 5 minutes and serve!
Notes
The use of a meat thermometer will help to insure that your pork chops don't dry out in the oven…it is a game changer for cooking meat.  I highly recommend investing in one…you will be so glad you did!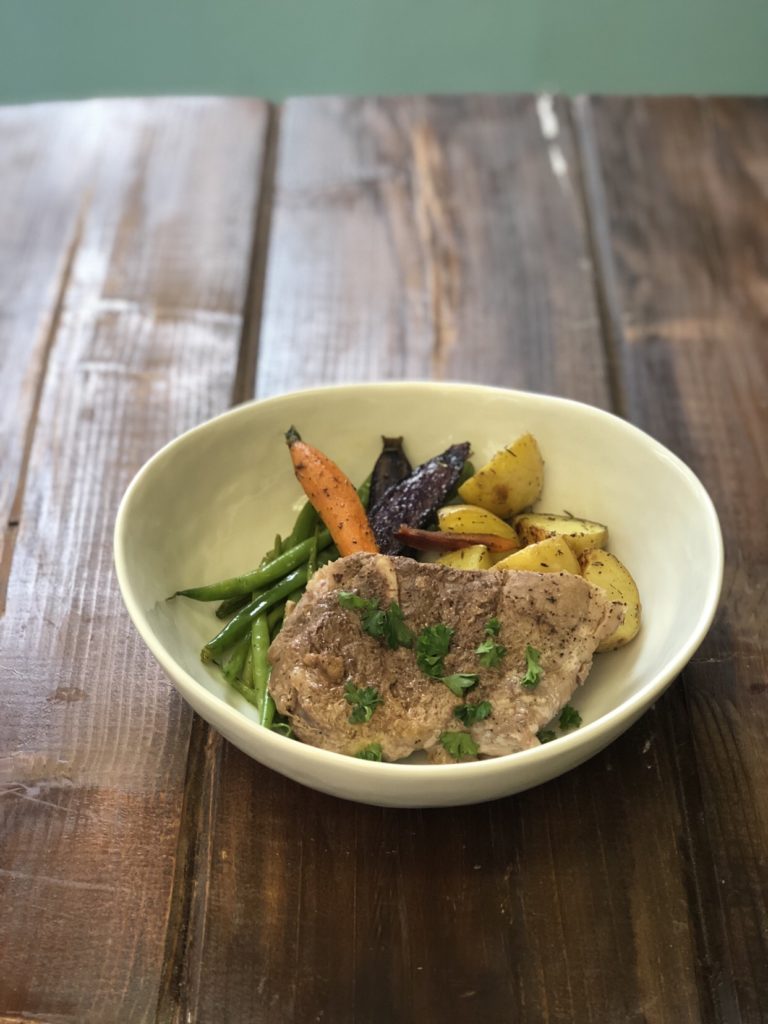 How are you doing on your Whole30? Stay strong…it is SO worth it to invest in your health. We can do anything for 30 days…right?
Blessings,