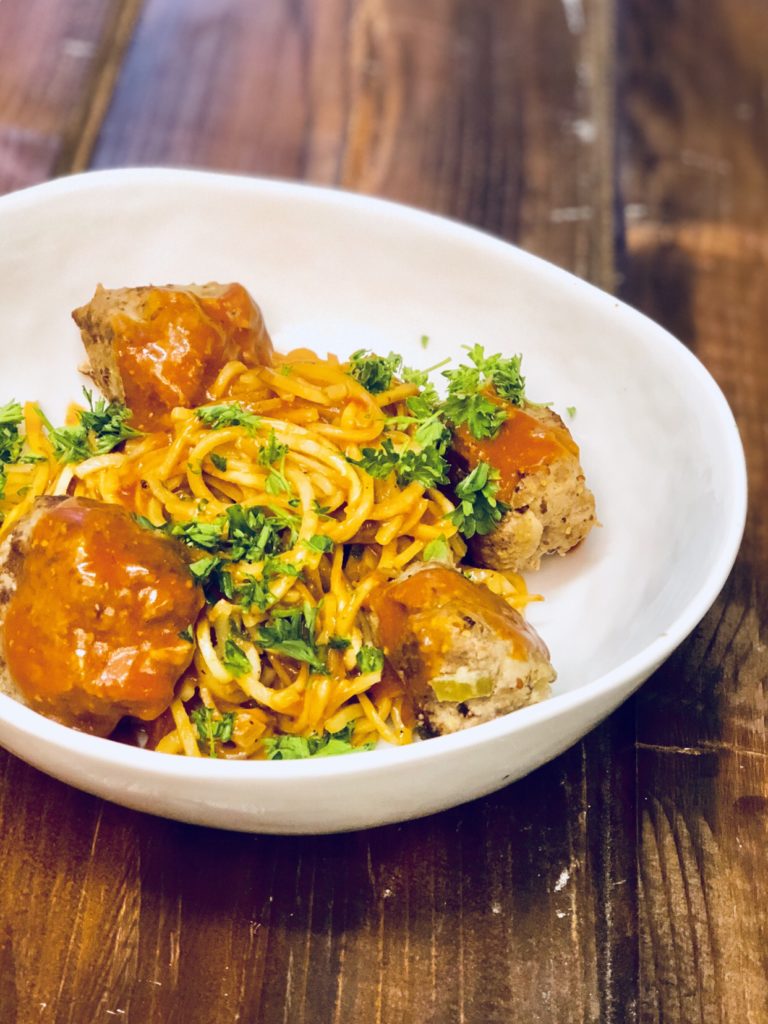 Today's dinner – Salisbury Steak Meatballs and Sweet Potato Noodle Bowl. I must say that I was really nervous bringing this meal to the table. Can you guess why? I'll tell you…it is REALLY similar to noodles…in fact, visually, you can't tell the difference.
My family is used to me switching out ingredients…in fact, my son just told us that he was telling jokes about it at Bible study the other night. Do you like the muffin? When he says, "yes"…I say…it has kale in it! Sounds like me…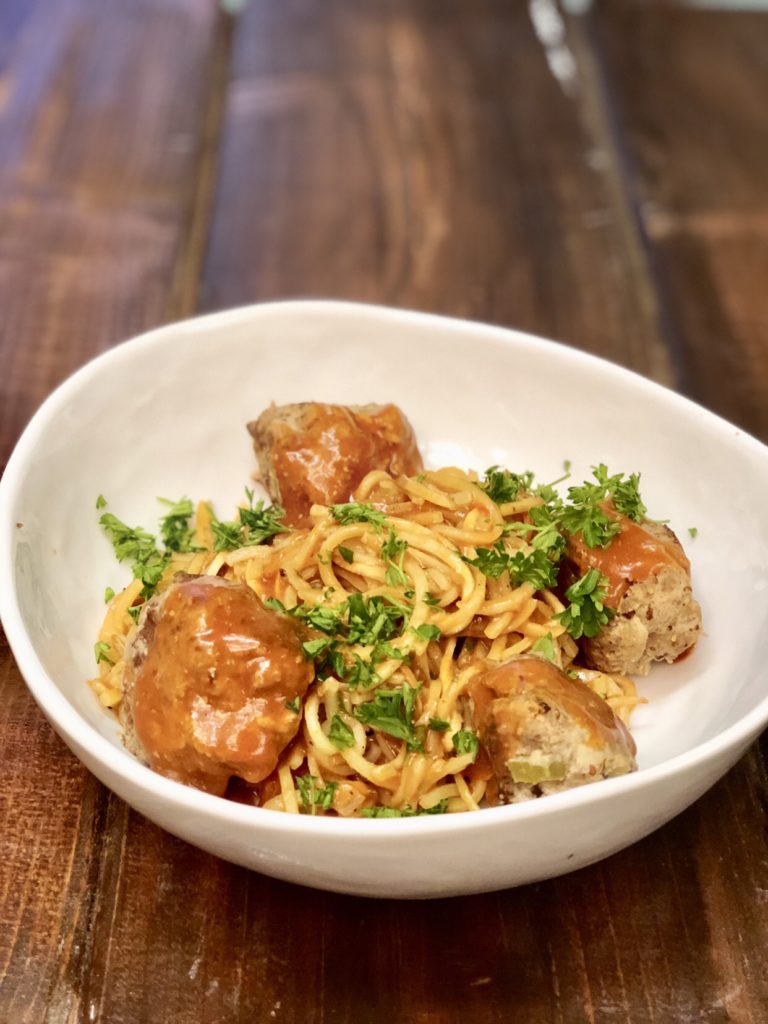 So, you can imagine why I was nervous. I don't like to bring food to the table and apologize for it immediately. Like, just so you know, this isn't noodles. Haha! So, I put it in front of them and wait…and watch their faces. There wasn't a noticeable look on their faces tonight. My husband asked first, after he said how good it was. I told him it was sweet potatoes and he was surprised. Then I confessed my fear at putting the dish before them and not knowing what to say. 🙂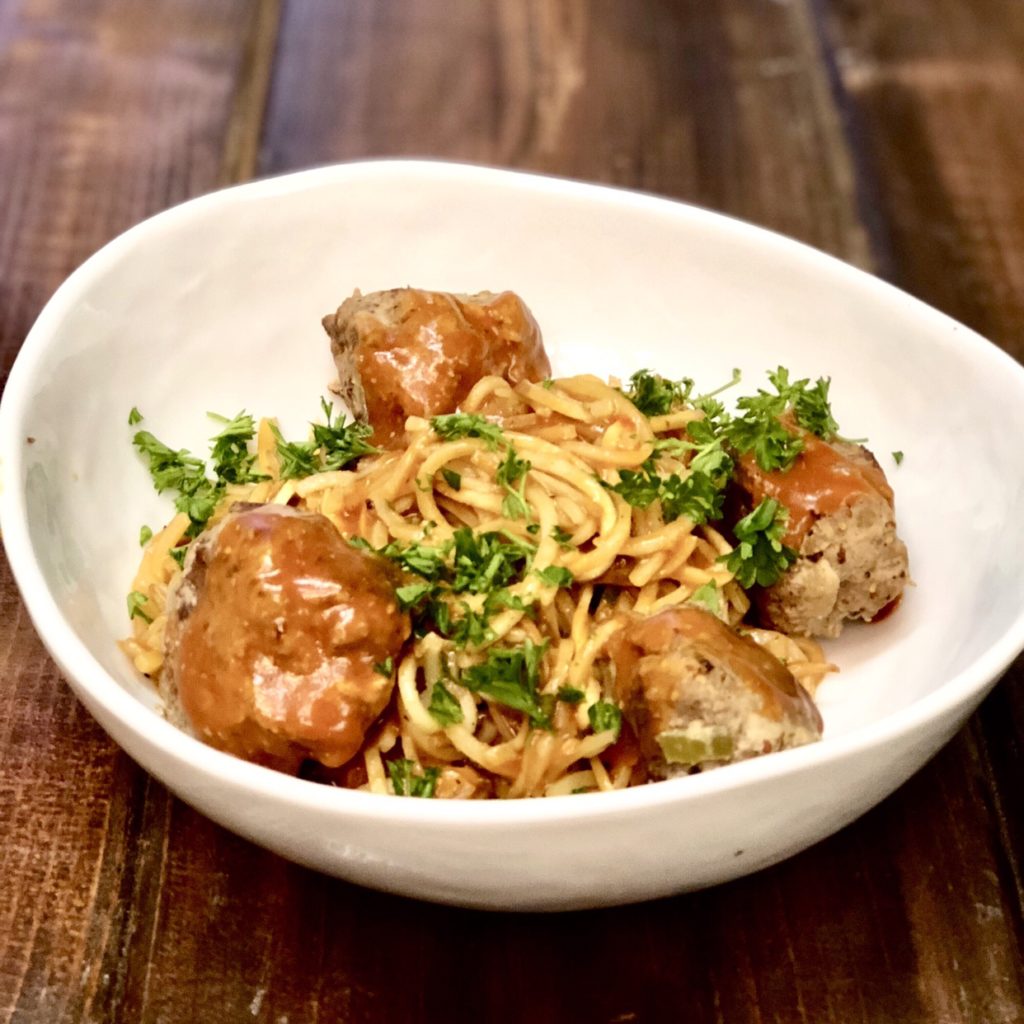 Our two older children both said that they thought it was noodles, and then it was crisp so they knew it wasn't noodles…but they still liked it. I am relieved. Our littlest, he is so used to eating meals like this and hasn't had regular noodles very often so he doesn't say anything. He ate it up…as much as he does dinner. 🙂
Here is what I did:
Salisbury Steak Meatball and Sweet Potato Noodle Bowl
This Salisbury Steak Meatballs and Sweet Potato Noodle Bowl is hearty and satisfying.  The sweet potato noodles are delicious and go well with the sauce and meatballs.
Author:
Prep Time:

15 minutes

Cook Time:

25 minutes

Total Time:

40 minutes

Yield:

4-5 servings

Category:

Whole30
Ingredients
For the Meatballs
1/2 cup onions, finely chopped
1/2 cup celery, finely chopped
1 large egg, beaten
2 tablespoons almond flour
1 tablespoon coarse ground mustard
1/2 teaspoon salt
1/2 teaspoon pepper
1 pound ground beef
1 tablespoon extra virgin olive oil
1 cup beef bone broth or stock
For the Noodles
1 tablespoon olive oil
3 medium sweet potatoes, spiralized
1/2 teaspoon salt
1/2 teaspoon black pepper
1/2 cup chopped parsley
For the Gravy
1 cup beef bone broth
1/4 cup tomato paste
1 tablespoon arrowroot powder
Instructions
Begin by making the meatballs.  In a medium bowl combine the onions, celery, egg, flour, mustard, salt and pepper.
Add in the ground beef and combine gently.
Form your meatballs and place them in a skillet with the olive oil.
Cook for 3 minutes and turn over.  Cook for 3 more minutes and then pour in 1 cup beef broth and cover.
Cook for an additional 5 minutes.  Remove the meatballs and juice from the pan.
Add the additional oil and the sweet potato noodles.  Cook for 8-10 minutes until tender.
Remove the noodles and add in the juice from cooking the meatballs.
In a small bowl whisk together the remaining broth, tomato paste and arrowroot powder.
Add into the pan and whisk together until the sauce thickens.
Toss noodles with sauce.
Plate the noodles and top with meatballs and remaining sauce.
Sprinkle with parsley and serve.
So, if you are looking for a meal that is not only delicious, but also looks like spaghetti and meatballs, you have found it! If you are looking for a meal that is grain free, sugar free, dairy free and full of flavor…you have found that too!
Blessings,