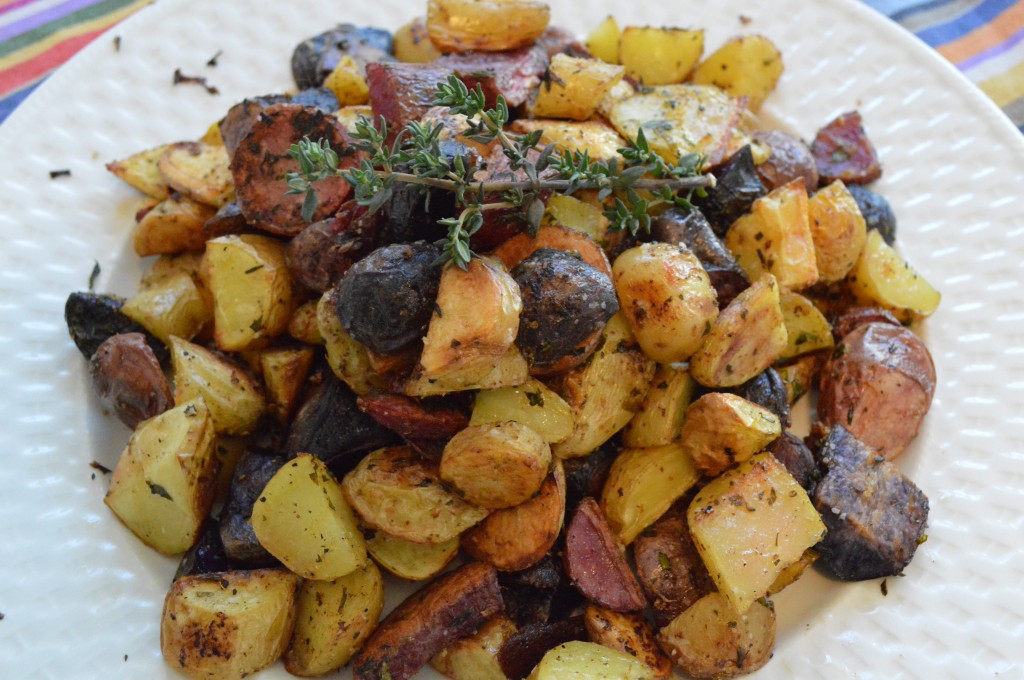 You will really enjoy the bright flavor of these roasted potatoes with lemon and herb. They are crispy and flavorful and the perfect addition to any "comfort meal". These crispy, lemony potatoes would also be a welcome addition to any Thanksgiving meal.
My mom and dad came over to spend the day with us last week. It was SO good to be with them! I decided we would have our dinner at lunch time so we could spend the rest of the day out of the kitchen. This same day I was also bring a meal to a family in our church so I just made extra and packaged up their portion for delivery.
These potatoes were one yummy component of our meal. Here is what I did:
Quarter 3 lbs of Assorted Potatoes (red bliss, white, and purple)
Chop 1/2 cup of Assorted Herbs (I used thyme, chives, and flat leaf parsley)
1 Lemon – zest and juice
Olive Oil
2 teaspoon Kosher Salt
1 teaspoon Pepper
Drizzle the bottom of the baking sheet with olive oil and then add the potatoes on top. Sprinkle with 1/2 cup mixed fresh herbs and the zest of one lemon (save the juice until the end). Drizzle the top of the potatoes with olive oil and sprinkle with salt and pepper and then toss with your hands. Bake at 425 for 25 minutes and then mix the potatoes around to allow crisping on the other sides. Bake for another 10 minutes. When the potatoes come out of the oven, while they are still hot, drizzle them with the lemon juice, toss and then taste for proper salt and pepper.
Blessings!