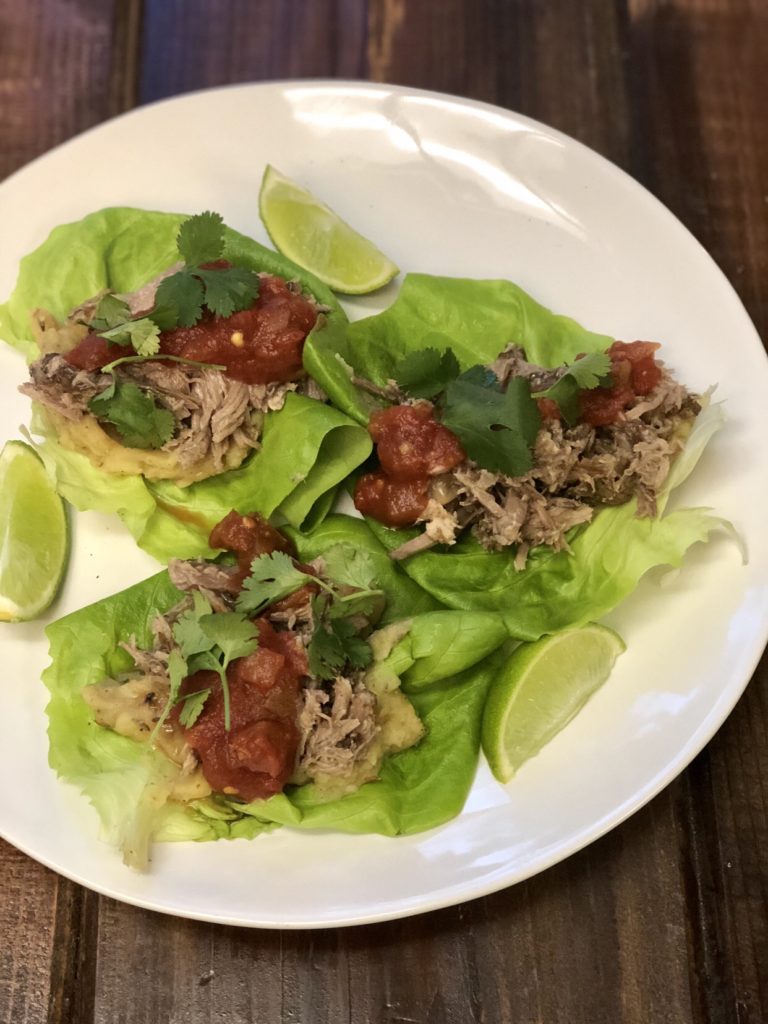 My fridge was looking bare this morning…lots of ingredients, but not many of them put together to be meals. Enter Pork Tacos with Sweet Potato Mash.
I am writing this post on Day 11 of my Whole30 journey…round 4, day 11 that is! Its going well so far and these Pork Tacos are only going to make it better! The Whole30 Fast and Easy Cookbook has been such a help to us on our journey.  I highly recommend it! The food never gets boring and the inspiration is seemingly endless!  So thankful!  When you read this it will be our day 15.  We will be halfway there!
Half way to realizing the benefits of sticking to the Whole30 for 30 days. Half way to building a lifetime of good eating patterns. Half way to gaining the confidence that we can do this and food doesn't have control over us. Half way…can't wait!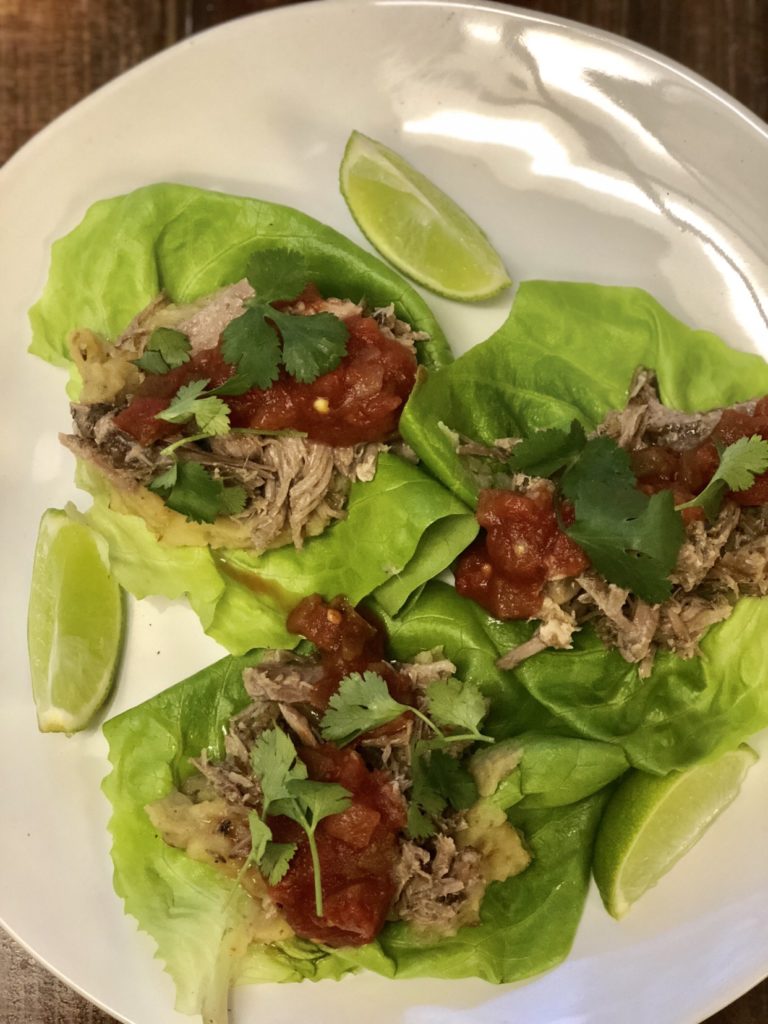 Do you read my Whole30 posts and think you could never do this? Or, maybe you have done several rounds and know the benefits. Or, maybe you haven't heard of the Whole30 and think I am crazy…wherever you are, thanks for reading and following along. I hope the delicious food I have been posting is a blessing to you and your family!  To learn more, click here.
By the way…did you know when you mash sweet potatoes and season them with cumin, onions, and garlic and put them in a taco they taste and have the texture like refried beans? Seriously…I told my husband what they were AFTER we ate and he was surprised.
Here is what I did!
Pork Tacos with Sweet Potato Mash
These Pork Tacos with Sweet Potato Mash all began with a seasoned pork roast and a slow-cooker…great combo!  Finished with refried sweet potato and lime wedges and lettuce cups…so good!
Ingredients
4 teaspoons cumin seeds
2 teaspoons dried oregano
1/2 teaspoon dried oregano
1 tablespoon coarse salt
4 pounds boneless pork shoulder, cut into three pieces
2 oranges, cut into quarters
2 yellow onions cut into chunks
For the sweet potatoes
1 tablespoon olive oil
1/2 cup minced onion
2 cloves garlic, pressed
2 teaspoons cumin seeds, toasted
1/2 teaspoon sweet paprika
1/2 teaspoon salt
3 sweet potatoes, boiled and mashed
1/2 cup full fat coconut milk
Butter lettuce leaves
Cilantro
Lime wedges
Thinly sliced radish
Compliant Salsa
Instructions
For the PORK
In a small bowl combine your spices and salt.
Rub the spice mixture all over the pork and place it in your slow cooker.
Squeeze the juice of the oranges over the pork and place the oranges into the slow cooker.
Top with onion wedges.
Cover and cook on high for 4-5 hours or low for 8 to 10.
Remove the meat from the slow-cooker and shred with forks.
Freeze the cooking liquid to add to a soup or stew or discard it.
For the SWEET POTATOES
Place oil in a large pan over medium heat.
Add in the onions, garlic, cumin seeds, paprika and salt. Cook for a few minutes, until onions are softened.
Add in your sweet potatoes and coconut milk and mash them until they are smooth.
Assemble the TACOS
Place a lettuce leaf on your plate and spread with the sweet potato mash
Top with meat, salsa, cilantro and radish and eat! SOOOO good!
So, next time you are craving tacos…these Pork Tacos with Sweet Potato Mash will be your go to! Next time I plan to add thinly sliced radish on top for some more crunch…I'm also going to serve them in a bowl tomorrow as a taco bowl…will be SO good!
Blessings,