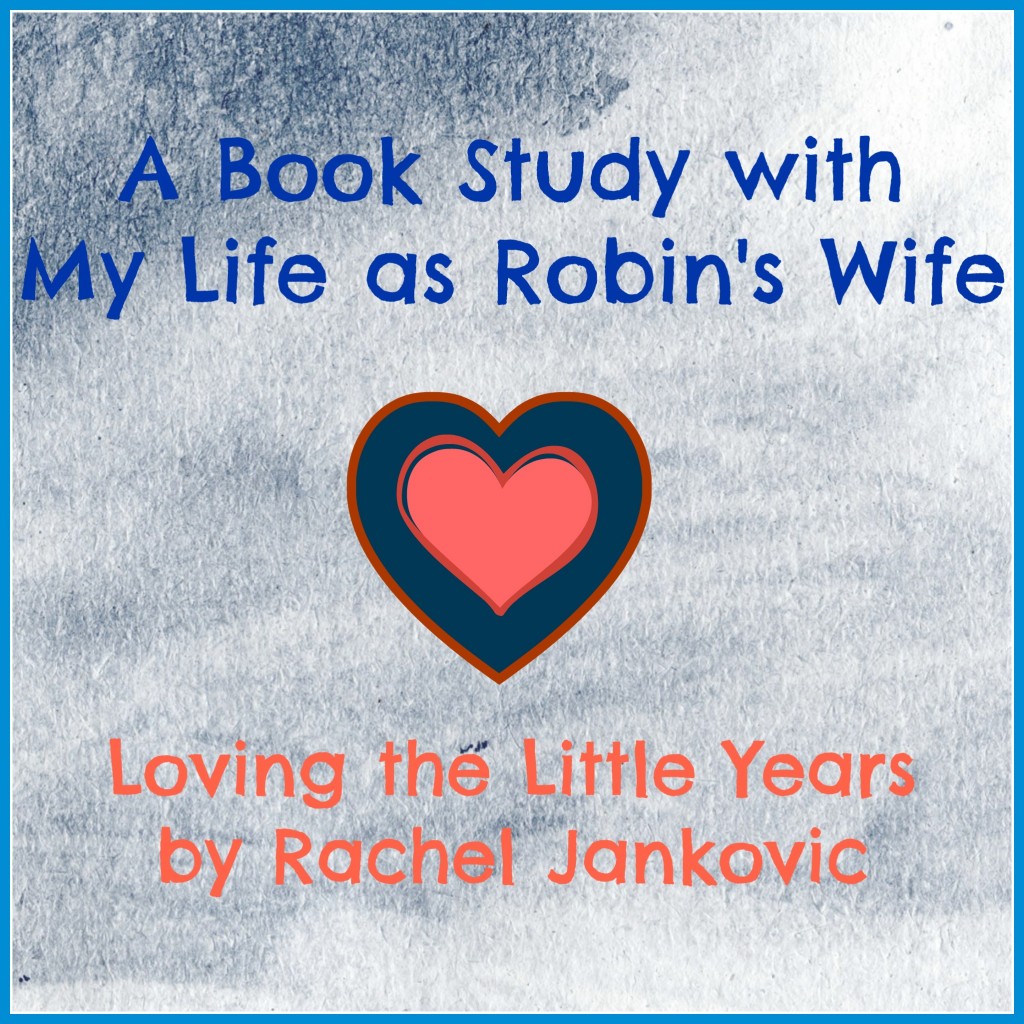 It is week four of my book study in Loving the Little Years by Rachel Jankovich. I am SO encouraged and thankful for this study. If you haven't read this book, I would highly encourage you to. It is available at Amazon.com and worth its price. I will be posting each Wednesday until the book is complete…join me!
The title of this chapter is Picky Chickens. The author talks about these cute chickens they saw while driving through Pennsylvania. As they got closer, they said "bald and bleeding spots where they had been picking one another's feathers out…" She uses these chickens as a great illustration of how our children "fuss and bicker at each other". What a great picture. She says, "who likes the idea of being a mean chicken with open sores?" NOT ME! And, not our children when they really stop and think about it. 🙂
Here is one quote that really caused me to stop and take stock, "So think about your language with your children. When they disobey, do you talk about your own hurt? Are you pointing to all the work that you have to do now that they screwed up? Do you want to elaborate at all on how bad, bad, bad, that particular thing was? Do you want them to feel bad, or see them with a clear conscience so you can have a little snuggle tickle-fest?"
Is that quote at all convicting to you? Or, maybe I am the only one… :). I am 43 years old and I am still in the process of learning that life is NOT all about me. And, what people around me do and say is not all about me either. Sometimes I am bothered or offended when I need to grieve over my child's choices. Sometimes their choices are blown out of proportion by me as well. Sometimes I am SO slow to forgive my children when they ask for forgiveness because I want to be sure they really know what they did was wrong. Sometimes I am slow to forgive because I struggle with forgiving.
This chapter has made me want to do a better job at checking my heart first when disciplining my children. Do I really want their best or do I want them to know how offended, hurt or inconvenienced I have been by their words or actions? I really want to want their best. God has called us to raise our children for His glory. He has forgiven me for SO much and yet I am slow to forgive. There is a problem here.
In the book of Colossians, chapter 3, Paul writes, "So, as those who have been chosen of God, holy and beloved, put on a heart of compassion, kindness, humility, gentleness and patience; bearing with one another, and forgiving each other, whoever has a complaint against anyone; just as the Lord forgave you, so also should you. Beyond all these things put on love, which is the perfect bond of unity. Let the peace of Christ rule in your hearts, to which indeed you were called in one body; and be thankful. Let the word of Christ richly dwell within you, with all wisdom teaching and admonishing one another with psalms and hymns and spiritual songs, singing with thankfulness in your hearts to God. Whatever you do in word or deed, do all in the name of the Lord Jesus, giving thanks through Him to God the Father.
While this passage isn't directly about parenting, the application to parenting is very clear. Even with my children, especially with my children, I am to be compassionate, kind, humble, gentle, patient, and long-suffering. And, I am to forgive them. I am to let the word of Christ richly dwell within me so I am wise and thankful and admonishing in an honoring way.
So, when my children are "Picky Chickens", I want to learn to be helpful to them. I want to learn to be more patient with them. I want to honor God more with my attitude by remembering that at that moment it is not about how I am feeling. It is about how I can help my dear children be in right relationship with one another and with the Lord. And, it is about my heart before Him as well. Am I pleasing to Him or more concerned with me?
Please comment and share ways that you encourage your children when they are "Picky Chickens".
Blessings!