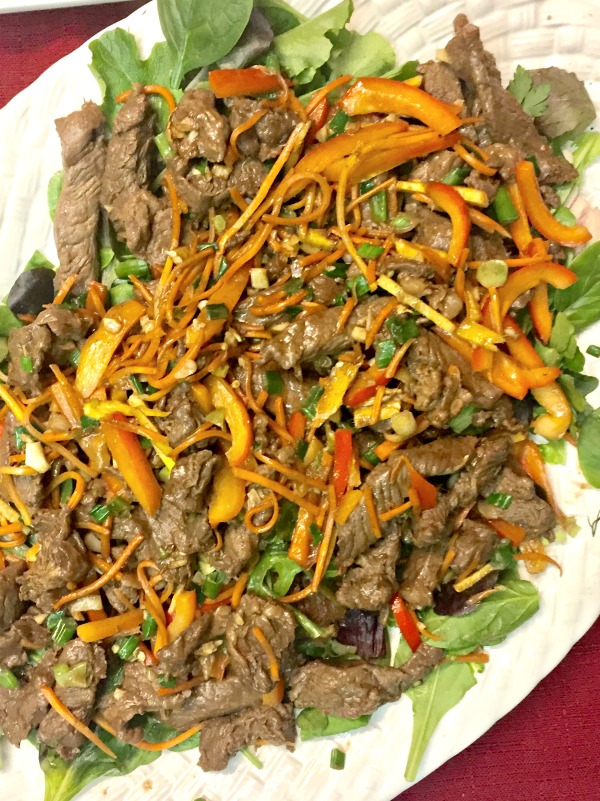 Mongolian Beef and Greens is one of the recipes that saves the day while doing our Whole30! So flavorful, so healthy, and so satisfying. This month, I am disciplining myself to make at least one recipe a day from the new Whole30 Quick and Easy Cookbook. You see, I am not a recipe follower…I like to make things up…sometimes last minute. But, when you are deep in your Whole30 and lose your motivation, you need some amazing favorites in your arsenal…not just your old favorites. So…for inspiration, I will be starting with one of the amazing recipes found in Whole30 Quick and Easy and tweaking it a bit…to fit the groceries I have on hand, and to satisfy my need to be creative.
I hope it is helpful to all of you as you move forward on your health journey as well. I hope you see that recipes for your Whole30 can truly be quick and easy and can be truly delicious. I hope you see that there are AMAZING resources like this book (and my blog!) out there to help with your success. I hope you watch along as we succeed on our journey and it inspires you to join us. It is truly life changing.
This Mongolian Beef (and Greens!) recipe can be found on Page 64 and is from the amazing blogger Chih Yu Smith of I Heart Umami. I have followed her on Instagram for some time now and am always amazed at how she can make food that is traditionally full of sugar, soy and grains into something that we can eat and enjoy on our Whole30! She is a genius in the kitchen and super sweet!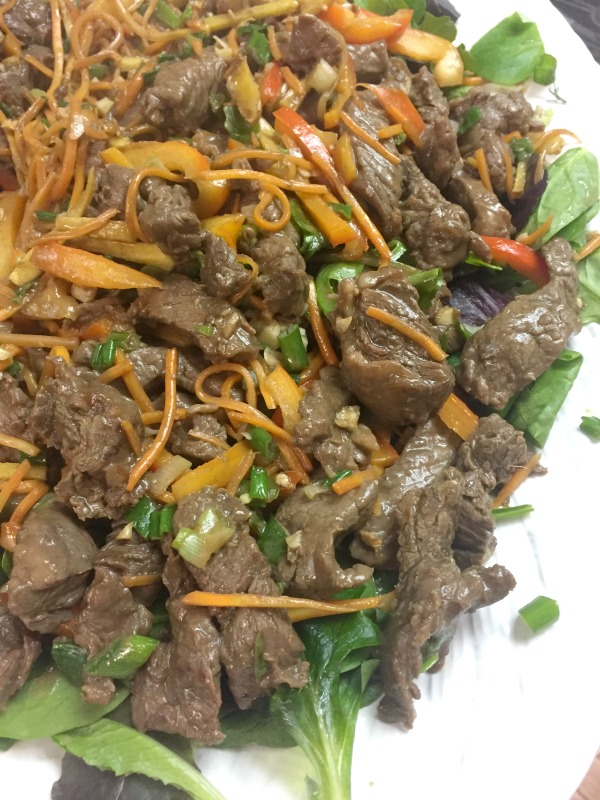 I mostly followed her recipe and added a few tweaks of my own…check it out here:
Mongolian Beef and Greens
This Mongolian Beef and Greens is full of traditional flavors without the sugar and soy that is normally associated with Asian food!  Try it out!  You will be glad you did.
Ingredients
4 tablespoons coconut aminos
2 tablespoons Red Boat fish sauce
4 teaspoons toasted sesame oil
2 lbs thinly sliced beef (skirt steak, sirloin tips, or any steak)
1 piece ginger (2 inches) peeled and grated
1 large red bell pepper, cut into small matchsticks
1 cup shredded carrot
6 cloves garlic, minced
6 green onions thinly sliced with white and green parts separated
6 tablespoons clarified butter, ghee, or coconut oil
8 ounces mixed greens
Instructions
Combine the coconut aminos, fish sauce sesame oil and beef, turning to coat in marinade.  Marinate for 15-20 minutes.
In a small bowl, combine the ginger, peppers, garlic, and white part of the green onions
In a large skillet, melt 1 tablespoon of the clarified butter over medium heat, add the beef and the marinade to the skillet and cook until no longer pink (4-5 minutes).  Transfer the beef and sauce to a clean bowl.
In the same pan, melt the remaining clarified butter and add in the ginger, peppers, garlic and white part of the green onions.  Cook over medium heat, stirring frequently, until fragrant (2 minutes or so).  Return the meat and sauce to the pan and toss to combine.  Serve the beef and the sauce over your choice of mixed greens.  I used spring mix with herbs from Trader Joe's.
I admittedly thought this dish would be strange over the greens and almost opted for cauliflower rice, but changed my mind and followed the recipe. I am so glad I did! The greens add some texture without taking away from the amazing flavor of the beef. I will continue to serve this dish over greens. I may make some rice for my littlest next time and combine that on his plate…he seems to burn calories minutes after they are eaten! 🙂
I hope you enjoy this amazing dish! Comment and let me know if you blog and are doing a Whole30! Would enjoy following your journey as well!
Blessings!