Hi All! Welcome to the Mom's Monday Mingle! I am co-hosting today! Hope you enjoy looking around! 🙂 Please say hello below in the comments…I really enjoy hearing from you all. 🙂 Hope you are all having a wonderful Easter!
Blessings!
Diane
Would YOU like to "Co-host" with us?
There are a few opportunities left in April. Sign up now!
Email Jessica@allshecooks.com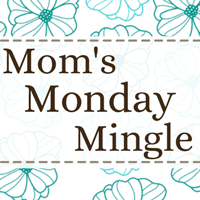 Please help spread the news on this growing hop!
Please
tweet
about this hop!
Tweet
RULES:
1. Please follow each hostess (They are 1-6 in the link up)
All She Cooks (former At Home Take 2)- Hostess
Ducks n' a Row- Co-host
Creative Geekery- Co-host
Gibmee Blog- Co-host
My Life As Robin's Wife- Co-Host
2. Leave a comment if you are new and want us to return the follow.
3. Grab the button and display it on your sidebar or link it to the post.
4. Have fun and meet new friends!