Hi All!
This week I am co-hosting the Mom's Monday Mingle! Please read the instructions below to join in! I can't wait to visit your blog and I hope you enjoy mine as well. Please follow by adding your email in the lower right hand corner.
Blessings!
Diane
Would YOU like to "Co-host" with us?
Email Jessica athometake2@gmail.com We have a buy 1 get 1 free deal!
You get to host twice for the price of 1.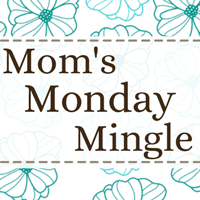 Please help spread the news on this growing hop!
Please tweet about this hop!
Tweet

RULES:
1. Please follow each hostess (They are 1-4 in the link up)
At Home Take 2- Hostess
My life as Robin's Wife- Co-Host
Confessions of a Redheaded Mama- Co-Host
2. Leave a comment if you are new and want us to return the follow.
3. Grab the button and display it on your sidebar or link it to the post.
4. Have fun and meet new friends!