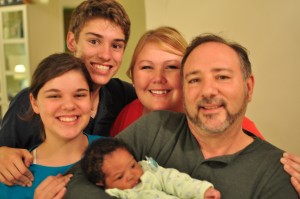 For every joy we have experienced as foster/adoptive parents, there has been a sorrow experienced right along with it. In honor of National Adoption Month, I would be grateful for the opportunity to share our story with you. Let me catch you up to speed.
From the time my husband and I were engaged to be married, we wanted to adopt children who needed homes. We didn't know how, what ages or when, but we knew why. We love children. And, because of the love God has poured out on us in His Son Jesus Christ, we are overflowing with love to give. God adopted us and calls us His children, even while we were yet His enemies. When we were completely unlovely and had nothing to offer Him, He set His love on us. He made us His own children. Amazing. Humbling. Everlasting.
We were so eager to adopt that we went to a few classes at our church even before we were married. Click here to read more about our engagement story. We quickly came to our senses and realized that planning a wedding in 2 months was enough to keep this couple busy! So, we waited…after we were married 2 years we stepped out and attended a meeting at our church for those who have adopted or were interested in adopting. It was packed!There were at least 50 people there. And, our interest was further heightened. But, we waited. A few months later we attended the meeting again. It seemed to be a divine appointment. It was a "pot luck". We brought salad. The ONE other family in attendance, who happened to be the speakers, brought lasagne. Perfect! This was only the beginning. If you remember, the last time we came there were around 50 people. This time…us and the speaker. Hmmm….
Well, they were there, just for us. They went through an agency called Children's Bureau for their foster/adoption. It was fast, and thorough, and organized. And, the social workers and employees were friendly and personable and very helpful. Sounded Perfect! And, their boys were adorable. And, their story clearly highlighted God's Sovereignty in their lives. So, armed with this information, we moved forward, full speed ahead. This was around mid July 2011. We moved quickly. Our application was complete before attending the preliminary orientation. And, a little over two months later we were ready. We were certified by October 11th (2 days after our soon to be baby was born). On October 18th, we got the call. Would we like to open our home to a little baby? "He is a little over a week old." My daughter was literally jumping up and down saying yes! yes! They said we had 5 minutes to decide. So, I called my husband, who quickly said yes. I called our matcher back and told him an enthusiastic yes! Everything was set in motion. A few minutes later, realizing that he forgot to tell us his name, our matcher called back. This baby's name was Joseph. We like that name so much that our oldest son is named Joseph. 🙂 Now we would have two in our home. 🙂 They have come to be known "Big" and "Little" Joseph. 🙂
This was the first joy…a baby boy was coming into our home. Even though at this point there was a real possibility that he would go back with his mom. We were thrilled to be able to have him, even for a little while! This was also the first sorrow…while we were getting a sweet baby boy in our home, that night, another woman lost her sweet baby boy due to her choices in life that kept her from caring for him the way he needed to be. Our hearts grieved for her. We met her just a week later so she could visit her baby boy.
I will write more tomorrow, but, for now…if you have any interest in Foster Care or Foster/Adoption, please call Maria Otero at Children's Bureau at (800) 730-3933. They have a great orientation where you can have your questions answered and your fears dispelled or confirmed. They will tell it like it is. When you call, let her know Robin and Diane sent you! 🙂