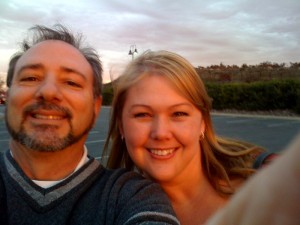 Today is my husband's birthday…a day to celebrate that God caused him to be born. It is a day to celebrate God's goodness in giving him to me and to our family. He is by far one of the best gifts I have been given in this life and I am grateful to God for him. God knew exactly who I needed. People ask me how I knew that "he was the one". Read below for a peek into a few of the many reasons I am thrilled that he was/is the one for me.
First, I thank God that my husband knows and loves Him. Above all, that is something I admire most in my husband. Because God sent His son, Jesus Christ, to this earth and He lived a perfect life and then died on the cross for our sins (as we remember today on Good Friday) and then rose again (Sunday is a coming!), my husband (and I) have a relationship with our Creator. Our sins have been forgiven and we look forward to being with the Lord in Heaven for eternity. I love that my husband loves God. I know this both by his profession of faith and by his life.
I love that he not only loves God in his words, but also in his actions (James 2:14-25). He strives to please God with his speech and his conduct and while no one can do this perfectly, it is his heart's desire. Because He loves God, when he fails, he seeks God's forgiveness and the forgiveness of the one he may have offended. This has been such an example of humility and graciousness to me. He not only asks forgiveness, but also grants it freely. This is something I have struggled with. At times I can be slow to forgive. But, my husband's example has made me a better forgiver.
Because my husband loves Jesus, he also strives to love me unconditionally. His love for me is not based on my appearance, (though he tells me I am beautiful) and it is not based on my accomplishments that day or week (though he often expresses gratefulness for them). It is based on the fact that he has promised God that he would love me. He looks for things in me that are lovely. He sees Jesus in me. Though at times I have struggled to believe this, through the years I have learned to trust his love for me and I am SO grateful and humbled to be loved by him and to have the privilege to love him as well.
I also thank God that Robin is a loving and purposeful dad to our three children (our littlest is nearly officially adopted!). Again, while no one can love their children perfectly, it is his heart's desire to love them in such a way that they trust his love for him and that they come to know our Lord and Savior. He also purposes to give them many happy memories in this life. He plans family vacations each year with them in mind and even daily spends time playing with our littlest. He also encourages them as he observes all that God is doing in and through their lives. He tries not to miss seeing Jesus in them and enjoying the things that make them individuals. I can see his love for our children as he disciplines them and as he encourages them. It is a joy to watch! Again, my husband's example as a dad makes me a better mom and I am grateful!
Finally, I thank God for how much we enjoy life together. From the first few weeks of knowing each other, we have finished each other's sentences. I have never laughed SO hard about such silly things with anyone…he really understands my sense of humor…that is likely because I get his too. We have laughed until we had tears in our eyes more times than I can count. We can be so silly at times and very serious at others. We love being together and it doesn't really matter what we are doing. Most of the time it involves Peet's Coffee. And, though most of the time it involves laughing, it also involves tears at times too which are also sweet. I am thankful for our regular weekend getaways that show me how much he treasures our marriage and our time together.
So, for these things that make my husband who he is and for so many more reason I didn't include here, today I celebrate my husband and his birth. I love you Robin. Happy Birthday! And, please know that I thank God for giving you to me as my husband!
Love,
Only One
P.S. Pretend that today is your husband's birthday too. It is SO good to remember all that we appreciate about the men God has given us! There is SO much to appreciate! You will be blessed as you make that effort to remember…try it out…really! 🙂