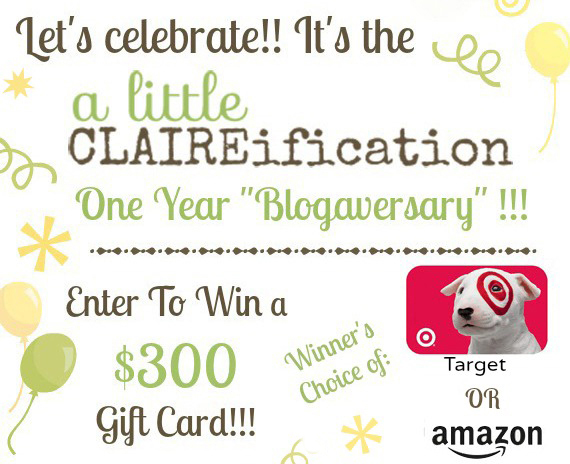 Today, here at My Life as Robin's Wife, I am celebrating my friend Claire's 1 year "Blogaversary" at ALittleClarieification.com. I have to say that I think she has one of the best names for her blog! So cute! Thank you Claire for being a joy to know and for being such an inspiration!
I am grateful to be joining with a group of wonderful blogging friends to celebrate Claire's contribution to our lives and all of her hard work through this first year of inspiring others with her great ideas! So, in honor of Claire, we have combined efforts to host a giveaway! Also in her honor, I encourage you to stop by her site at: ALittleClarieification.com. I am sure you will be inspired by her wonderful recipes and her great ideas for beautifying your home.
So, sit back and relax and take a look at all of these wonderful opportunities to enter to win and to find new blogs that you might enjoy following!
Blessings!