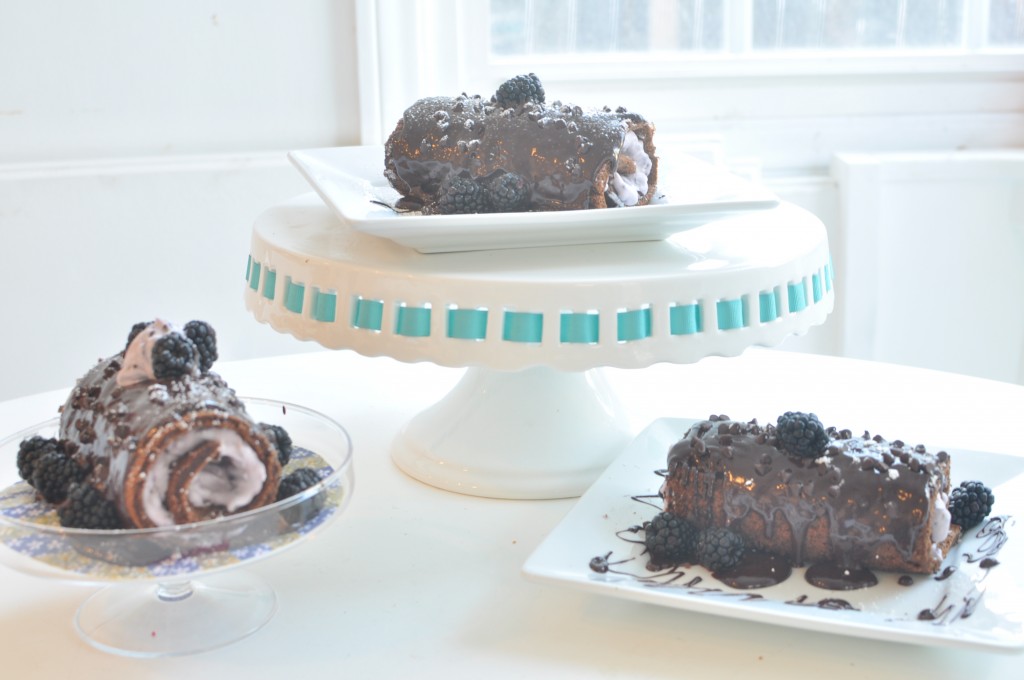 Grandma's Favorite Chocolate Roll Cake…It will always remind me of her. She was a huge part of our lives as long as I remember. She lived into her late nineties and was continually told that she only looked to be in her 70's. Of course, that always made my beautiful grandma's day!
This cake was her favorite. She would frost it with a rich chocolate frosting and fill it with sweetened whipped cream and top it with chopped walnuts. It looked just like a log. We even called it the "chocolate log cake". It made its appearance at special occasions and we would all enjoy it!
I made the cake exactly as her recipe dictated. But, I did deviate a bit on the filling and topping. My version is filled with a flavorful blackberry mascarpone cream and topped with a rich ganache. So good! When I made my ganache, I didn't measure anything so I didn't include that recipe here. But, I did include Grandma's sponge cake and my Blackberry Mascarpone Filling. I hope you try this delicious cake and find it to be a favorite in your home as well!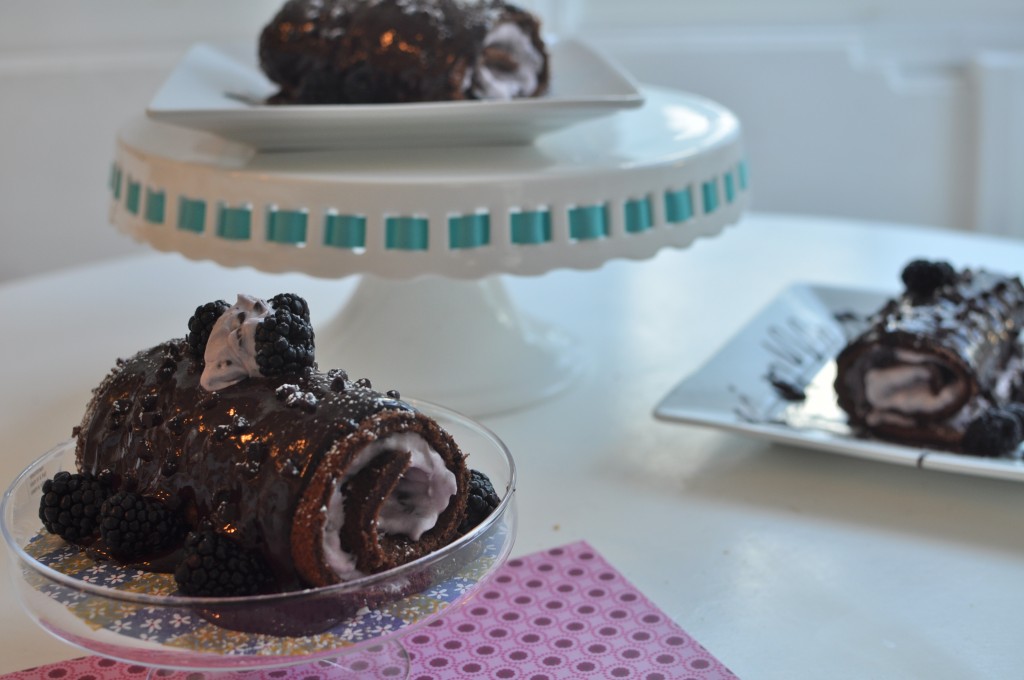 Chocolate Sponge Cake:
Combine 1/4 cup milk, 5 tablespoons plus 1 teaspoon unsweetened cocoa powder, 6 tablespoons sugar and 1 teaspoon vanilla and mix to a smooth paste. Set aside.
In a separate bowl beat 4 whole eggs on medium speed until they are a light creamy color. Gradually add 6 tablespoons of sugar to the eggs, continuing to beat until the mixture thickens slightly. Add the cocoa paste to the egg mixture and beat well.
Sift 4 tablespoons of flour, 1 teaspoon baking powder and 1/2 teaspoon salt together and stir into the batter with a spoon until combined.
Pour the batter onto a well greased and lined (with parchment paper) cookie sheet measuring about 10″ by 15″. Bake for 15-20 minutes at 350 degrees.  The cake should spring back and not be sticky.
Once baked, turn out onto a board topped with a tea towel lightly covered in powdered sugar. Remove the wax paper and roll up with the towel and rest until cool. Once your cake is cooled, unroll and fill with the filling of your choice.
I used a sweetened blackberry mascarpone and it was delicious. I also cut the large cake into 3 pieces before filling it and made three small cakes and gave one to a friend on a small cake dish I had gotten for her for her birthday.
Filling:
1/2 teaspoon Vanilla
1 1/2 cups Powdered Sugar
1/2 cup Blackberries (and a few for garnish)
1/2 cup mini chocolate chips
8 ounces Mascarpone Cheese
1/4 cup Milk
Mix the vanilla, blackberries, mascarpone cheese, and milk until well combined. Add in the powdered sugar and blend until fluffy and light. Stir in the mini chocolate chips and refrigerate. Spread all over the inside of the cake once it is cooled and ready to fill.
Topping:
Your favorite chocolate icing or ganache and a few berries for garnish.
Blessings!