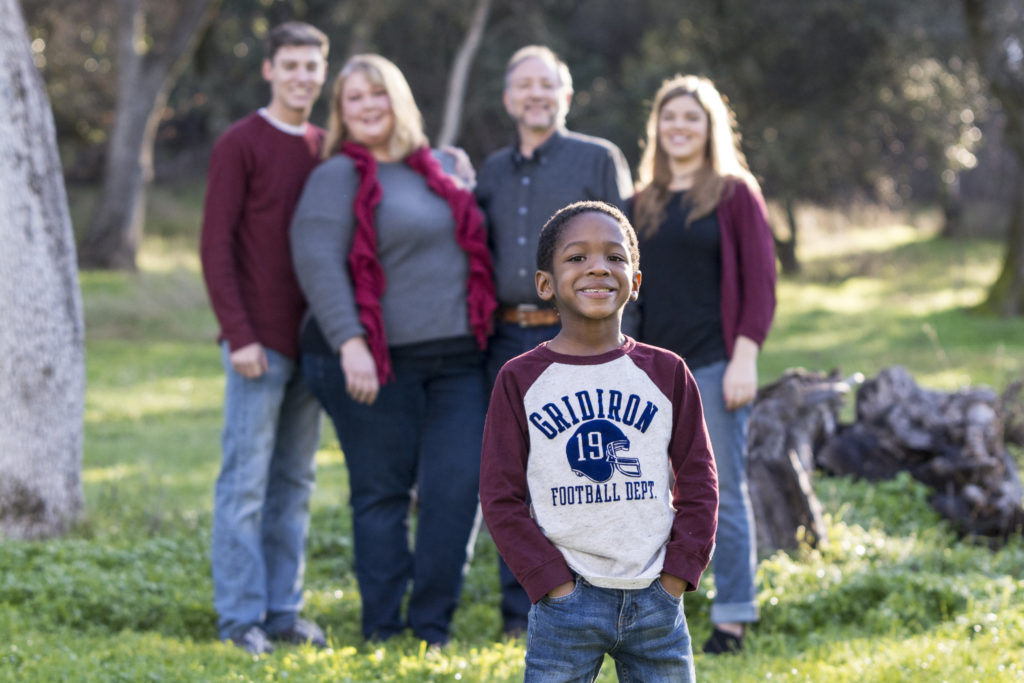 I am more convinced than ever that God puts families together.  Often through birth.  Sometimes through marriage.  And, sometimes through adoption.  Our family has a little bit of everything.  I am so thankful God has put our family together.
Our family began to form on June 5th, 2009 when my husband and I got married.  If you have read our story, you know that Robin already had two precious children when we met, so I not only became a wife on that day, I also had the joy of becoming a mother.  So, our two oldest children are children by birth to my husband and his late wife and by marriage for me.  I have no doubt that God has placed us together as a family.
My husband and I love children, and wanted to add to our family and provide a home for a child or children who needed one.  After a long process of deciding how we would pursue adoption, we went forward, and it went fast!  (You can read the story here!)  Within a couple of months of rapidly processing paperwork and taking certification classes and getting our home ready, we got the call!  Our little Joseph was ready to come to our home…we were thrilled!
When he was about 14 months old, we welcomed another little one named Angel who would, after 8 months, join his sisters to live at his aunts home.  We still get reports from time to time and know he is doing well and growing big and strong.  He is still missed around here and we are grateful for our time together.
When our little Joseph was 19 months old, he became a Haller and we were thrilled!  God put our family together!  I have no doubt that we are all meant to be a family…a forever family.
What some may not know is that we continued to pursue adoption through the foster care system and three times, it didn't happen.  The first time, it was too soon…while our paperwork was complete, and we could have moved forward, we were still healing from Angel moving to be with his aunt.  It was just too soon.  So, we passed.
The second time, our paperwork was complete, and it was approaching summer so we decided to wait until the end of summer to being another child into our home.  We wanted to spend time together with the 5 of us…without a baby, since the past two summers we had babies in our home.  Our big kids were getting older and we wanted a summer where we were more mobile.  At this end of this summer of fun, my husband got a job offer (and accepted it!) at the other end of California, which meant we needed to be re-certified.  While we were all excited to move, it also meant we needed to find a new agency.  We began looking in our new area.
After visiting many open houses, we were struggling to find a agency that would be a good fit for us and us for them.  We finally found one…the week Robin was laid off from his new job.  And, you can't adopt when you aren't employed.  Another waiting period.
Through all of these times, we reminded ourselves that God puts families together.
6 months later, Robin had a new job and we waited a bit for him to settle in.  4 months in, Robin had a massive heart attack.  (you can read about that here!)  We are grateful that God saw fit for him to continue to live.  11 months later, he was back to work at a job that was held for him…the whole time he recovered.  Truly amazing.
While Robin and I still have a heart for adoption, and weep at every adoption movie and have joy at each new child who comes into a forever family, we have not moved forward in adopting additional children.  We pray for adopted families and children who need homes and even regularly consider if we might be called to welcome another into our family, but, are recognizing that our family might be complete.  And, because God forms families, we can be content.  Content with our decision to wait when we were still healing.  Content with our decision to wait through the summer.  Content with our decision to move.  Even while we could point to these circumstances as to why we have not added additional children to our home, we must ultimately point to the fact that God puts families together.
I think I will always want more children, and yet, by God's grace, I trust Him.  I know he places people in families.  I know He is sovereign.  I know He has our lives in His hands.  I can have joy and contentment because I know these things are true.
If you are considering adoption, specifically through the Foster Care system, please reach out…let us know so we can be praying for you.  The road is long, but the reward is great.  God could use you to change the trajectory of a life.  And, He most certainly will change your life for the better in the process.
Blessings,

Save