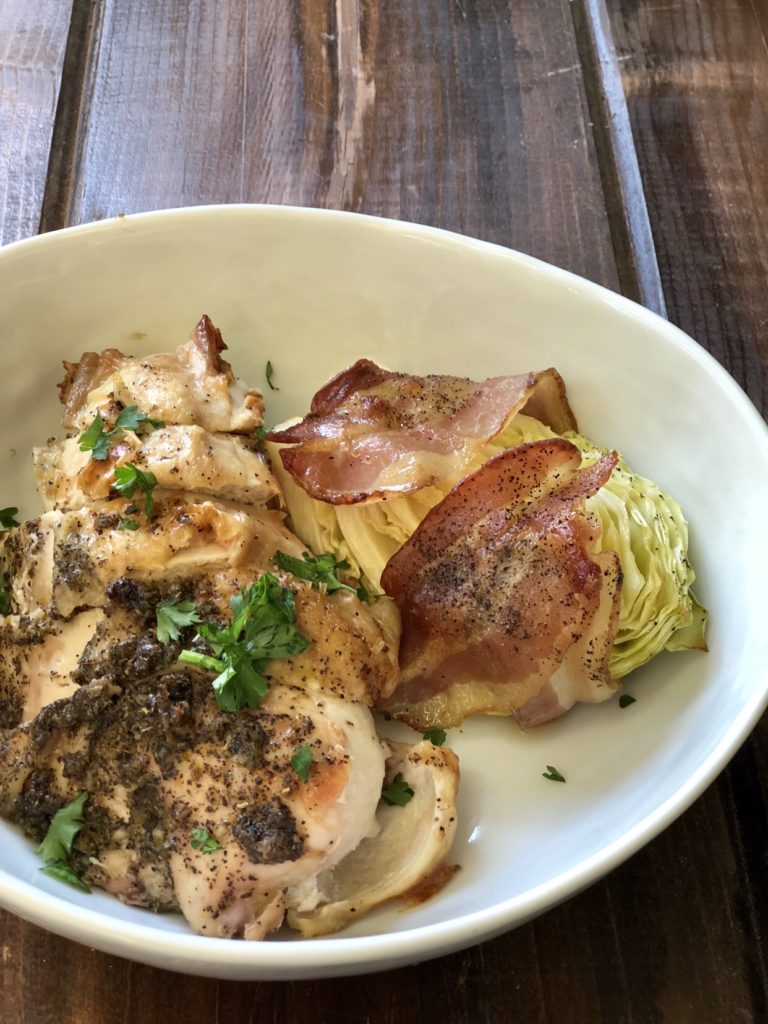 I enjoy a great roast chicken! Sooooo good when it is done well. This Garlic-Oregano Chicken fits the criteria! With salt, pepper, oregano, and lemon zest rubbed into the skin and on the meat, it is flavorful, tender, and juicy! And, it is Whole30 compliant.
When this recipe posts, it will be our Day 5 on our January Whole 30. But, behind the scenes…it is day one! Approaching this day, I was SO excited! Anticipating the life-change, I could hardly wait. Today arrived and breakfast was easy. Still excited…but then, my son asked for hot cocoa…and I almost took a sip. Reality began setting in. He asked for a piece of his Christmas chocolate…no bite for mama. Reality. Still excited, but feeling and anticipating the cost.
This "cost" is why it is so important to still make food you enjoy. Dry chicken breast isn't going to help me stick with my Whole30…and it won't help my husband either. That is why I am committed to making and posting one recipe a day from Whole30 Fast and Easy for our January Whole30. Of course, I will make "my version" of each recipe based on what I have on hand, but I am SO grateful for this inspiration! It really is amazing!
With no further adieu, Garlic-Oregano Chicken.
Garlic-Oregano Chicken with Bacon Wrapped Cabbage
This juicy, garlicky, lemony chicken is not only a show stopper, but it's Whole30 compliant!  And, don't forget the roasted cabbage wrapped in bacon…it may be a side dish, but it really could stand alone whenever it wanted to!
Ingredients
2 tablespoons avocado oil
4 garlic cloves, pressed
2 lemons, zested and juiced
2 teaspoons course salt
2 teaspoons pepper
1 tablespoon dried oregano
4 bone in skin on chicken breasts
2 small green cabbages, cut into four wedges each
8 slices Whole30-compliant bacon
Instructions
In a small cup or bowl combine the oil, oregano, garlic, lemon, salt and pepper into a paste.
Rub into the skin and meat of the chicken breast.
Place the chicken on one side of a large baking sheet pan and roast at 425 for 15 minutes.
Wrap each cabbage wedge with a slice of bacon.
Place cabbage wedges on the other side of the baking pan.  Sprinkle with pepper.
Roast until the chicken is 170 degrees and the cabbage is softened…about 25 minutes more.
Squeeze the lemon over the chicken and cabbage and serve.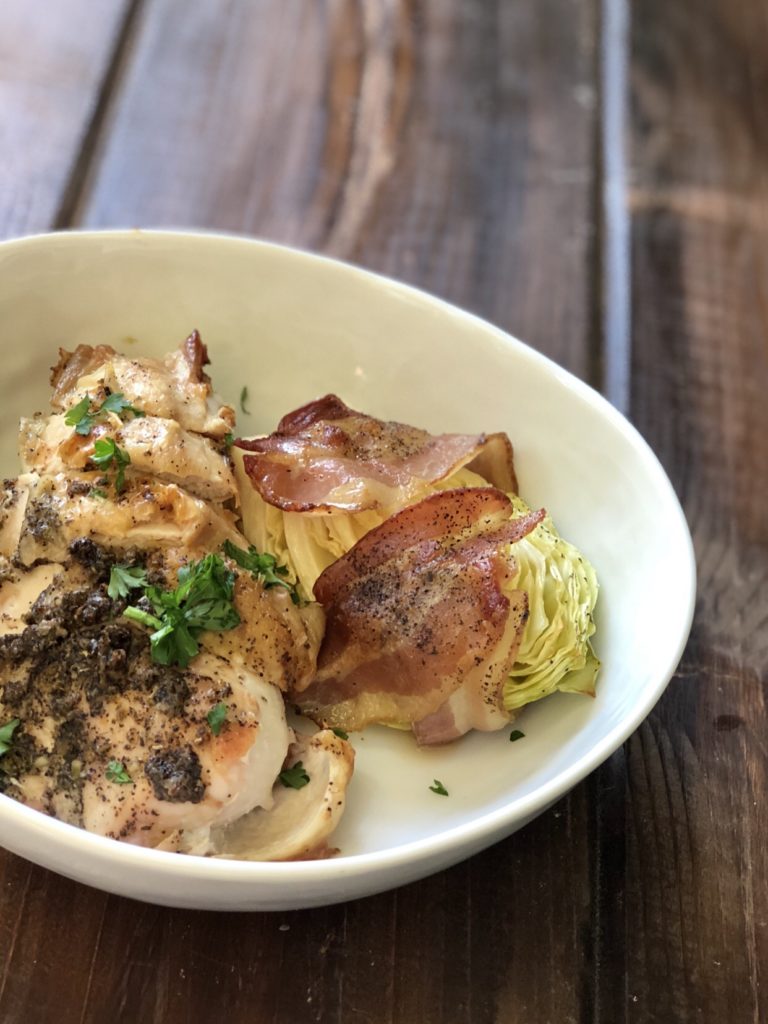 I hope by the time this post is available on the blog that I am even more excited to be on our Whole30 journey…I'll let you know!
Blessings,