This post is #sponsored by PlumbTile, but all opinions are my own.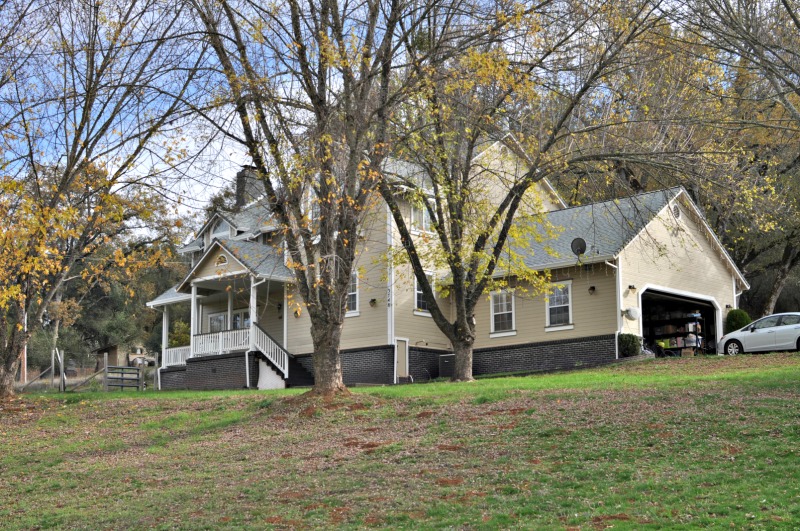 How many of you have picked your family up and moved…new home, new surroundings, new friends.
As many of you know, almost two years ago we made the plunge and headed from the beach to the foothills. From an 8,000 square foot lot near the city and busy streets to a 5 acre property in the country on a dirt road. From a beachy house to a farmhouse style house. I am happy to report that we are home. Seriously…we knew it as soon as we saw the house we now live in. We knew it when we visited our new church. And, we knew it when our new friends rallied to help us move in.
Now, we have begun making our home our own by doing some improvements. This past fall we had a leak in our wall that ruined a portion of our kitchen floor so we replaced the white tile (loud cheering!!!) with wood floors that match the floors in our dining room and entry way. We also replaced our (disgusting) worn counter tops with a beautiful dark grey surface…and we added a subway tile back splash. It fueled the improvement bug!
Next we will head to the bathroom for a dream bathroom renovation. I am in the researching phase right now and one of my new favorite "one stop shops" is PlumbTile. They reached out to me and asked me to share their products with my readers and I am so glad they did! PlumbTile has all I need to update our guest bathroom…and of course, the other two bathrooms, the laundry room, and the…well, you get the idea. You can shop by manufacturer or search by the item type your are looking for.  Don't be fooled by the name…they have much more than plumbing and tile…so many amazing options! They also have a great "how to" section on their site as well. Such a help for us DIYers!
Well, I can't replace everything, but I know I can still make a big impact by making some strategic changes and still have our dream bathroom renovation accomplished.
Check out this lighting option!
I can see three of these lined up along the mirror…beautiful!
And this faucet…
One more small addition…these
If I could add some bigger ticket items…these would fit the bill!
This beautiful tile…
And…this tub…I feel relaxed already!
Well, you get the idea…I found PlumbTile to be an excellent resource for my dreaming session for my bathroom reno.
Check out my Pinterest Board to see the rest of my ideas for our home on Reflection Road!
Blessings!
**This post was sponsored by PlumbTile. We received compensation in exchange for sharing our opinions about this company. Please contact the company directly with any questions or concerns.**
Save