We made a DIY Farmhouse Pallet Dining Table…well, actually, we made 4. Back in October, my husband was recovering from a massive heart attack (you can read more about our reflections here!) and was home from work for about 11 months. During that time we decided to use some of those pallets we had been gathering to make a table for Thanksgiving! Our littlest son joined in to help as well!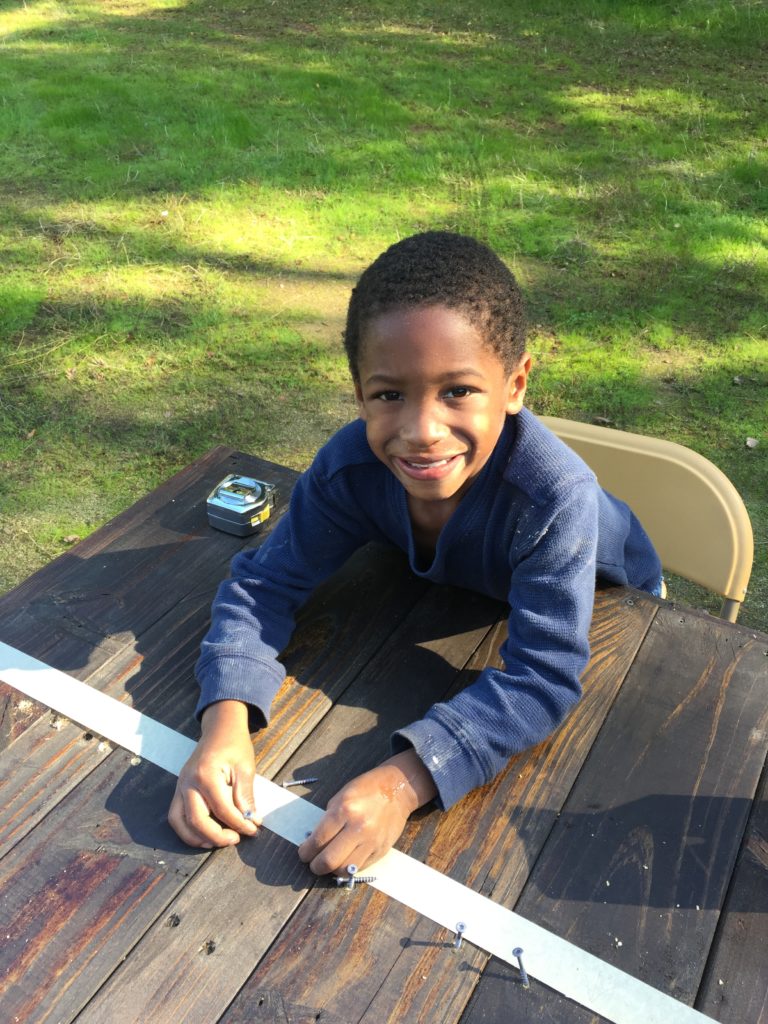 We have an upper deck area out behind our home and with the right tables, we could seat a crowd. So, we set out to make 4 tables that would be 8 feet long by 3 feet wide. We finished on time and they turned out beautifully! We combined them to make one large table and it was a dream come true for us to host 25 family and friends around one large table!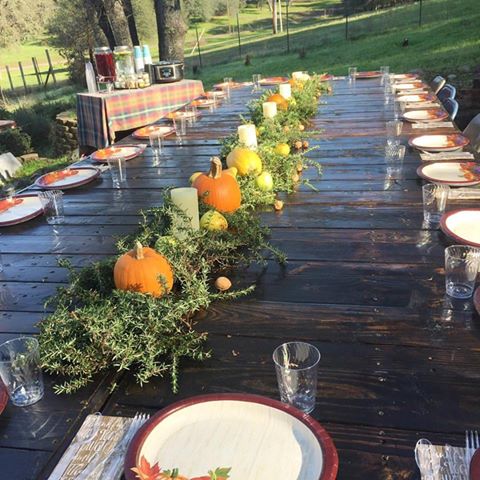 I shared this picture on my Facebook Page and my Instagram Feed and were spurred on by so many kind comments! Early on we planned to create a video so you all could make them yourselves! It only took us 4 months to get to it! Haha!
Be prepared though…we are not professional video makers. 🙂 If this were a yummy, yet maybe messy meal, I might call it rustic. You get the idea. You will not only get a great tutorial featuring my husband, but also rooster sounds, laughter, loud tools, our son playing, and a football game on the radio…yes, I said radio. 🙂
Along with the video, here is the materials list.
Here is what you will need for your DIY Farmhouse Pallet Dining Table:
2 – 2X4 boards 8 feet long
2 – 2X4 boards 4 feet long
8 – 2X4 boards 3 feet long (or 4 – 4X4)
8 – 5/16″ bolts
16 – 5/16″ flat washers
8 – 5/16″ lock washers
8 – 5/16″ nuts
1 box – 3 inch exterior deck screws – 50 count #12
1 box – 1 1/4 inch exterior deck screws – 50 count #8
16 – 6″ wide and approximately 11/16″ thick, 3 foot long pallet boards
32 ounces Stain – Minwax Outdoor Stain – dark walnut
32 ounces Sealer – Minwax Helmsman, semi gloss
Because we used primarily pallet wood (with the exception of the two longest boards and the one middle support…they came from an A frame used to transport our granite for our kitchen) these tables cost about $30.00 each to make…just the screw, washers, stain, and sealer were purchased.
If you are in the market for tables, I would highly recommend trying your hand at making these! You will need at least one person on the job who is into measuring…that would be my husband. Without him, they would never have come out as beautiful as they are. I was good for the sanding, sealing and staining as well as sinking the screws into each board on top…didn't have to be too exact there! 🙂
Spring and Summer are coming…let me know if you make our DIY farmhouse pallet dining table! Would really enjoy seeing pics! Also, as always, comment with questions below and we are glad to answer!
Blessings,