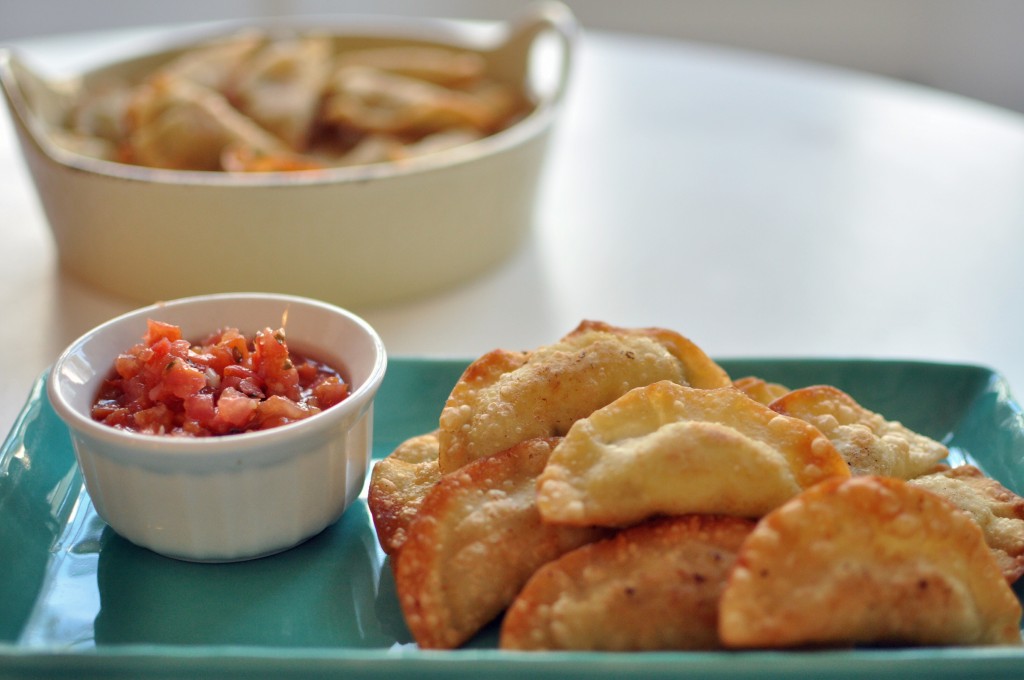 Cheesy Proscuitto and Spinach Wontons, friends, and a good football game…that is a GREAT combination! When I has planning what we would snack on during the game, I came across wonton wrappers. I don't know about you, but every time I see wonton or egg roll wrappers I begin to brainstorm (with myself) what I could put inside them. There are so many great combinations! This time I decided to fill them with Italian goodness…cheeses and prosciutto…how could that be wrong? 🙂
We had our good friends over on Sunday after church to watch the Seahawks game (Go Hawks!) I served these crispy treats during the game and they (the Seahawks AND the Cheesy Prosciutto and Spinach Wontons) were a hit!
They would be a great addition to your Superbowl treats in a couple of weeks or for your next totally football unrelated gathering. 🙂
Here is what I did.
Ingredients:
4 ounces Prosciutto
4 ounces Mascarpone Cheese
2 cups Mozzarella Cheese, grated
4 ounces Ricotta Cheese
1 cup Baby Spinach, packed
salt
pepper
2 sprigs, Thyme
1 package Wonton Wrappers (I used round ones)
Instructions:
Place all ingredients except the wonton wrappers in your food processor and pulse until well combined. Take one wonton wrapper and moisten the edges. Fill it with a little less than 1 tablespoon of filling. Arrange the filling so that it is long and thin in the middle of the wrapper. Seal by folding the wrapper in half and pressing the edges together. Pinch along the edges. Fill all wrappers and refrigerate for an hour or so.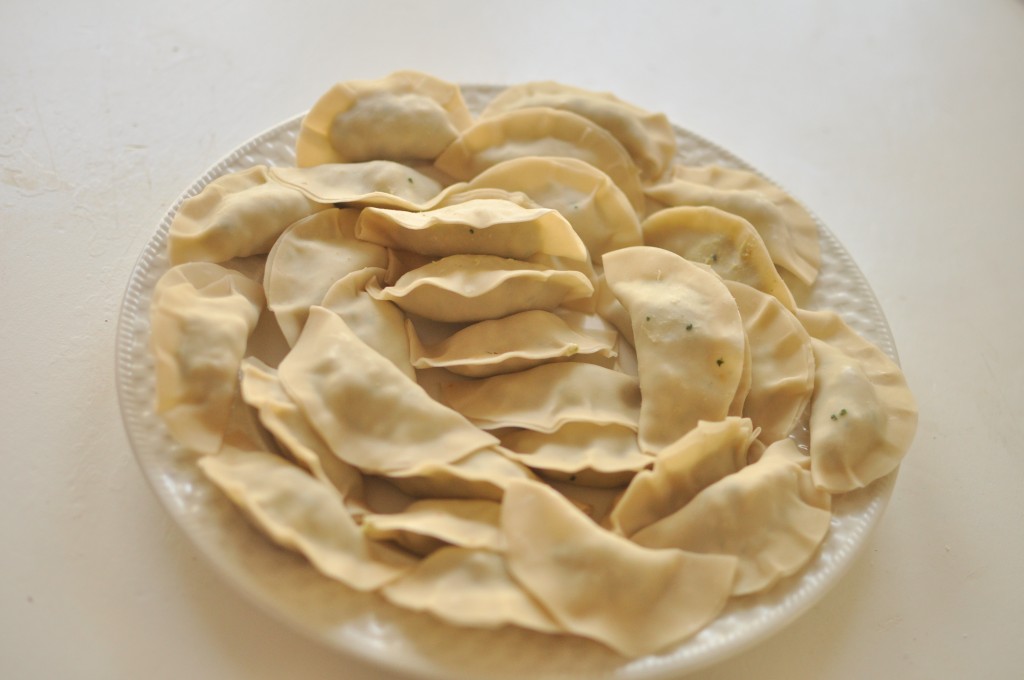 See the little hand…someone was trying to taste one before they were cooked! 🙂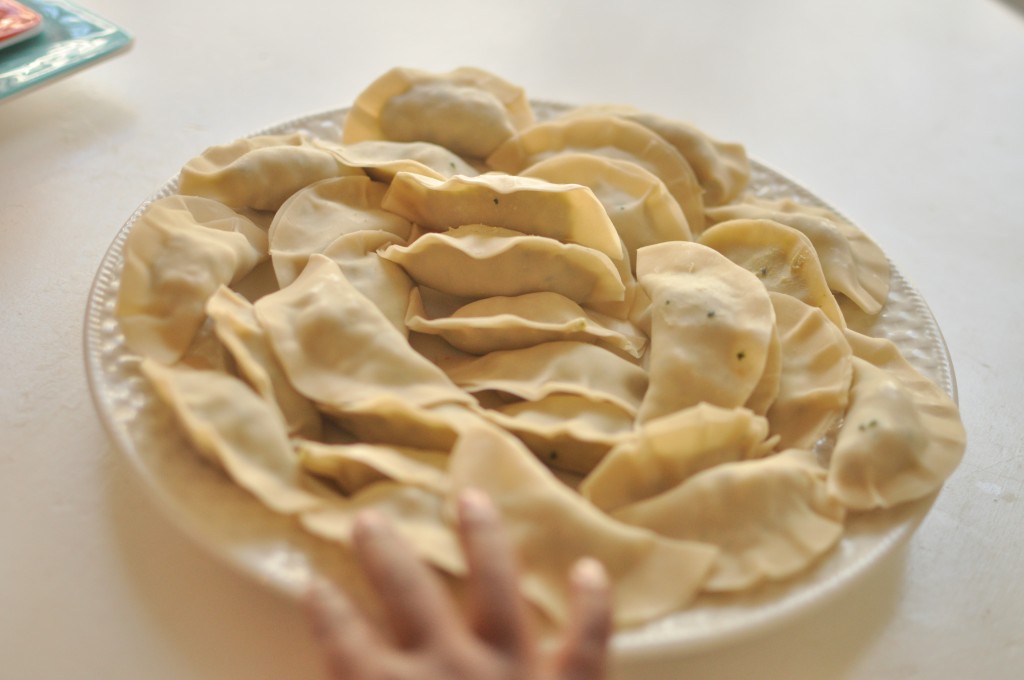 By letting them sit in the refrigerator, they seal becomes more firm and they are less likely to leak when you fry them.
Heat an inch or so of oil in a deep skillet to medium heat. Cook 4-5 wontons at a time or as many as can fit in your skillet leaving space between each one. Cook until golden brown (a minute or so) and then flip over to brown the other side (another minute or so). Drain on paper towels and enjoy! This recipe makes 55-60 wontons. I served Trader Joe's Bruchetta topping alongside them, but they would be equally good with a warm marinara dip.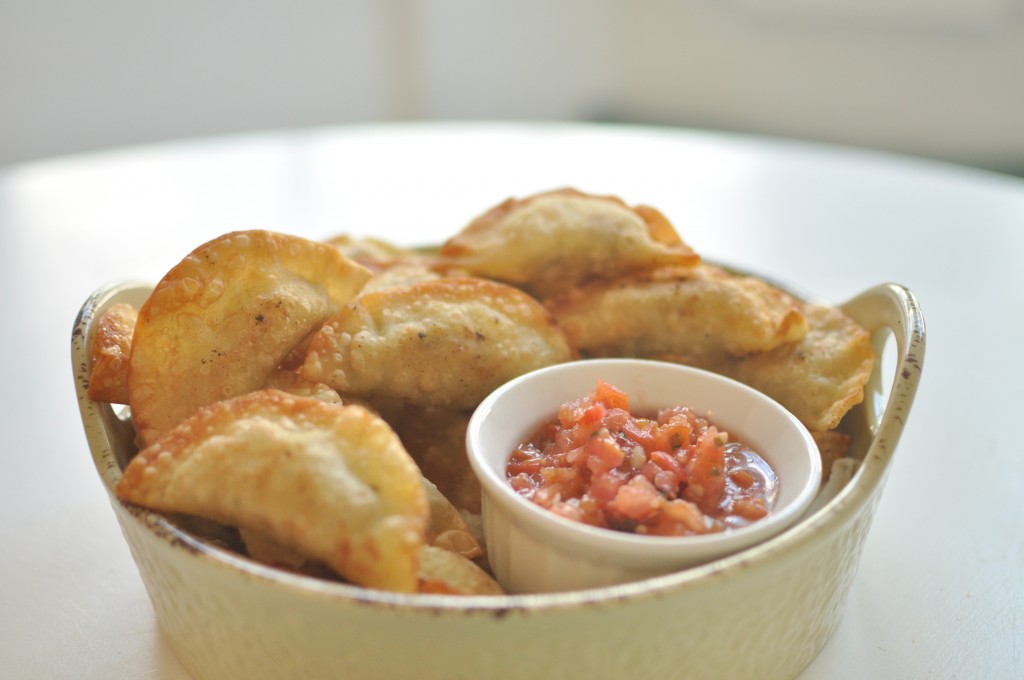 Blessings!