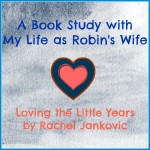 This chapter is titled "In the Rock Tumbler". What a perfect title. If you have little ones, you surely understand this title and even find it a little humorous. When we as "rocks" sit by ourselves with little friction, we are refined in a much different way than we are refined when we are tumbling around with a lot of little "rocks".
The author understands that when we are in the "rock tumbler" of life, it is not easy to feel like you are pleasing God or doing much right. She says we "spend our days crashing into each other and actually getting our problems addressed." She also says, "If there is anything that life in the rock tumbler will teach you, it is that there is no room to take yourself seriously."
My favorite quote, "Like trying to strike "cool" poses on a rug that someone is continually pulling out from under you, self-seriousness in mothering is totally pointless and probably painful."
That last quote is where I believe I need to grow the most…I am the typical overachieving person who almost always gives my all to what I do and often see good results. And, the results are usually evident and measurable more quickly. Parenting is not like that. Often, you don't see the results for weeks, months or even years. This is an adjustment in my thinking. It is so easy to get discouraged when I fail to look at the big picture for growth and fail to find the humor and joy in the day I am in.
I am thankful for this chapter as it is shedding a bright light on a weakness in my life that I am trusting God to help me with. I am working to renew my mind in His word and I look forward to seeing my attitudes change.
Rachel Jankovic points out that "God has given us the job of teaching His law and demonstrating His grace. We are to be guides to our children as they learn to walk with God." What a great gift God has given us. We get to serve him in the lives of our children. This is the best job ever!
Blessings!