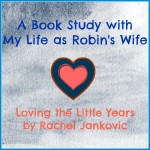 This chapter is titled "Welcome to My Circus" and is all about attitude. Rachel Jankovic says…"if organization and order can still be found in my attitude, we are doing well. But if my attitude falters, even in the midst of external order, so does everything else."
I know this first hand…when I wake up to the "alarm" of my children giving me my urgent wake up call and rush out of my room to get bottles and breakfast and begin our school day…showering at nap time and spending no time reading my Bible and praying for my day, I am set to fail in the attitude department. Everything suddenly seems bigger than it really is and the urgency of a given moment gets the best of me.
During these times I make the mistake of letting my children set the tone in our home instead of letting the tone be one of grace, mercy and order. I respond to disruptions to "my plan" in ways that are less than kind instead of full of patience.
But, when I am up early, and my husband and I enjoy a cup of coffee (or two!), time reading our Bibles together, and praying, I am ready to enter my day with grace and kindness. When I prepare my attitude, I am ready to respond to the messes, joyful and not so joyful sounds, and changes to schedules which are inevitable in family life. This is essential for me! During these times I could just stop, pray, and reset my day and yet, this is something I often forget…it really is that simple.
This first chapter was a good reminder to me that it is not about the external order comprised of a clean house, well dressed children and toys sorted into perfect bins. It is about a mom with a heart that is ready to respond with good attitudes toward my children and the grace that God shows me when I fail.
How about you? What do you do that helps you to have an orderly attitude?
Blessings!