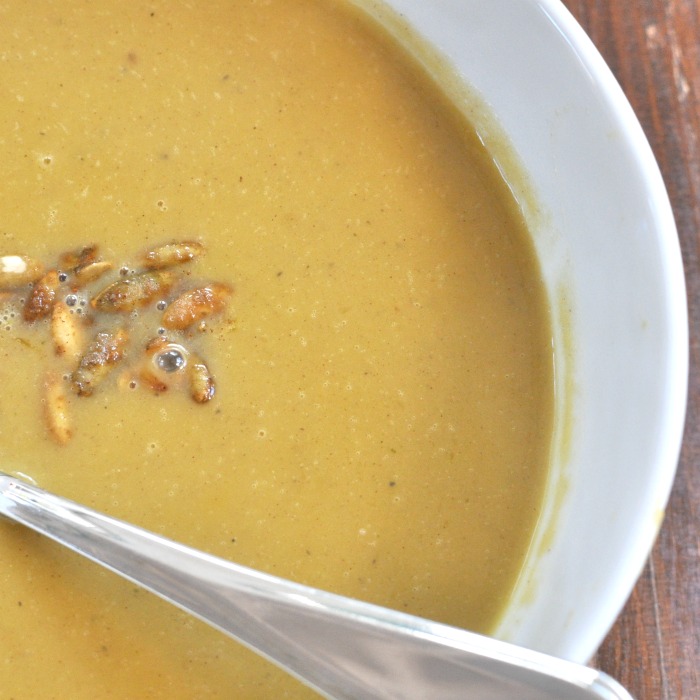 Every fall I am drawn to all of the beautiful squash options that present themselves.  I like them roasted, in soups, mashed…you name it, I enjoy it!  There are also so many seasoning options…salt and pepper with onions and apples and butter or the addition of the warm spices of cinnamon, clove and nutmeg…all have their merits
For this soup I went with the warming spices…and I used a chicken stock base.  I'm always looking for ways to get more bone broth into our meals since I make it almost every week.  So, this time I incorporated it into our soup and it was a good call!  So good!
Here is what I did:
Butternut Squash Soup
Sweet and full of fall spices, this Butternut Squash Soup is a comfort food that is also comforting for your health!
Ingredients
2 medium Butternut Squash, peeled and cubed
6 cups Chicken Bone Broth
2 teaspoons Salt
1 1/2 teaspoons Pepper
1/2 medium onion, chopped
2 teaspoons Cinnamon
1 pinch Cloves
1/4 teaspoon Nutmeg, freshly grated
2 small apples, chopped
Instructions
Place squash, stock, salt, pepper, onion and apples into a soup pot and simmer on low until squash and apples are soft.
Blend with an immersion blender until smooth.
Add in the remaining ingredients and serve hot.
I served this soup with my favorite fall salad!
Enjoy!