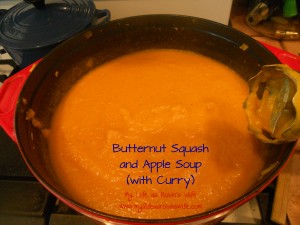 I am not sure if any of you have noticed the large butternut squash in the background of many of my photos…it has been there for weeks. It has been there so long that I stopped noticing it until I saw it in one of my photos…sad, huh! When I noticed it, I actually walked into the kitchen to be sure that it was really there. 🙂
Well, this past week I got another one in my box. Then, this week, I got another…time to make something with butternut squash. To get out of my squash rut, I went on a hunt for something new. Since I also had a lot of apples, and I am inexperienced with curry, this recipe appealed to me.
Ingredients:
2 tablespoons unsalted butter
2 tablespoons good olive oil
4 cups chopped yellow onions (3 large)
2 teaspoons mild curry powder
1/2 teaspoon cinnamon
5 pounds butternut squash (2 large)
1 1/2 pounds sweet apples, such as McIntosh (4 apples)
2 teaspoons kosher salt
1/2 teaspoon freshly ground black pepper
2 cups water
1 cups good apple cider or juice
Instructions:
First, add the butter, olive oil, onions and curry to your large dutch oven or deep pot. Cook until onions are soft, about 20 minutes.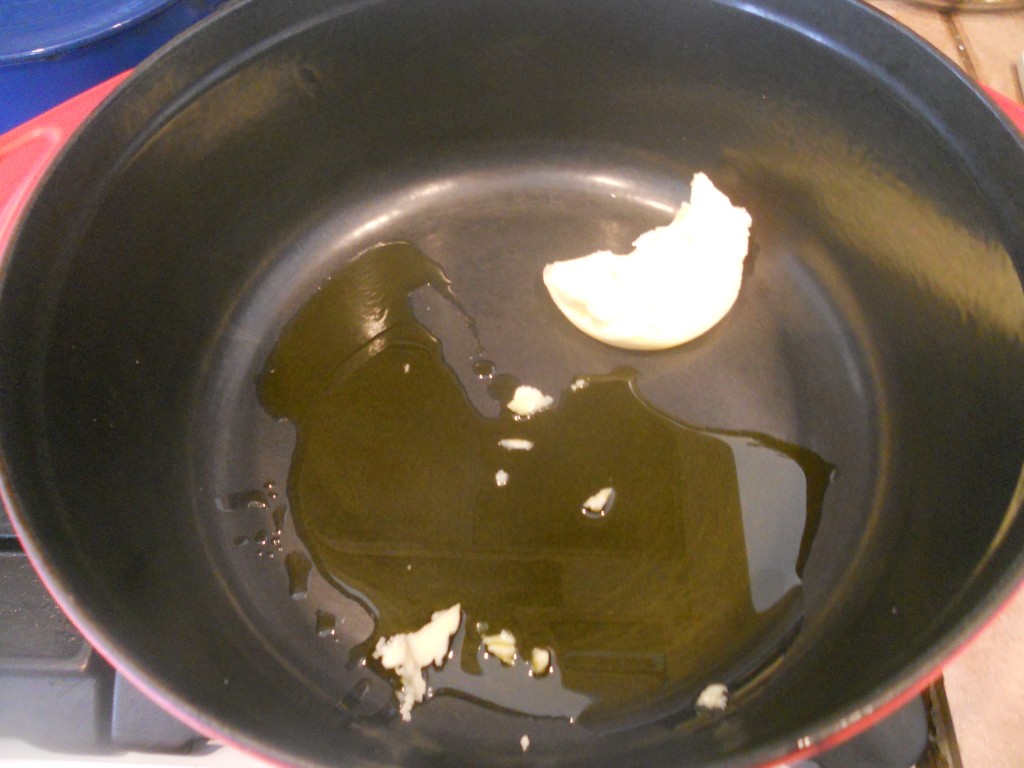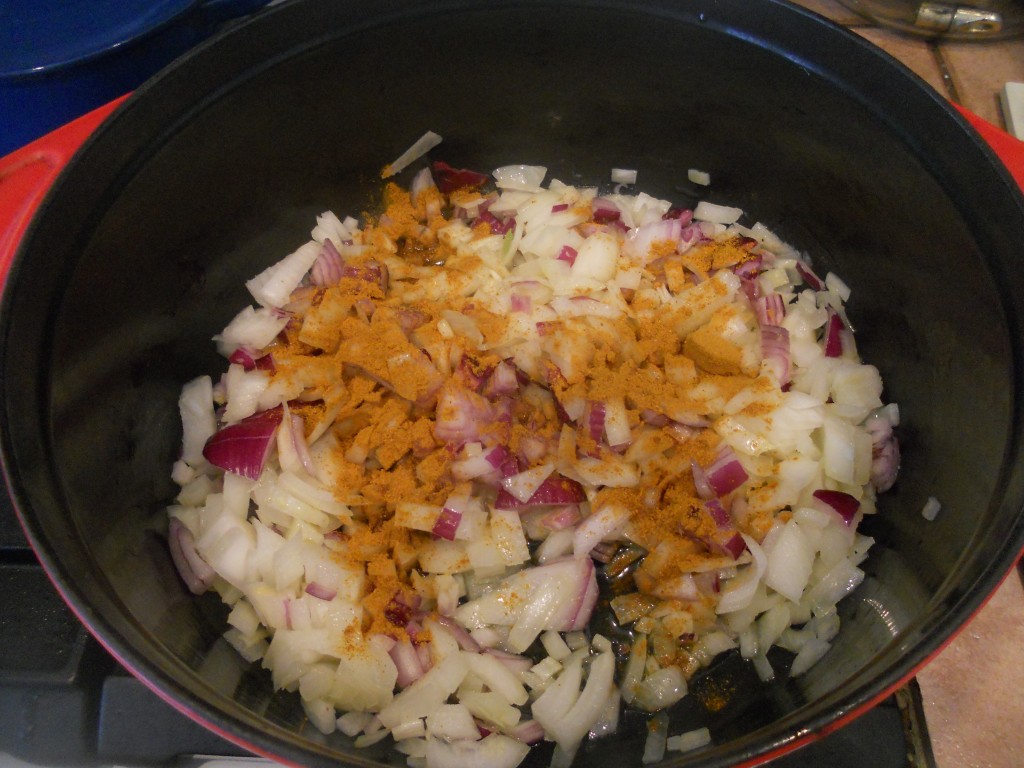 Meanwhile, peel and cube your butternut squash and peel, core and quarter your apples.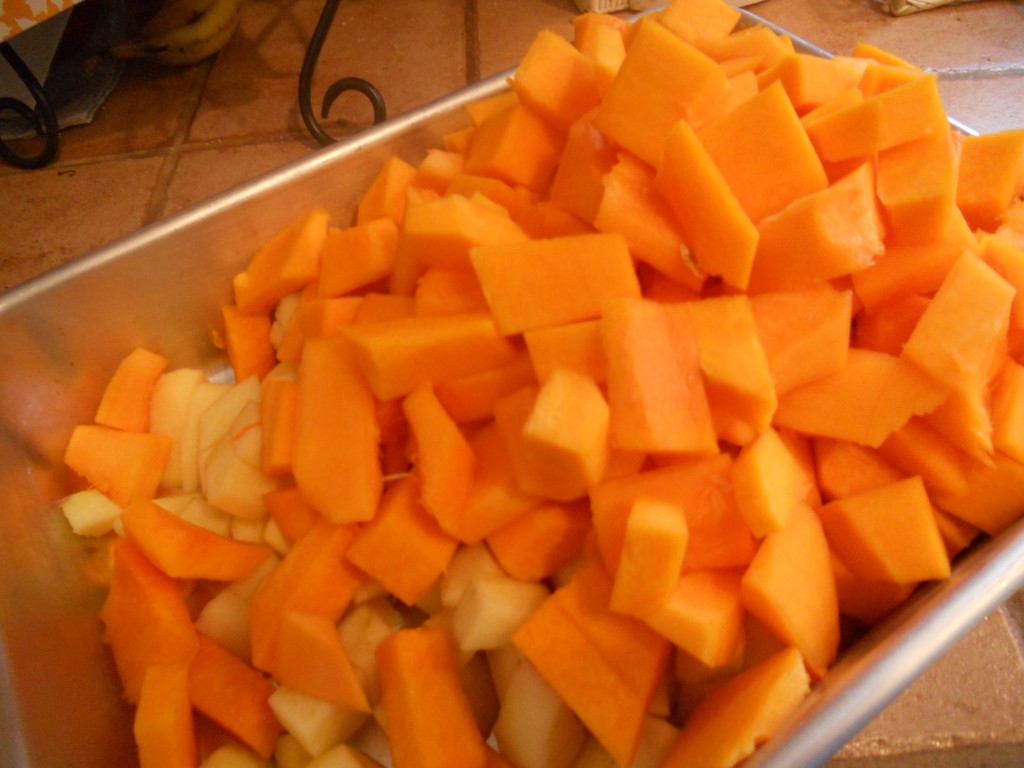 Once the onions are soft, add in your squash, apples, salt, pepper, cinnamon and 2 cups of water and bring it to a simmer. It will look like there is not enough liquid, but the apples give off juice, which, in a few minutes, will add to the liquid content and work well. Cook for 30-40 minutes, or until your squash and apples are very soft.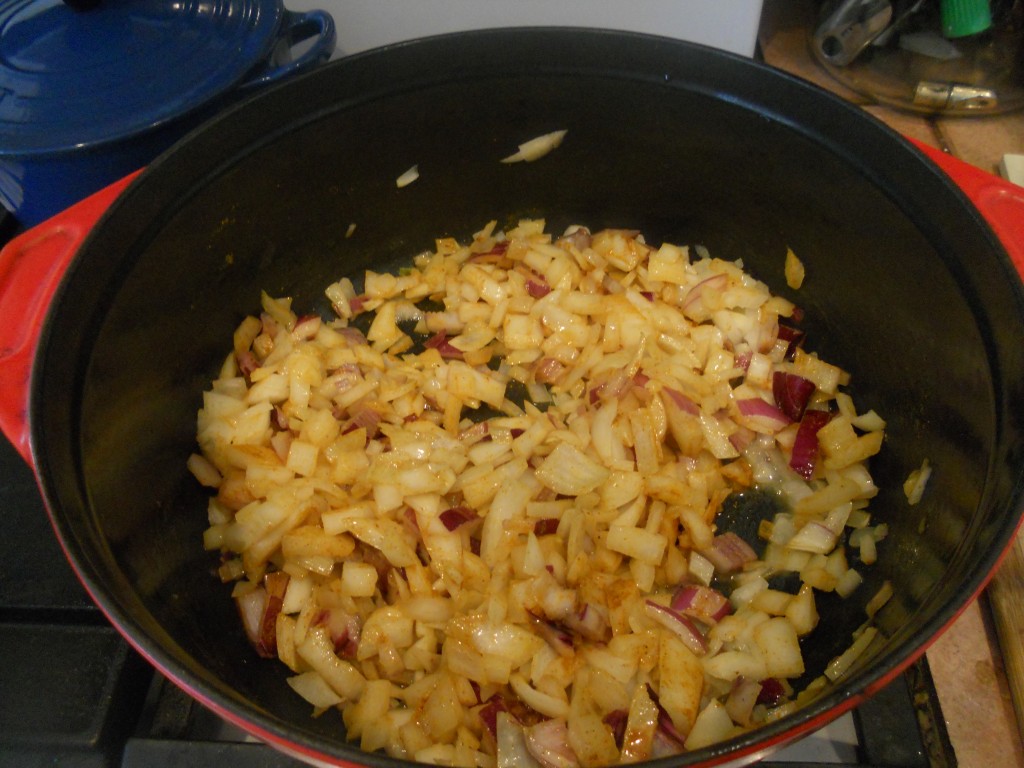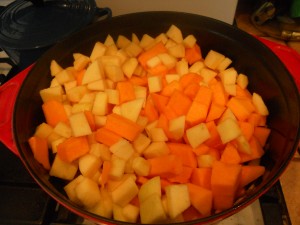 This photo was taken just after adding the water…you can't even see it because it is below the level of the squash and apples.
This next photo is after about 20 minutes…you can see how the liquid has grown to the top of the mixture due to the juice in the apples and squash.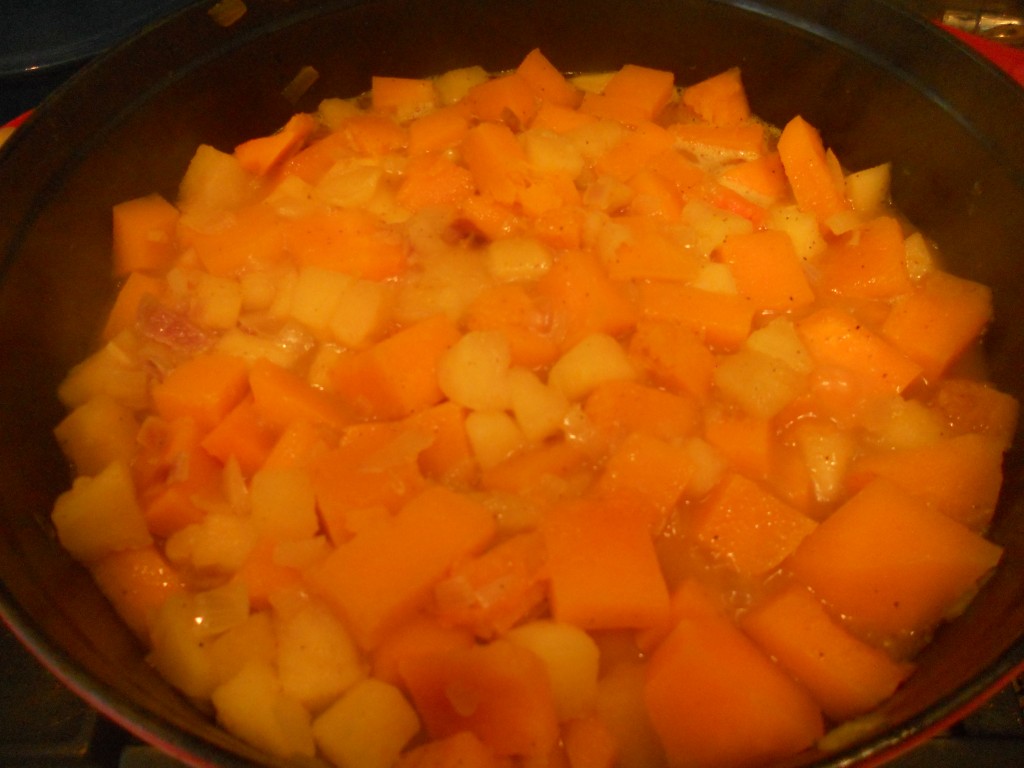 Use an immersion blender to blend the soup until smooth, or to the texture you most enjoy.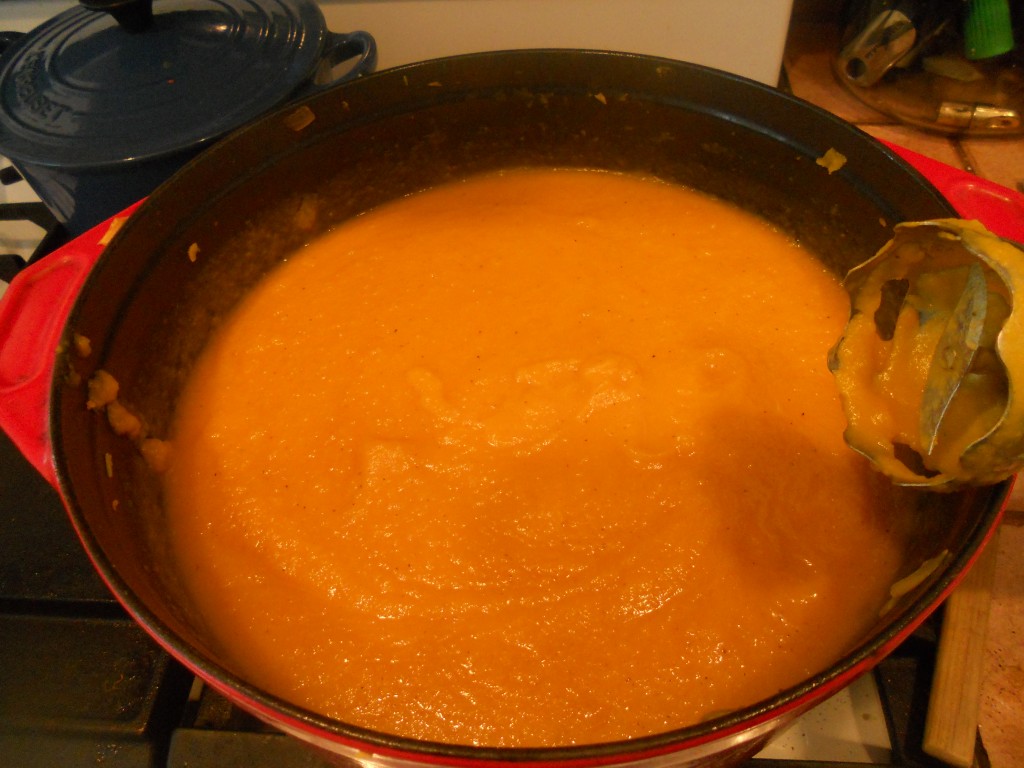 Add in 1 cup of apple cider. Finish with a 1/4 of half and half and 2 tablespoons of butter.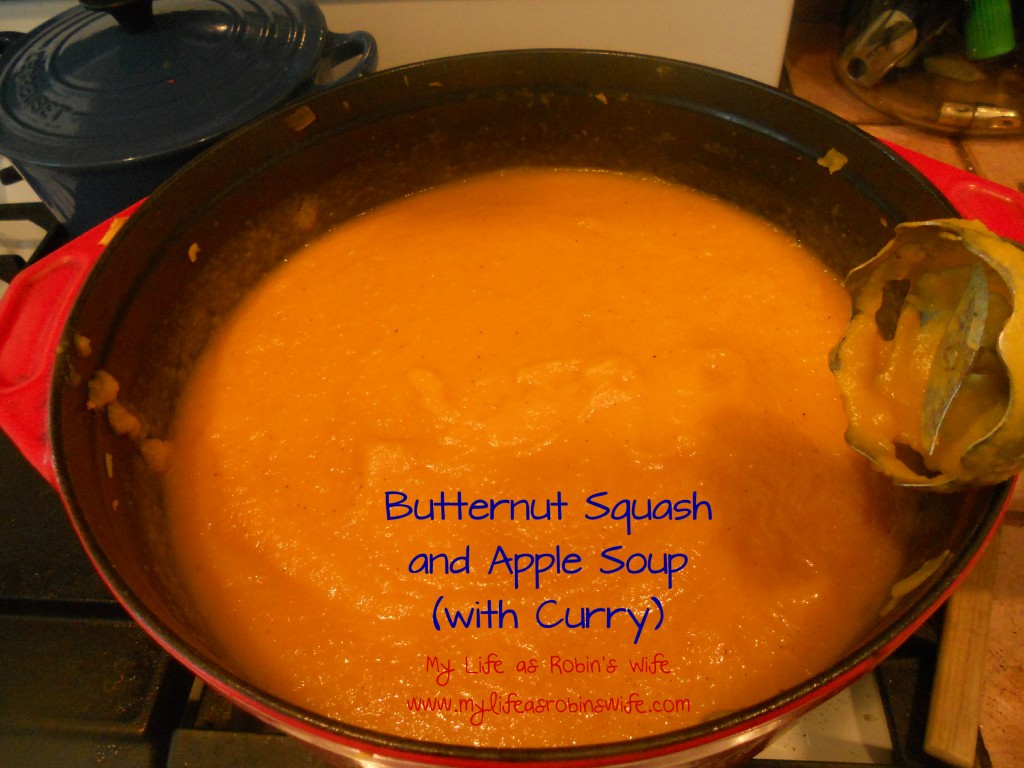 Serve topped with a bit of sour cream or Greek yogurt and roasted pumpkin seeds on top if desired. You will enjoy the creamy, slightly sweet, curry flavor of this soup. Perfect for a cool evening.
Blessings!
Adapted from the Barefoot Contessa's recipe found on foodnetwork.com.