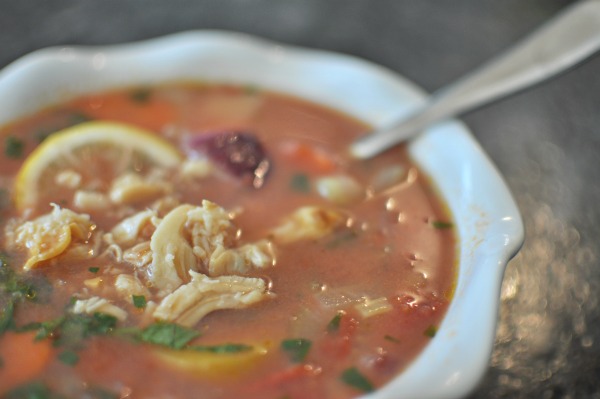 The Best Manhattan Clam Chowder…tomato and clam broth, soft veggies, yummy clams….you've heard of it, right?  Who knew it was one of my husband's favorite soups!  Each time we go out to dinner, if they have it, he samples the New England Clam Chowder.  He is an expert clam chowder taster.  I didn't realize how much he likes its tomato based counterpart!

Admittedly, he has asked me to make Manhattan Clam Chowder before.  I have made it and knew he liked it, but that was quite a few years ago now.  These last few months he has been asking again and now has revealed that it is his favorite!  I couldn't believe it.  Finally, it made it to the menu!
Tonight, this tried and true recipe is making its way to our friend's annual soup party.  We each bring a soup to be judged and enjoyed.  Two years ago I brought my Split Pea soup.  It won 2nd place!  Last year, an amazing New England Clam Chowder…I will post that recipe next time I make it.  It also scored a 2nd place.  This year, we will see how the Manhattan Clam Chowder does!  As long as it is first in my husbands heart, that is enough for me. 🙂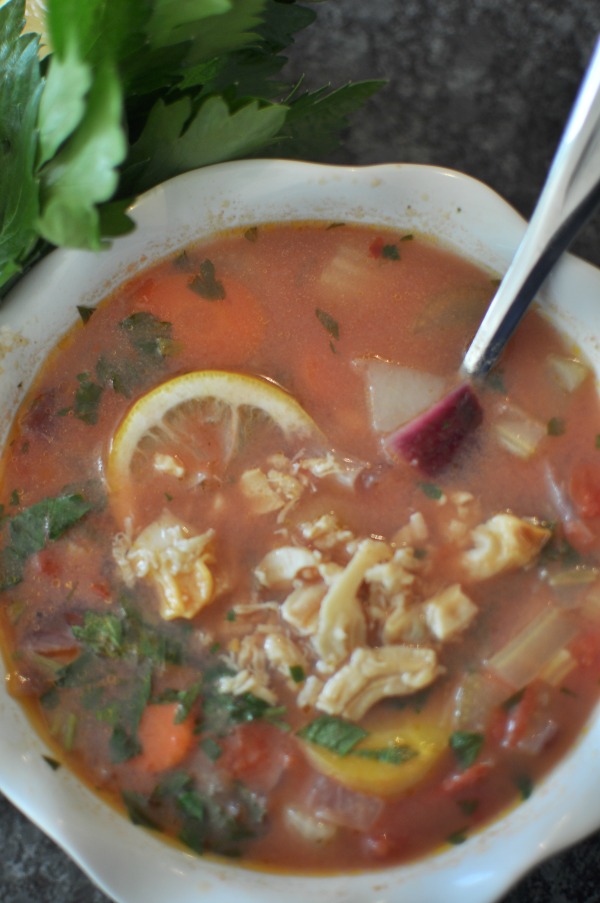 You will notice the different colored veggies…red onions, rainbow carrots, red potatoes and bright green parsley all floating in a beautiful tomato broth…all these amazing colors make such a difference!  And, don't forget the clams!  I almost used fresh clams…but I am really happy with how the canned clams turned out.  I think I would enjoy using half canned and half fresh…that would be delicious and visually beautiful as well.  For today…lots and lots of canned clams…its seriously good!
Manhattan Clam Chowder
Author:
Prep time: 20
Cook time:
Total time:
Steamy flavorful broth filled with the flavors of clams, tomato and thyme. Satisfying and healthy…and my husband's favorite!
Ingredients
2 – 51 ounce cans Canned Clams, in Clam Broth
46 ounce can Clam Juice
2 tablespoons Olive Oil
2 tablespoons Grass Fed Butter
2 medium Red Onions, chopped
4 Celery Stalks, chopped
8 Cloves Garlic, minced
2 pinches Crushed Red Peppers
1 cup Parsley, chopped
6 sprigs Thyme
2 Bay Leaves
4 Carrots, thinly sliced (rainbow are beautiful)
2 medium Red Potatoes, diced small
Salt and Pepper
54 ounces Crushed Tomatoes
1 cup White Wine (I used Pinot Grigio)
3 tablespoons Anchovies Paste
2 Lemons, juiced
Instructions
Heat olive oil and butter in a large stock pot.
Saute onions, celery, and carrots until they begin to soften.
Add in tomato paste and garlic and cook for a couple of minutes
Add clam juice and juice in the canned clams (set clams aside), Pinot Grigio, crushed tomatoes, and anchovies paste
Add thyme, red pepper flakes, half of the parsley, bay leaves, and salt and pepper
Simmer on low for 20 minutes.
Add in clams, lemon juice and additional salt and pepper if needed.
Remove thyme stems, top with parsley and serve.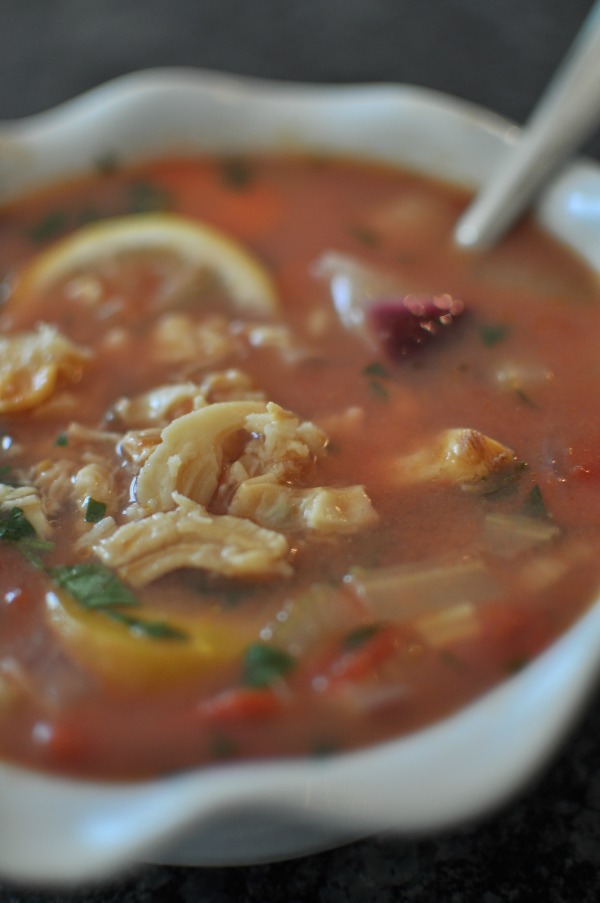 Save
Save
Save