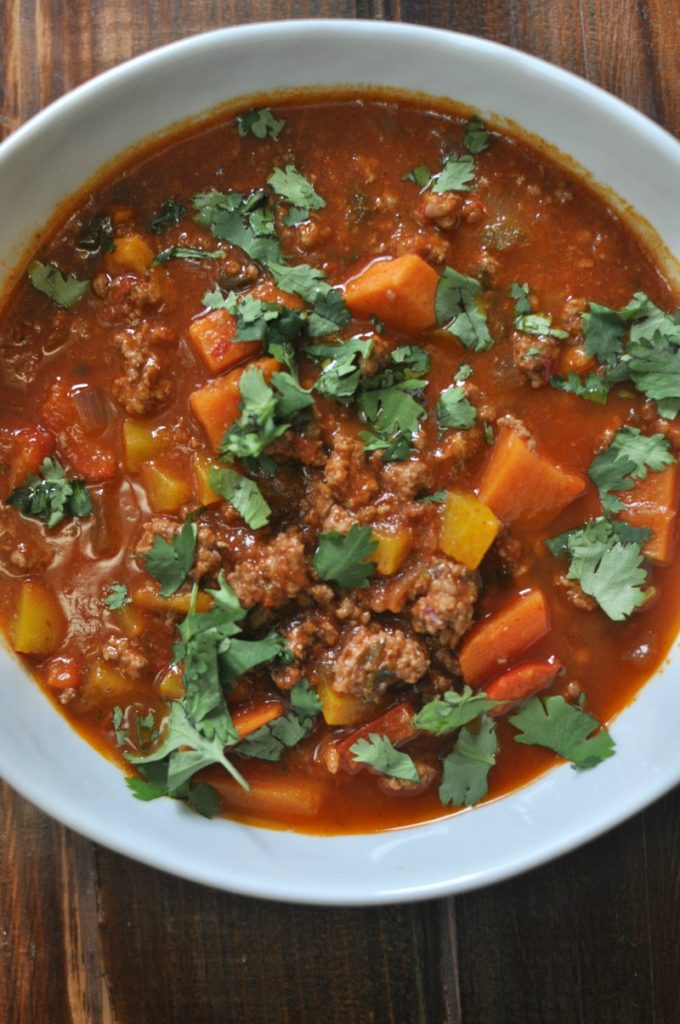 This Beef and Sweet Potato Chili wins the award for my all time favorite chili. Beefy, spicy, rich and comforting…SOOOO good! My family has been Whole30 compliant for the last couple of months. With the weather turning cold, I was missing chili…not beans, but the flavors of chili. Thus, this Beef and Sweet Potato Chili was born!
I have many dozen tomatoes from our garden in the freezer so they became the base. To those, I added the onion, some chipoltle in adobo, chili powder, cumin, dried guajillo chilis, and water. This smell could be made into a candle! Seriously!
While on Whole30, one of the things we have been avoiding is legumes (including peanuts!)…you don't even miss the beans in this chili…in fact, I now know that I prefer my chili without beans! Our bodies seemed to enjoy chili without the beans also…haha!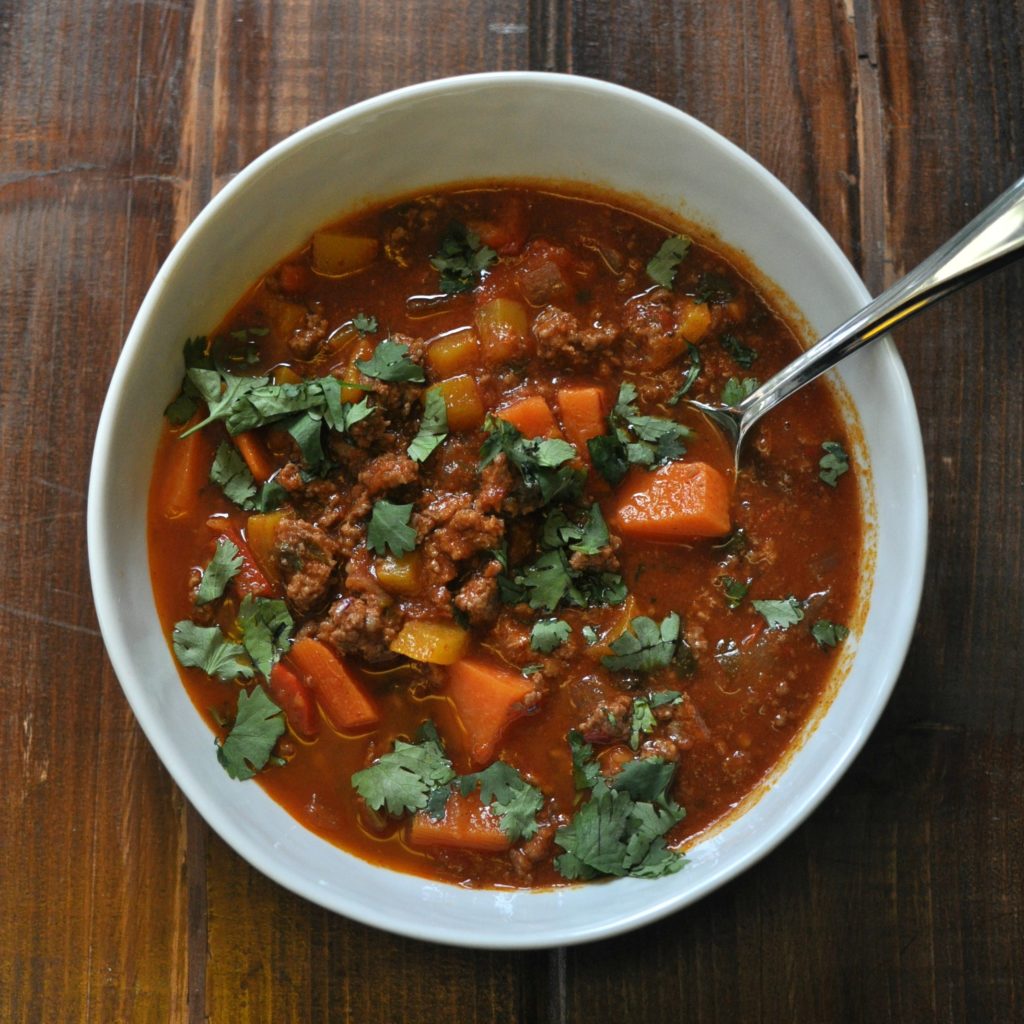 When my husband was recovering from last year's health scare, our church family provided meals for us for over a month…one of the meals was chili with sweet potatoes. I knew I had to have them in this chili too! So very good!
This chili will be my go to from here on out! While it isn't done in a crock pot, and does take some time, it isn't labor intensive and it well worth it!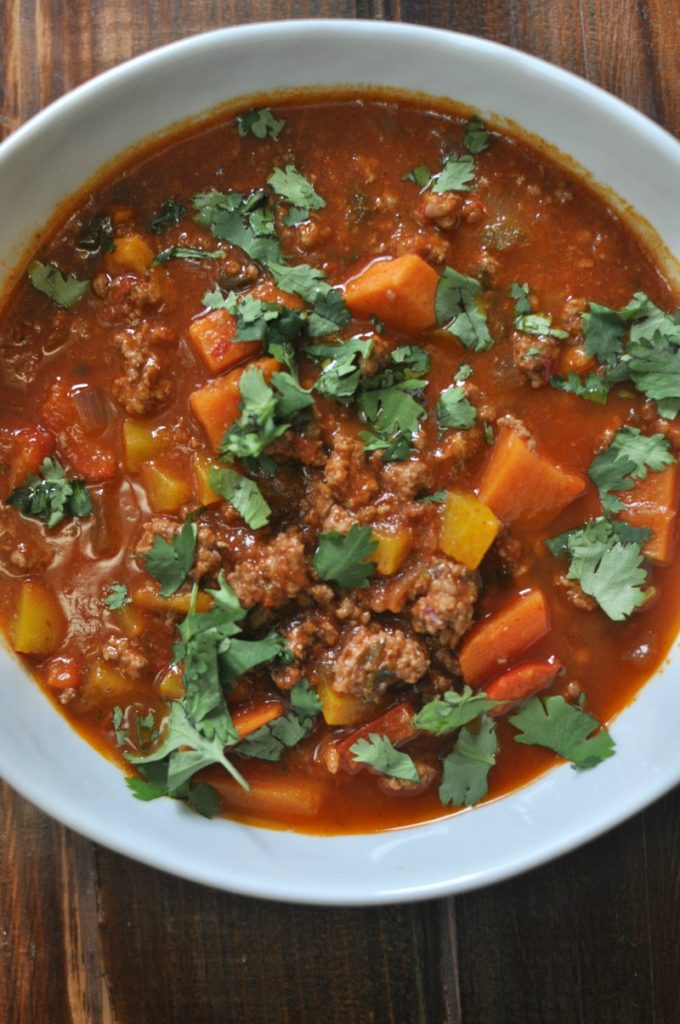 Here is what I did!
Beef and Sweet Potato Chili
Beefy, spicy, and full of deep flavors, this chili is sure to become a family favorite!  It has in my house!
Ingredients
1 red onion, peeled and quartered
16 fresh or frozen tomatoes (or 2 32 ounce cans of crushed tomatoes)
1 Tablespoon of chopped chilis in adobo
2 Tablespoons of chili powder
2 Teaspoons cumin
2 dried guajilla chilis
4 cups water
3 lbs ground beef (I used 2 lbs beef, 1 lb ground lamb)
1 Tablespoon pink salt
2 Teaspoons fresh ground pepper
1 red onion, diced
1 large sweet potato (I used an orange Yam)
1/2 cup cilantro, chopped (or parsley)
3 bell peppers, large dice (I used one yellow, one red, and one orange)
Instructions
Place first seven ingredients into a dutch oven and simmer for an hour or so.
Blend with an immersion blender until smooth.
In a separate pan, saute the ground beef, salt and pepper with the diced onion and peppers until the meat is cooked through.
Add meat, veggies, cilantro and sweet potatoes to the tomato mixture and simmer for 30 minutes or so and serve!
Top with additional cilantro…and if you aren't trying to be Whole30 compliant…cheese is pretty good too according to my sons.
This chili is even better the 2nd day, so it is a perfect make ahead meal! I plan to make it again and again!
Blessings,