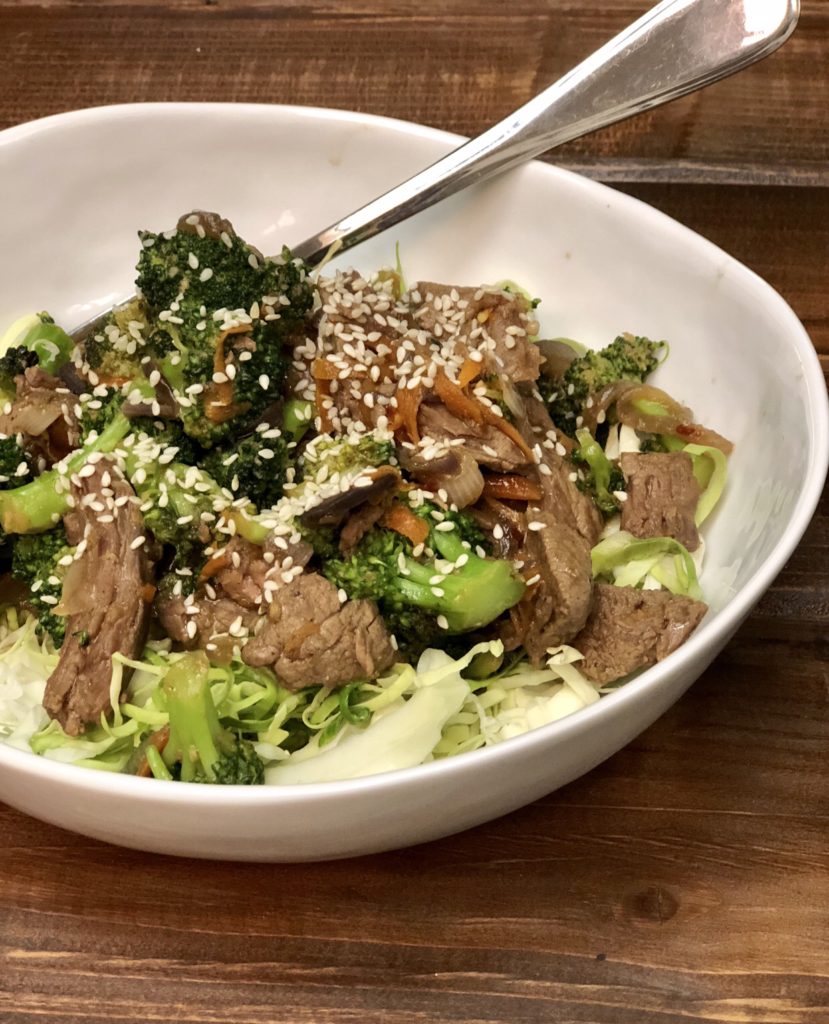 Today, in our Whole30 Journey, we are having Beef and Broccoli Stir-fry from the Whole30 Fast and Easy Cookbook. At time I wrote this, we were on Day2 of our January Whole30. I am tired and a bit grouchy, and I have a massive headache. You know, that whole detox process…ya…I'm in it! I am hoping I remember this when I think that introducing gluten into my diet again is a good idea! Ha!
Have you ever done a Whole30 reset? I have to tell you that I feel SO good when I do! This is my fourth and I keep coming back for more. In fact, my husband and I are thinking we will do the whole year this year…with a few planned exceptions that will still be Paleo. He gets home from work in a few minutes…I hope he is feeling better than I am!
Back to the Beef and Broccoli…this is one of my favorite dishes at Panda Express…kind of real Chinese food, right? Well, this version is SO much better! I can't believe that I now know how to make this at home! So thankful!!! The recipe in the book called for top sirloin steak. I had several different cuts of meat in small quantities available so I used some London broil, one filet, and a small flank steak! You can truly use what you have…as long as you cut it thin and against the grain. It all turned out tender and delicious! My littlest said he wanted to eat all of it…and probably could with his appetite!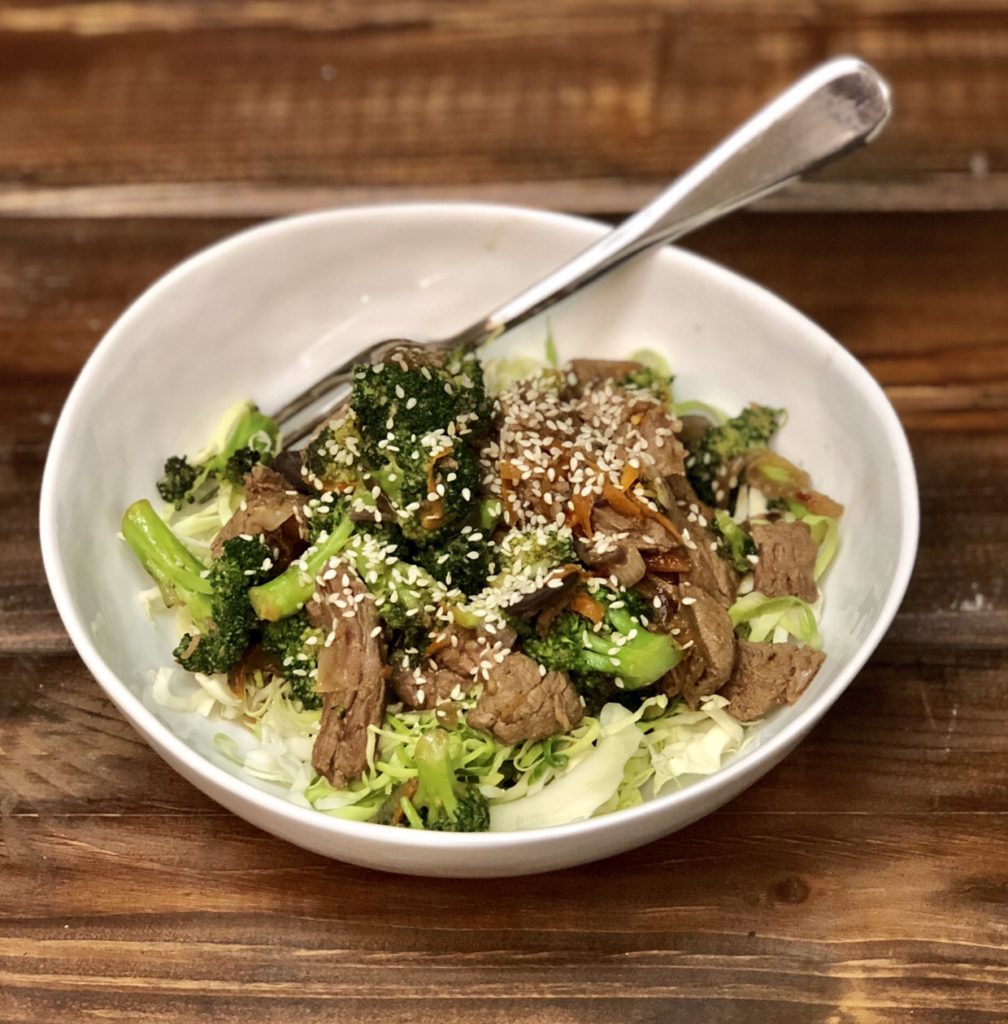 Here is what I did!
Beef and Broccoli Stir-Fry
This Broccoli and Beef is full of flavor and nutrients and will be quickly gobbled up by your family!  And, once again it is Whole30 compliant.
Author:
Prep Time:

15

Cook Time:

15

Total Time:

30 minutes

Yield:

6 servings

Category:

Whole30 Main Dish
Ingredients
4 tablespoons coconut aminos
2 tablespoons minced fresh ginger
6 cloves garlic, minced
1/2 teaspoon salt
2 lbs boneless steak, whatever cut you have on hand thinly sliced against the grain
4 tablespoons toasted hazelnut oil (original recipe called for sesame oil, but I was out)
6 cups small broccoli florets
1 medium red onion, quartered and thinly sliced
1 cup shredded carrots
1/2 additional cup coconut aminos
1 cup of water
1/4 teaspoon red pepper flakes
1 tablespoon sesame seeds, toasted
Instructions
In a medium bowl, combine the coconut aminios, ginger, garlic and salt.  Add the beef and mix well.  Let the bowl sit on the counter while the veggies cook.
In a large skillet, heat 1 tablespoon of the oil until hot.  Add in the broccoli, onion and carrots stirring regularly until they are crisp-tender, about 3 minutes.  Set aside.
Add another tablespoon of oil to the skillet. Cook the beef in two batches until slightly pink 2-3 minutes.  Return the veggies to the pan with the beef.
In a small bowl whisk the additional coconut aminos, arrowroot, and red pepper flakes.  Move veggies and meat to the side and place sauce into the middle, cooking and stirring until it thickens.
Stir all together!  Serve over cauliflower rice or wilted shredded cabbage.
Whatever day you are on in your Whole30, or if you just like to eat healthy delicious food, hope this recipe helps you along your journey!
Blessings!

You also may enjoy this other whole30 recipe I posted this week!