Kimberley Hasselbrink's beautifully photographed book, Vibrant Food, arrived on my doorstep and I was thrilled.  It was given to me by Blogging for Books so I could review it and I was so glad to do so!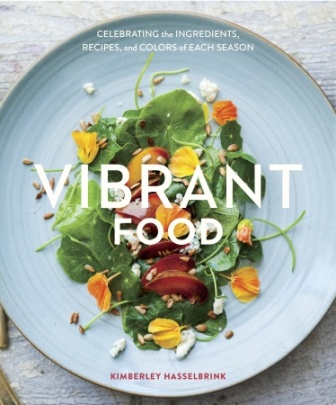 Look at this cover photo! It is amazing! The rich colors and perfect lighting draw you into the pages of this book…I know many find mysteries or novels with many twists and turns to be page turners…but, for me, a book with stunning photography has my attention is something that I don't want to put down until I have examined it from cover to cover…this book fit the bill!
While I haven't had the opportunity to make any of the recipes yet, the Sweet Corn and Squash Fritters with Avocado Crema and the Salmon Banh Mi have my attention! The Grilled Halloumi with Strawberries and Herbs is represented so beautifully that I am tempted to try this cheese all over again…my first experience was not a stellar one and my family and I have decided it is not a favorite. This picture is so inviting and the recipe so creative that it might make ONE more appearance on our dinner table (please keep that between us until I can wow my family with this great recipe!)
Vibrant Food is organized by seasons and it has gotten me all ready to try those that are meant for fall…back to school will also bring the fall recipes that we all enjoy…this year I think I will add in the Apple Sage Walnut Bread and Carnitas Tacos with Apple Salsa…these recipes could become family favorites for sure!
So, if you are in the market for a new cookbook, or even if you aren't, I highly recommend this beautiful book…it is titled perfectly because what you find inside is truly Vibrant Food!